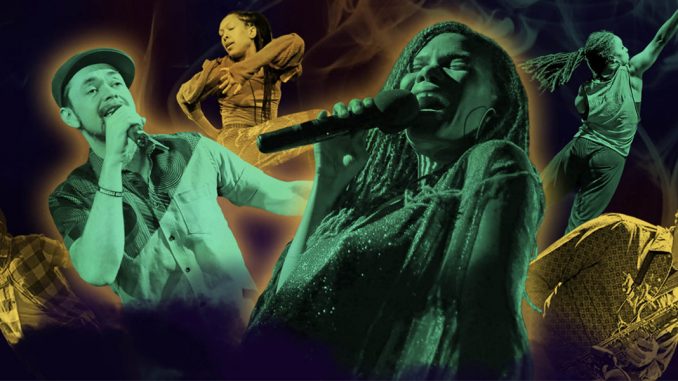 Buy Tickets
It is certainly a propitious moment for a theatrical concert celebrating cannabis to hit New York's off-off-Broadway scene, as the Empire State this year actually legalized.
Five years in the making, Cannabis! A Viper Vaudeville seeks to be didactic as well a fun, tracing the plant from its origins on the remote steppes of Central Asia straight through the hip-hop culture that animates the show.
The greening of
NYC

theater scene

Cannabis! will be performed January 8 through 15 at La Mama, a legendary venue in the East Village, as part of the Prototype Festival, a city-wide showing of new off-beat or ground-breaking works.

The central figures in the production are Grace Galu, composer, performer and musical director; and Baba Israel, writer, performer and co-director. The seven-piece ensemble Soul Inscribed will be joined by dancers from the MacArthur award-winning troupe Urban Bush Women, and the "krumping" sensation Rocka Jamez. 

"There will be choreography for every song, for a sense of story-telling and theatricality," Israel says. He describes the work as a "fully immersive multi-media performance."

Set designer Nic Benacerraf has something of a family connection to Israel, who is the offspring of two veteran members of the pioneering experimental troupe, the Living Theatre, Steve Ben Israel and Pamela Mayo. Benacerraf later also worked with the Living Theatre.

Galu, Israel and their collaborators have a residency at HERE, the same Lower Manhattan theater that was an incubator for The Vagina Monologues and groundbreaking performance artist Taylor Mac.
Social history through music
Cannabis! is actually conceived as a musical and theatrical adaptation of the book Smoke Signals: A Social History of Marijuana—Medical, Recreational and Scientific by Project CBD director Martin A. Lee, a comprehensive work published by Scribner in 2012. The musical offerings are meant to illustrate steps along the way in the evolution of cannabis culture.
These include "La Cucaracha," the marijuana-glorifying anthem of the Mexican Revolution, Ella Fitzgerald's "When I Get Low I Get High," the Beatles' "(I Get High) With a Little Help from My Friends," Bob Dylan's "Rainy Day Women" (with its refrain of "Everybody must get stoned"), and Bob Marley's "Kaya."
Among the original songs developed by Galu, Israel and their collaborators are homages to Dennis Peron and Brownie Mary (Mary Jane Rathbun), two legendary figures who made cannabis available to the ailing during the AIDS crisis in San Francisco in the 1990s—a period that really spawned the current worldwide push for legalization.
A fortuitous moment
Israel reflects on the fortuitous moment for the show's opening, months after cannabis became legal in New York state. "When I started working on the show five years ago, legalization felt a lot more distant. I expected the show to be more of a platform to advocate for legalization in New York, to be part of that mobilization. Now it's turning out to be more of a celebration."
He is quick to emphasize, however: "But it is still federally illegal, and the way legalization has been unfolding in other states has been problematic. There is still a lot of work to be done."
"Cannabis is still federally illegal, and the way legalization has been unfolding in other states has been problematic. There is still a lot of work to be done."
Each performance of Cannabis! is to be followed by a panel discussion or presentation by an activist group, "to address some of the issues that need to be resolved in New York and federally," Israel says. Scheduled participants include representatives from the National Cannabis Party and the New Jersey-based Cannabis Education & Research Institute (CERI).
Israel sums up the production's vision: "This subject matter needs a real show that can honor the counterculture history, from the jazz musicians through the Beat generation, through the AIDS activism of the 1990s. We want to honor the richness of the tradition, and make sure that how we got to legalization doesn't get whitewashed, as they say. And to remember who is affected by the war on drugs, remember the cultures that have nurtured this plant through prohibition."
Tickets can be purchased here. 
Buy Tickets