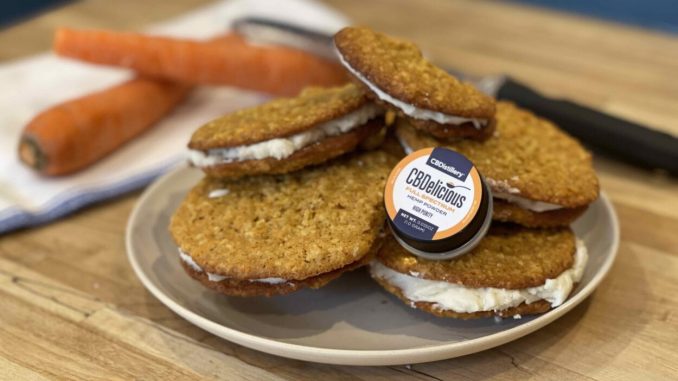 Make these delicious CBD carrot cake cookie sandwiches! Join us in Carl's Kitchen and whip up a sweet batch of cookies that will get you in the mood for food. Check out our recipe video and set your oven to pre-bake today!
Ingredients for CBD Carrot Cake Cookies:
1 cup unsalted butter, softened1 cup brown sugar, lightly packed1 cup granulated sugar2 large eggs1 teaspoon vanillaCBDistillery's CBDelicious Powder, desired amount2 cups all-purpose flour1 cup old fashioned rolled oats1/2 teaspoon baking soda1/2 teaspoon baking powder1 teaspoon cinnamon1/2 teaspoon salt1 1/2 cups finely grated carrots1 cup unsweetened coconut
Ingredients for CBD Carrot Cake Cookie Frosting:
6 ounces cream cheese, softened8 tablespoons butter, softened1 teaspoon vanilla2 1/3 cups powdered sugar
Baking Instructions:
Preheat oven to 350 degrees.Cream together the butter, brown sugar, sugar, and your desired amount of CBDistillery's CBDelicious Powder in a large bowl.Add the eggs and vanilla and mix to combine.Add the flour, oats, baking powder, baking soda, cinnamon and salt and continue mixing.Finally, stir in the carrots and coconut.Using wet hands, place 1 tablespoon size balls of the CBD batter onto a parchment paper lined backing sheet. Make sure the balls are 2-3 inches apart.Bake the cookies for 10 minutes or until the edges start to brown.While the first round of cookies is baking, make the frosting by combining the cream cheese, butter, and vanilla until smooth.Slowly add the powdered sugar, whipping the mixture after each addition. Once the cookies are cool, spread the frosting on the bottom of one cookie and top with the bottom of another cookie, creating a cookie sandwich! Let sit for 30 minutes, then serve and enjoy!