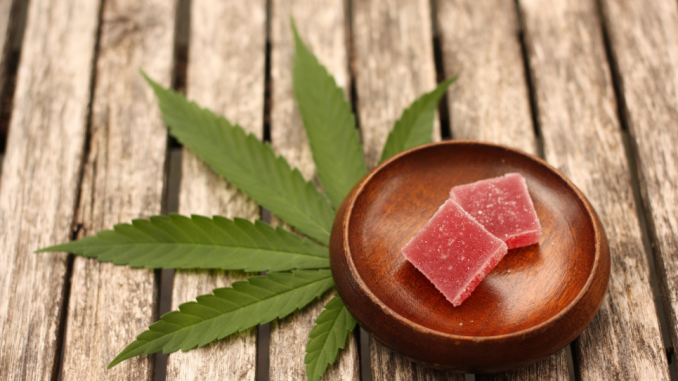 Are you curious to try CBD edibles, but you're unsure how they will affect you? CBD is a lot safer than people think, with plenty of studies showing benefits when consuming in recommended doses. 
Let's examine how CBD-infused edibles are made, what benefits they offer, and what products worthy your money. I chose this list of picks based on my own experience, user reviews, and various usage levels.
Bottom Line Upfront
I've tried a few edibles in the last few months, and I have to say, the CBD Milk Chocolate Blend from Leafly (one of my fav sites to order form) was so good! Tasty melts in your mouth and was a nice, slow-release.
Top 3 Picks
What Are CBD Infused Edibles?
The term "edible" refers to everything that can be consumed. Typically used in reference to any type of consumable product high in THC, the term "edible" is quite popular in the cannabis community. CBD edibles are not your typical cannabis-infused edible treat. 
They often contain no THC or a 1:1 ratio of THC to CBD, making its effects milder and more approachable to those who are less interested in cannabis' euphoric effects. Discover what CBD is and why you may want to consider using it.
Benefits of CBD Infused Edibles
While the scientific evidence for CBD's efficacy as a supplement is still ambiguous, anecdotal data suggests a variety of therapeutic benefits, including increased appetite in chemotherapy 
patients, reduced anxiety, and improved sleep. 
The FDA continues to take a hands-off approach with CBD, as it does with the numerous nutraceuticals and supplements offered by the health supplement sector.
When purchasing CBD products designed for ingestion, purchasing from a cGMP-certified producer assures that current best practices in terms of sanitation and other manufacturing, packing, and other relevant processes are followed for the protection and benefit of customers.
The majority of ingestible CBD products manufacturers will promote their compliance on their websites.
They Have Long-Lasting Effects
CBD foods offer several advantages over smoking marijuana or using a CBD vapor pen. While 
CBD edibles take time to take action (between 30 minutes and two hours), the result is longer-lasting relief than inhalation.
CBD edibles combine the active ingredient with other meals. This means that CBD is produced gradually over time as food is digested.
As a result, the CBD experience is prolonged. Indeed, CBD edibles can last up to four hours longer than CBD inhalation.
They Are Easy to Make
Various CBD extracts can be added to baked and cooked foods to improve their antioxidant content. CBD crystals, created from purified and isolated CBD, are now accessible at a growing number of cannabis dispensaries and online.
Although it's worth noting that separated CBD is typically less effective than whole-plant cannabis. MCT oil tinctures laced with CBD are convenient to keep on hand.
These are both simple to dose, which allows you to have better control over the amount of CBD in each serving.
They Are Not Psychotronic
While CBD is a cannabis ingredient, many are shocked to discover that it does not produce a psychoactive "high." Rather than that, the cannabinoid provides customers with a nice mood boost and a sense of sound, alert energy.
CBD edibles can provide continuous relief from moderate pains and daily tensions due to their long-lasting nature. These would be an excellent alternative for anyone looking to reap the advantages of cannabis without experiencing an excessive euphoric high.
They Are Discreet
Certain types of CBD can be inconvenient or impractical. Even vapes that can be reasonably big or pulling out a pen vape to receive your daily dose may not always be handy.
Those in need of pain treatment during a long journey or a boost to their focus throughout the workday will welcome the ability to just swallow a CBD gummy or two and go back to work. There is no need for a vape break.
They Are Easy to Dose
When inhaling CBD via a vape pen or cigarette, it can be pretty challenging to identify the precise amount of CBD you receive each time.
Numerous CBD edibles purchased come in pre-dosed doses, allowing you to determine the amount of CBD you've ingested and the amount you'll need to consume to get your desired outcomes.
Side Effects Are Rare in Normal Doses
In excessive amounts, CBD can have side effects. Sure, there is evidence that high-dose CBD may amplify the effects of prescription drugs, necessitating that customers reduce their doses.
However, CBD is regarded to be generally well-tolerated, with even high doses producing few adverse effects. It was deemed to be safe in both healthy and epileptic research participants, according to a 2006 study found in the Brazilian Journal of Medical and Biological Research.
How Are CBD Infused Edibles Made?
Among CBD consumables, such as infused beverages, none is more popular than the CBD "gummy," a soft chewy that has long been used as a confectionery treat and supplement basis. 

Components 
A typical gummy manufacturing line will consist of the following components: a depositor or chiller, a doser or a flavorer, and a cooker. Cookers are primarily used in batch mode, while auto feeders are occasionally used in continuous production. 
Agents
Typically, the gelling agent is carrageenan, gelatin, pectin, or a combination of these. Flavors or functional additives are introduced downstream of the cooker to the cooked gelling agent. When it comes to additional substances like CBD, a proper dose is required. 
Supplementary gummies are typically produced in small batches because they are not intended for the same amount of consumption as regular sweets.
The Process
The product is transferred to the depositor after adding any additional flavors and additives. The heated liquid is dispensed here into molds made of cornstarch, silicone rubber, or metal, among other materials. 
Conveyor-mounted multi-cavity molds move constantly beneath a "flying" multi-nozzle dispensing head for high production quantities. Following molding, the gummies are cooled and then removed from the molds. Reusable molds simply return to the depositor to be used again.
Functional gummies can be manufactured at even lower production rates by hand-filled molds. Silicone molds in a range of sizes and forms are available for hand manufacture, as are maize starch molds, referred to as "moguls." 
People can make gummies by hand, but some machines can make gummies in batches of 500 to 2.500 grams. 
Typically, these machines index multi-cavity molds beneath multiple-nozzle depositor heads to fill one or two rows at a time. After that, the molds are manually transferred to cooling stations, where the finished gummies are removed.
Numerous manufacturers of gummy manufacturing equipment offer trial-run services to assist customers in developing new products. Numerous companies also offer contract manufacturing and/or private labeling.
Additionally, CBD consumables such as capsules, caramels, chocolates, drinks & waters, and lollipops are available. Depending on the volume, these items can be manufactured using the same essential production equipment as non-CBD products or by hand. 
Temperature
A critical factor to consider is the temperature of the product to which the CBD is introduced, as CBD tends to degrade at temperatures more than 200° C. As a result, it is typically added after cooking, as mentioned above for the gummy production method, to enable the cooking liquid to cool. 
When utilizing CBD products in baking, frying, and similar applications, this is also something to consider. Low-temperature recipes are less likely to compromise the CBD's effectiveness.
Can You Make Your Own CBD Infused Edibles?
It is feasible to make DIY CBD edibles by extracting cannabinoids from hemp and infusing them into oil that may be used for cooking or as an additive in salad dressings, for example. 
CBD oil is created by boiling ground hemp in oil in a double boiler, repeating the procedure numerous times to boost the CBD concentration, and then filtering the resulting liquid through a cheesecloth. 
Commercial extraction procedures rely on carbon dioxide or other solvents that are unsuitable 
for use at home. CBD oils are also available for purchase and can be blended with other foods, like smoothies to create edible combinations. 
Additionally, recipes and instructions for manufacturing CBD edibles at home are accessible.
Raw Hemp Flowers
When working with raw hemp flowers, a critical initial step is decarboxylation, which involves baking the plants at a low temperature to activate the CBD by eliminating its carboxyl acid group. Infusing oil with only raw hemp will not maximize the CBD's therapeutic benefits. 
Because decarboxylation is a somewhat smelly process, adequate ventilation is required.
How to Safely Eat CBD Infused Edibles
Edibles are an excellent and discreet way to experiment with CBD. CBD foods such as gummies, truffles, and even mints are available and do an excellent job of covering any "weedy" taste.
But, like anything, there are some concerns with edibles. Consuming CBD results in what is known as the "first-pass effect." CBD is primarily metabolized by the liver and digestive tract during the first pass impact. 
This means that CBD may take up to two hours to take effect and that you will absorb approximately 20 to 30 percent of it.
The Best CBD Infused Edibles 
Bhang – CBD Milk Chocolate Blend
These bars contain 48 percent cocoa and CBD and are scored into four squares, allowing individuals to consume one or four yards. Bhang® CBD Milk Chocolate is made with cacao that has been ethically obtained and is Powered by INDIVA. 
Type: chocolate
Flavor/Taste: sweet
Price Range: <$10
These bars contain 48 percent cocoa and CBD. They are scored into four squares, allowing individuals to consume the exact amount they want. It features a cannabis-free flavor with just the right amount of sweetness. Bhang® did not invent cannabis chocolate; they merely refined it.
Pros
Rich cocoa taste.
Cannabis-free flavor.
Properly-sized portions.
Cons
Too mild for heavy users. 
Ace Valley – Grapefruit 4:1 CBD Soft Chews Blend
If you want chewy, bite-size squares with a grapefruit flavor and sweet, citrus undertones, this might be the right product for you. Each Ace Valley Grapefruit 4:1 CBD soft chew contains 5 mg CBD and 1.25 mg THC for a more balanced experience. 
Type: soft chews
Flavor/Taste: grapefruit
Price Range: <$10
These delectable soft chews are vegan. They were developed in conjunction with veterans of the food industry at Olli to elevate the handmade quality of cannabis edibles.
Pros
Vegan composition.
Sweet citrus undertones.
Offer a burst of energy.
Cons
Grapefruit is not everyone's fav flavor
ACE VALLEY – Passion Fruit Mango Super CBD Soft Chews
Each piece of our Super CBD Soft Chews has 20 mg of CBD. Every chew is flavored with a vibrant and delectable combination of passionfruit and mango fruit.
Type: soft chews
Flavor/Taste: mango and passion fruit 
Price Range: $30 – $40
These delectable snacks are created without animal ingredients or gluten. 
Pros
Rich passion fruit taste.
Sold in packs of 10.
Strong compared to other edibles.
Cons
Wana Sour Soft Chews Blend
These Pomegranate Blueberry Acai Sour Soft Chews are slightly acidic with hints of juicy fruit. These three intense flavors combine nicely to create these surprisingly delicious soft chews.
Type: soft chews
Flavor/Taste: pomegranate, blueberry, acai
Price Range: <$10
The soft chews are made with all-natural ingredients and loaded with 50 mg CBD and 10 mg THC terpene-enhanced distillate in a 5:1 ratio.
Pros
 Vibrant fruity taste.
Made with all-natural ingredients.
Quite potent. 
Cons
Flavor can be overwhelming.
LEGEND -Balanced Orange Milk Chocolate
Legend Balanced Orange Milk 1:1 contains 10 milligrams of THC and 10 milligrams of CBD and is infused with creamy orange flavoring. Each bite is definitely an experience, as it is scored into four equal pieces. 
 Type: chocolate
Flavor/Taste: milk chocolate, slight hint of orange
Price Range: <$10
The product sources its chocolate from Bernard Callebaut, a fourth-generation master chocolatier based in Alberta. Legend's well-known chocolate formulation continuously delivers amazing pleasures without a sugar crash. 
Pros
High-quality chocolate taste.
Interesting orange taste infusion. 
Includes four chocolate pieces.
Cons
Always left wanting more!
Wana – Strawberry 10:1 Sour Soft Chews Blend
The distinctive attribute of these Strawberry Sour Soft Chews is their juicy strawberry flavor throughout.
Type: soft chews
Flavor/Taste: strawberry
Price Range: $10 – $20
The soft chews are made with all-natural components and contain 20 mg CBD and two mg of THC terpene-enhanced distillate for a 10:1 CBD/THC ratio.
Pros
Sweet strawberry flavor.
Decent CBD concentrate. 
Made with all-natural ingredients. 
Cons
Not ideal for more experienced users.
Wana – Japanese Citrus Yuzu Soft Chews Blend
The Wana Japanese Citrus Yuzu Sour Soft Chews are defined by their distinct acidity and unusual sweetness inspired by this rare Asian fruit.
 Type: soft chews
Flavor/Taste: yuzu fruit
Price Range: <$10
Handcrafted from all-natural materials, the soft chews include a 2:1 mix of CBD and THC terpene-enhanced distillate.
Pros
Rare Asian fruit taste.
Decent CBD content.
Made with natural ingredients.
Cons
FAQ
Question: Are There CBD Edibles for Cats?
Answer: Yes. CBD seems safe for cats to use based on anecdotal reports and minimal research. But its effectiveness in treating any condition has not been established. Until additional study demonstrates that CBD is safe and effective, it is advised to utilize it exclusively under veterinary care.
Question: Can you Use CBD Edibles for Energy?
Answer: Yes. CBD-based products are used to treat anxiety, help with sleep issues, and give people energy boost or help improve their concentration.
Question: Can you Use CBD Edibles for Pain Management?
Answer: While research is still in its infancy, consumers are increasingly turning to CBD as a complementary treatment for various health concerns, including inflammation.
The Final Bite
While CBD does not provide the psychoactive "high" associated with THC, there is little doubt that it can benefit overall health and well-being. CBD-infused edibles are a sweet and discreet way to consume CBD even if you're not a smoker. 
Did you find one that you want to try? If you're a beginner, I'd recommend starting with one like the Wana – Strawberry 10:1 Sour Soft Chews Blend. And if you're looking for more great recs like these, have a peek at our list of the best Delta 8 gummies for pain!