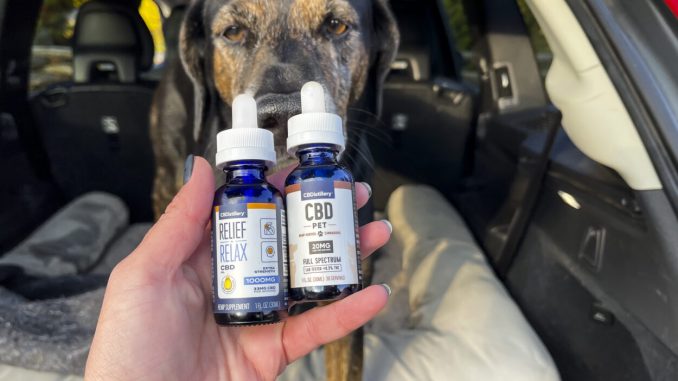 For the informed enthusiast, a CBD oil sale, or a sale on any products from CBDistillery™ is always welcome. That's because there is simply no substitute for CBDistillery's industry-leading CBD products. Pet-lovers trust CBDistillery's CBD pet tinctures for the same reason—they expect the best. If your dog experiences stress or discomfort issues, here are five ways they can benefit from pet CBD.
Help Your Dog De-Stress Before Going to the Vet 
Being able to help your dog de-stress before a visit to the vet can provide them some relief. CBDistillery's hemp-derived CBD pet tincture is an excellent product to help soothe your dog when you need to take them to any check-up. As always, be sure to clear it with your vet before giving your pooch CBD. 
Make Car Rides Easier
The traditional approach to helping your dogs with travel or car anxiety is a prescription or over-the-counter medication. Those medications tend to be intoxicating or, at least, tend to make dogs groggy. One of the reasons many pet owners buy CBD oil for dogs is precisely the fact that CBD is non-intoxicating. Whenever possible, it is always preferable to opt for the non-intoxicating solution for any problem your dog may experience. 
Relieve Separation Anxiety 
Separation anxiety is difficult because no pet parent wants to leave their dog in distress. The stress of separation can also result in several unfortunate consequences like the destruction of furniture, bathroom accidents around the house, and more. While training and working with your furry friend is likely necessary, soothing them with CBDistillery's CBD pet tincture may help. 
Soothe Your Dog When There are Loud Noises 
People buy CBD oil and other CBD pet products from CBDistillery for the same reasons they buy them for themselves. Namely, 9 out of 10 respondents to a CBDistillery poll reported that CBD products were effective for reducing feelings of mild and temporary anxiety. Fireworks, thunderstorms, vacuums, and other loud noises can certainly be a source of anxiety for dogs, and CBD pet tincture from CBDistillery can be an excellent option for helping them stay calm. 
Relieve Your Dog's Discomfort 
CBDistillery's CBD products interact with the same endocannabinoid regulatory system that is biologically established in both dogs and humans. CBDistillery users also report relief from discomfort when using their CBD products. The same seems to hold true for our pups. CBDistillery's CBD pet products may help your pup with relief from discomfort, reducing inflammation after physical activity, and increasing mobility. 
Your furry friend can benefit from CBDistillery's CBD pet products. Learn more and shop at www.thecbdistillery.com today.