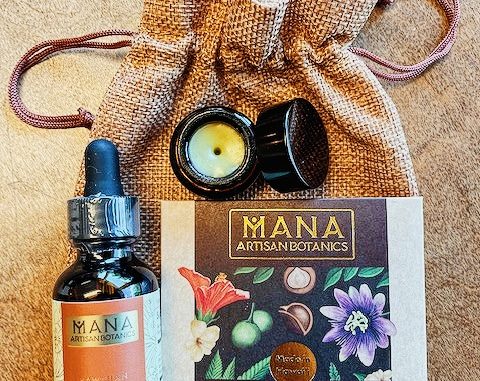 Aloha! And welcome to the land of relaxation and wellness, thanks to a delightful lineup of products from Mana Artisan Botanics. These products offer a natural way to restore your inner peace and bask in the tropical vacation in your mind. Mana Botanics is based in Kailua-Kona, Hawaii, whose products are naturally sourced from farmers throughout the island. Each product is fused with Aloha and offers a blissful escape from your anxiety, depression, PTSD, sleep disorders, and minor pain ailments. We have three unique products to review today: hemp balm, hemp oil, and hemp-infused dark chocolate! Let's take a deeper look at these products and review each product thoroughly to determine if CBD can help make a difference in your life!
CBD HAWAIIAN HEMP BALM
I love CBD salves because they're easily applied directly to sore muscles and can offer instant relief along with the benefits of CBD. Mana's Hawaiian Hemp Balm came in a beautifully packaged cardboard container that was easily opened. The label on the balm was a calming off-white with a bold green center. Reflective gold lettering showed premium quality and attention to detail. The company website was clearly marked left side, while the right side of the label displayed their suggested use, ingredients list, and warnings. The company's headquarters are listed at the very edge of the label, confirming that they actually are based in Hawaii! The product's expiration date was clearly listed on the bottom of the jar in clear white numbers. While there wasn't any specification of whether or not broad spectrum or full spectrum CBD was used, all CBD products are required to have less than 0.3% THC content. The 1 oz. container comes with 300 mg of CBD and is small enough to be placed on a nightstand or medicine cabinet.
Mana's Hawaiian CBD Balm is crafted with coconut oil, Hawaiian beeswax, phytocannabinoid-rich hemp extract, Hawaiian Comfrey, Hawaiian, plantain, vitamin E oil, and essential oils. On the Mana website, the balm goes for $40 as a one-time purchase, but if you subscribe for recurring monthly orders, the price drops 20% to $32. Now that we've gone over the packaging and pricing let's check out the actual product!
Product Review
The dark glass jar came sealed with perforated plastic that was easy to tear off. Once I unscrewed the bottle's cap, I was able to lift the protective white plastic seal from the jar and peered in. The balm looked like beeswax and had a light layer of moisture on the top layer. The balm's scent was delightful, smelling faintly of peppermint and hemp. The texture was a combination of beeswax and petroleum jelly. I easily scraped off a bit of the balm with my nail and noted how soft it was. I applied a thin layer to the top of my hand and noted that the salve was oily but dried fairly quickly, leaving a light sheen on the top of my hand. After a few minutes, the balm had dried completely but left a lightly mentholated tingling that reminded me that the balm was working. I also noted that the balm left my hand feeling soft and smooth, much like lotion. I also applied a light layer to the upper portion of my back, which is often a sore spot of mine from working at a desk so frequently. After a few moments, I felt the same light tingling of the balm working and appreciated the quickness in which the salve penetrated my skin to relieve my sore muscles. I loved the peppermint scent, and the hemp was nearly undetectable. It was a welcome change from overwhelming hemp and menthol scents from other CBD topicals. Now that we've gone over the Hemp Balm, let's check out the tincture!
CBD HAWAIIAN OIL: TURMERIC & VANILLA
I've always been a fan of tinctures because they're easy to incorporate into your daily routine, whether it be by direct placement under the tongue, swirled into your favorite beverage, or dripped over your favorite foods! And with a description like vanilla and turmeric, I was so curious to sample the flavor of this unique tincture.
There are three different flavor options: a 1oz. coconut, a limited edition 2 oz. macadamia, or a 2 oz. coconut. The 2 oz. options both come with 600mg of CBD, but the one we're reviewing today is a 1 oz. Macadamia Turmeric & Vanilla Hawaiian CBD Oil. This particular option contains 300mg of CBD and costs $55 for a one-time purchase. If you opt for a monthly subscription, the price drops by 20% to $44.
The ingredient list for the tincture was clearly marked on the bottle: organic phytocannabinoid-rich hemp, organic Hawaiian macadamia nut oil, Hawaiian turmeric, and Hawaiian vanilla bean. The serving suggestion is 20 drops twice a day, and there is enough in the bottle to last a full month. I loved how the website showed a CBD tincture chart for strength, dose, and intended use. Many people are unsure how much tincture is appropriate for a single dose and what the effects might be, so this chart was extremely helpful.
The tinctures are thoroughly lab tested, just like the hemp balm, and are clearly displayed in the Lab Testing section of the website. The Lab Tests are a bit hidden on the site, but if you type Lab Results in the search bar, a link will direct you to the full Lab Results of all the products that Mana Botanics carries. Now that we've gone over the ways to use the tincture and the ingredients in it let's check out the tincture itself!
Product Review
The tincture came sealed in a dark glass 30mL bottle. The label featured a calming orange and off-white color with gold filigree. The left side of the label showed all the benefits of using a tincture, as well as the company headquarters. The right side of the bottle showed the suggested use, supplement facts, ingredient list, and warning information. The bottom of the bottle was stamped with the batch number and expiration date in clear lettering.
The 30mL dark bottle had a protective plastic seal that was easy to tear off. I carefully unscrewed the tincture's childproof dropper bottle and observed that the dropper was graduated in clear yellow numbers and lines. The tincture itself was a light yellow, with the same color and viscosity as vegetable oil. The tincture's consistency was smooth and even, with no separation or bubbles. I held the bottle to my nostrils and detected a faint pleasant scent of natural-smelling hemp. I appreciated that the hemp scent wasn't strong enough to curl my nose hairs but was still strong enough to make its presence known. I filled the dropper to the 1mL mark and gently released the dropper contents underneath my tongue. I held the tincture easily under my tongue for about 30 seconds and then swallowed. Instantly the hemp flavor intensified inside my mouth, and there was a light aftertaste of hemp, along with an oily coating inside my mouth. The tincture did not taste like macadamia, turmeric, or vanilla and was not overly sweet or bitter. It was a very natural taste that gently faded with every passing second. I've tried several CBD tinctures over the years, and this one was smooth, natural, and perfectly hemp-flavored. I give it an 8 out of 10, as the flavor was smooth and silky but a bit misleading since there were no additional flavors aside from the hemp taste.
CBD 72% Dark Chocolate
I've always known that CBD can be incorporated into an impressive variety of topicals, creams, tinctures, and even gummy edibles, but this is the first CBD chocolate that I've heard of, let alone tried! I was extremely excited to try this CBD chocolate, as I, unfortunately, possess a raging sweet tooth. But before we get to that part, I'd like to go over the absolutely stunning packaging. The label was decorated with brightly colored flowers, cracked macadamia nuts, and several types of plant leaves. The company name Mana Artisan Botanics was embossed on the top of the paper envelope using thick gold lettering. The bottom of the envelope had fine gold writing that described the chocolate, including the CBD content (40mg) and net weight (0.7 oz/20g). The back of the paper square had a charming description of the chocolate, along with the cannabinoid serving size (20mg per ½ bar) and ingredient list.
Upon opening the envelope, I noted that the chocolate was contained in a clear plastic wrap, which I eagerly opened. The chocolate bar was the size of my palm and was outlined into four pieces that were easy to break off into smaller squares. The scent of the chocolate was rich and inviting, with no hemp scent detected. I broke off a small piece and immediately bit down and was surprised at the slightly bitter flavor. I broke off a second piece, but instead of biting down, I gently sucked on the chocolate piece and allowed it to dissolve in my mouth. The flavor was 10x better, as the chocolate melted away and the salt and hemp flavors became more pronounced. I must confess, I ate the entire chocolate square in one sitting (in probably less than 5 minutes) and was genuinely sad when there was no more.
The chocolate square had a silky and buttery flavor, but the texture was a little bit thicker than a traditional Hershey's chocolate bar. Keep in mind that this is dark chocolate, which means it is not as sweet as convenience store chocolate bars. The texture and flavor took a few seconds to get used to but was genuinely an excellent treat. I can easily see myself getting addicted to them! I also burped up a bit of hemp flavor, which was a funny reminder that I'd actually consumed a hemp-infused chocolate bar. I rate it as a 9 out of 10, solely because the flavor took some getting used to, but I definitely recommend it if you're looking to incorporate hemp into your life with a sweet chocolate treat!
Lab Testing
Mana does offer lab results for their products, but search "lab" in the search bar and click on the lab Results tab once the search engine had queried. Mana offers lab results on every single one of their products, which is no small feat when you see that Mana offers 87 different products.
Hemp Information
The sheer volume of information available on the site can be overwhelming and, frankly, a little confusing. The tab labeled "Our Craft" shows information on their ingredients, farmers, and recipes, but the Ingredients tab shows information on their hemp, as well as literally every other product they locally source from their farmers.
Product Packaging
Let me say that I was absolutely blown away by how professional the packaging came for the Hemp Balm, the Hemp Oil, and the Hemp chocolate. The hemp oil and balm were both glass containers, so usually, they come in standard paper boxes or wrapped in some bubble wrap. But Mana went the extra mile and had sturdy cardboard containers that perfectly encased the tincture bottle and the balm jar. The time and effort that went into protecting these products was very thoughtful and made a lasting impression on me.
CONCLUSION
Mana Botanics features small batches of organically produced macadamia nut oil, rare island honey, and coconut oil, all locally sourced from farmers on the island. The company's CEO has worked with medicinal cannabis for over twenty years, allowing him to produce some of the finest CBD products on the market. Their products are isolate-free, pure, and derived from whole plant extracts. I was honored to try these three products and was blown away by the level of professionalism, attention to detail, and care that went into the crafting of these three products. There are so many other CBD products on the Mana CBD website, which I urge you to check out for yourself! I can honestly say that these are some of the finest CBD products that I've ever had the opportunity to try, and I sincerely hope that you will consider their brand in your quest for homeopathic CBD options.
Do you have a favorite CBD product? Have you tried any of Mana Botanic's CBD products? Share your experiences in the comments below! The CBD industry is constantly coming out with new products and much-needed uses for helping others deal with an array of health issues, both mental and physical. If you have any questions on these or any other CBD products, don't hesitate to reach out to us! We would love to share our knowledge with you and enhance your quality of life with CBD products that we've tried and reviewed! We'll be reviewing another batch of CBD products soon, so make sure to check back often to see our newest CBD product review!