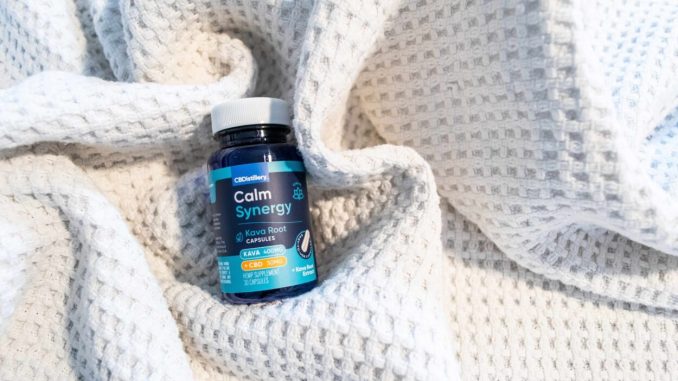 Since the introduction of our Synergy Collection, CBD users have embraced the pairing of our hemp extracts with the complementary benefits of minor cannabinoids and functional supplements. With so many people raving about our Raw Synergy, Sleep Synergy, Daytime Synergy, and Functional Synergy CBD products, we're confident you'll find our new Calm Synergy capsules worth the wait. 
CBDistillery® Calm Synergy capsules feature the combined health and wellness potential of our full spectrum hemp extract and kava root, a natural supplement often recommended for its soothing, relaxing effects. Whether you've been using CBDistillery® products for years or investing in their health and wellness potential for the very first time, we think you'll be impressed by the way each plant extract enhances the effects of the other.
What Is Kava Root? 
Kava (Piper Methysticum) is a shrub-like plant native to the Western Pacific region. Used for centuries in religious and cultural ceremonies, the roots are packed with a vast array of organic compounds, nutrients, and active plant elements called kavalactones. Of the 18 types of kavalactones produced in the plant, researchers credit six of those elements for the calming, relaxing effect the supplement is known for. This natural plant extract poses no risk of chemical dependency and is often recommended for stress, muscle tension, and sleep. Although kava root is also used to help elevate moods, improve focus, and enhance creativity, large amounts are known to cause drowsiness.1,2
How Does Kava Root Work? 
Like CBD, most of the evidence supporting the use of kava root is based on animal studies and a small number of clinical trials. Current investigations suggest considerable therapeutic potential because of the analgesic, anxiolytic, and neuroprotective properties of the kavalactones in high-quality plant extracts. Not only do researchers recognize the calming effect of various kavalactones on the central nervous system, it appears that those same plant elements also have the potential to contribute to a sense of overall wellbeing through their ability to interact with serotonin, dopamine, and GABA receptors.3
Why Pair CBD with Kava Root Extract? 
The oil extracted from the stalks, stems, and flowers of naturally cultivated hemp is linked to an impressive list of potential health and wellness benefits. Those many possible benefits are due to the combined impact of more than 100 active plant elements called cannabinoids. CBD (cannabidiol) is the most abundant cannabinoid in natural hemp extract. Current research shows that CBD mimics the effects of important chemical messengers produced as needed in your body to help relay urgent signals to their corresponding receptors, the receptors of your endocannabinoid system (ECS).4,5
That ability to interact with ECS receptors gives hemp-derived CBD products a unique ability to help support ECS function. The impact of that support seems to depend on which essential processes might be restored to balance while using hemp-derived CBD products. Like kavalactones, CBD also interacts with serotonin, dopamine, and GABA receptors, essential neurotransmitters involved in emotional regulation, stress responses, sleep cycles, and more.6 Although both plant extracts have the potential to help calm your mind and ease tension so you can feel more relaxed, they work in different ways. We think you'll appreciate how each plant extract brings out the best in the other.  
The Advantage of Using Calm Synergy Capsules
CBD capsules are most often favored by those who value convenience and portability. CBD users who want consistent, pre-measured serving sizes will find CBDistillery® Calm Synergy Kava Root Capsules advantageous. Each capsule offers 30mg of CBD and 400 mg of Kava Root extract per serving, a moderate amount that works well for most people interested in their symbiotic effects.
Can I Use Calm Synergy Capsules with Other CBD Products? 
Yes, you can use any combination of hemp-derived CBD products that suits your needs. CBD is non-intoxicating, generally well-tolerated, and has an impressively low risk of side effects. Many CBD users appreciate knowing they can start their day with one product for overall ECS support, switch to a second formulation should their needs change throughout the day, and still use an entirely different product at night. In our Synergy Collection, you'll find an assortment of CBD products made with additional cannabinoids and supplements selected for energy, mental clarity, and restful sleep. Based on the feedback of nearly 2000 survey respondents, most CBD users report achieving their best results using multiple hemp-derived products daily compared to using a single CBD product on its own.
Can Kava-Infused Capsules Enhance Your CBD Experience? 
Long before the launch of our Synergy Collection, most survey respondents reported favorable results using our high-quality hemp-derived CBD products for discomfort after physical activity, restful sleep, and relaxation. With the introduction of our new Calm Synergy Kava Root Capsules, you now have the option of fine-tuning your CBD experience with kavalactones, active plant elements known for promoting a sense of peaceful tranquility.
If you'd like to learn more about some of the many potential benefits of ECS support, visit CBDistillery® to download The Ultimate CBD User Guide, the #1 resource guide for CBD users. Then take a moment to investigate some of the most intriguing CBD products you'll find, the hemp-derived products featured in our new Synergy Collection.  Like all CBDistillery® tinctures, topicals, drink mixes, softgels, and gummies, our new Calm Synergy Capsules are non-GMO, third-party tested, US Hemp Authority® certified, and backed by our 60-day satisfaction guarantee.  
Sources:
1. Organic Facts. J Staughton. (2020 July 02) 9 Surprising Benefits of Kava Root?
2. Dr Axe. K Oliver (2016 February 17) Kava Root: Do the Risks Outweigh the Benefits?
3. Healthline. G Van De Walle. (2018 February 10) Kava Kava: Benefits, Side Effects and Dosage.
4. Project CBD. (2022) How CBD Works.
5. Journal of Young Investigators. C Sallaberry, L Astern. (June 01, 2018) The Endocannabinoid System, Our Universal Regulator.
5. Journals.Physiology.org. A Lingresti et al. (2016 September 14) From Phytocannabinoids to Cannabinoid Receptors and Endocannabinoids: Pleiotropic Physiological and Pathological Roles Through Complex Pharmacology.
6. CBNS. D Harris. (2022) The Entourage Effect: The Science of Combining Cannabinoids.