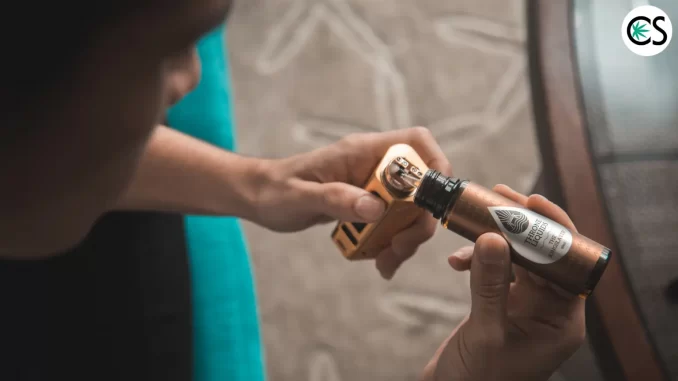 Now that you know that the terms CBD oil and CBD tincture are often used interchangeably, there's something else you should know. 
CBD tincture and CBD vape oil both contain CBD but are designed to be used differently.
CBD Tincture
Designed to be used orally, CBD tinctures are made by extracting CBD from the hemp plant by steeping hemp flowers and leaves in a high-quality alcohol or vegetable/food oil and subsequently applying low heat over a substantial amount of time.
This process allows for the active compounds found in hemp plants to permeate into the alcohol, with any excess alcohol boiled off.
Aside from alcohol extraction, CBD is also commonly extracted from the hemp plant using CO2.
This process results in a concentrated CBD extract, which producers dilute with carrier oils (like olive, hempseed, or coconut oil) that can be easily absorbed and digested by the body, as well as other ingredients (such as different flavors like mint or citrus) to improve its flavor.
Currently, CO2 extraction is considered the industry standard best extraction process and is by far the most popular.
CBD Vape Oil
CBD vape oils are designed to be used in e-cigarettes or vape pens.
To produce this e-liquid, a thinning agent is added to the CBD extract, as concentrated CBD oil is typically too thick to easily flow through most vape pens.
Aside from making the CBD thin enough to make its way through the vape pen, it also creates a higher volume that will increase how long the CBD oil will actually last.
This thinning agent produces the vapor clouds exhaled when vaping CBD.
Different thinning agents used in CBD vape oils include:
• Polyethylene Glycol (PEG)• Propylene Glycol (PG)• Vegetable Glycerin (VG)
While vaping in most cases has proven to be a safer alternative to tobacco smoking, more research is needed to examine it in more depth. Many scientists are still determining what is the safest liquid to be vaped that may have the most minimal side effects on health. According to the Florida Health Department, the long-term side effects of vaping are still unknown4. However, studies indicate that more than 25% of school students are vaping and 4% of adults. The reason why research is still struggling with finding the right answers for the public is the ongoing upsurge of limitless vaping products. Also, the customizable options of vaping are creating unlimited forms of variables that are misleading a good solid study5.
According to John Hopkins, vaping in general, and despite the lack of studies, is still an unhealthy practice and should not be replacing smoking. Talk to your doctor before engaging in any new lifestyle change6 [6].
In the vaping community, VG is commonly considered one of the best available bases for CBD vape oils because it produces the largest vapor clouds and is considered the safest option of the three. More research is still needed to confirm what is the safest product to be vaping.
Some studies link vaping to stiffness in the soft coverings of the lungs in some individuals. Others link it to irritations of the airways. All in all, one has to be very careful.
No matter how you decide to use CBD products, we recommend avoiding the illicit or cheap "knock-off" markets, especially when buying vape products. Many problems have been reported due to dangerous ingredients identified in the products. Make sure you are picking a transparent manufacturer that is producing high-quality products.
Also, it is better to purchase products from a trusted and carefully lab-tested source of vape products and vaporizer equipment with proper usage instructions.
Note: Due to recent reports of vape-related lung injuries across America, there has been elevated concern for safety related to vaping products. If you are concerned about your health and safety and don't want to use a vape product, you can always use the many other effective and great ways to use CBD products like capsules, edibles, or topical products.