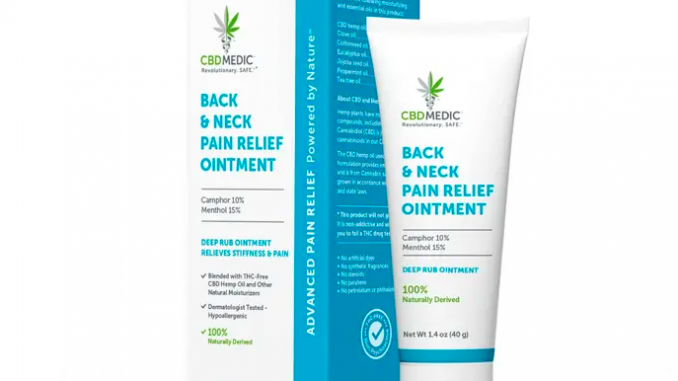 Quality 
All of CBD Medic's products contain wholesome natural ingredients to provide a premium and highly effective pain relief alternative to traditional medicine. They guarantee that their products are THC-free, non-psychoactive, and pose no threat to those required to submit drug tests for employment. The legal limit for THC in any CBD product is 0.3%, and CBD Medic conforms to those requirements in each and every one of their products.
This deep-rub ointment targets discomfort and soreness in your shoulders, waistline, neck, and lower back, but it can be used for any particular sore spot on your neck and back. You can use it for fast and effective relief for muscle soreness, sprains, strains, and even bruises! The ointment was designed as a combination of FDA monographs and advanced science, using only the finest natural and organic ingredients available. 
The Back & Neck Pain Relief Ointment is a combination of several ingredients: menthol (15%), camphor (10%), argan oil, coconut oil (MCT oil), cottonseed oil, frankincense oil, 200mg hemp extract (THC-free), honeysuckle oil, jojoba seed oil, and myrrh oil. The use of frankincense and myrrh oil made me extremely curious about the scent of this ointment, as those two rich ingredients are used in perfumes and are part of the trio of gifts that we sing about on Christmas. But we'll get to the scent test momentarily! Let's finish up a few more things about the company and we'll dive right into the actual review of the product. 
The website is professional and inviting, with information on CBD for beginners, an informative up-to-date blog, and a well-written About Us that thoroughly explains why CBD Medic should be your one and only stop for topical CBD products.
The Deep Rub Ointment comes in a very professional looking box that looks like it came right out of the pharmacy. The company logo on the front reminded me of the caduceus (the doctor symbol of two snakes on a pole), but with a hemp plant at the top instead of the snakeheads. A little stamp on the top right corner certified that there was no THC and that this product is non-psychoactive. The company name (CBD Medic) along with the words Revolutionary and Safe marked clearly below. This particular 40g deep-rub ointment is meant to treat pain in the back and neck, with all-natural ingredients. On the left side of the box, it shows how CBD Medic created this product, along with the strict standards it was created with. On the back of the box, it shows all of the natural oils and extracts, as well as the particular amount (CBD extract 200mg, clove oil >200mg, jojoba oil >400mg, etc.). It also states that their CBD is from the Cannabis sativa L plant, but will not get you high nor cause you to fail a drug test. The company also promises that their product is free of artificial dyes, parabens, steroids, phthalates, petrolatum, and synthetic fragrances. Lastly, on the right of the package, it shows all of the drug facts, such as the active ingredients (camphor 10% and menthol 15%), inactive ingredients, uses, warning, and directions. 
Lab Testing
CBD Medic provides third-party independent lab testing for all of its products. You can either scan the QR code on any of their products or click on the Lab Results CoA tab at the bottom of the website. From there, you can click on the specific product you wish to see the results of and view the results by lot number. Click on any of the lot numbers and you'll be redirected to a PDF document within the window.