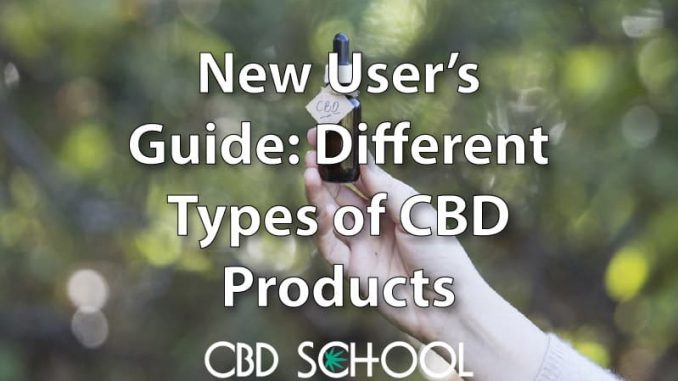 So, you might have tried CBD oil or even heard of it. Your friends might be raving about its wonders and benefits. A quick Google search will present you with 1000's of options, so how do you choose between the many types of CBD products?
Here you can put your worries aside, and we aren't called the CBD School for no reason. This article will take you through the different kinds of CBD products, how they benefit you, and which one is best for your needs.
Wait! What Exactly is CBD?
We are kind of nerdy when it comes to CBD and its benefits. CBD or Cannabidiol is a natural compound called a cannabinoid found in the cannabis plant. The cannabis plant has many other cannabinoids naturally found in the plant, and however, CBD oil is our favorite for its many healing properties and health benefits. When you understand how it works, you will make the right choices for your needs.
There are two primary sources of CBD – marijuana and hemp… However, hemp seed oil is the only legal source of CBD in the US, according to the 2018 Farm Bill. After the extraction process is complete, your CBD compound gets added to a carrier oil such as MCT, coconut oil, or other oils.
It is processed in different ways to produce a range of products.
The Science Behind The Compound
Before we jump into the many types of CBD products, we need to understand the 'WHY,' why CBD is so popular, and what it does for millions of people across the globe every day.
That takes us straight to science. The science of how CBD works is simple. If you think about a pain killer, it sends signals to the brain to stop sensations of pain from being felt. CBD interacts with the endocannabinoid system, particularly with the CB1 and CB2 receptors that are present.
The ECS plays a vital role in the body. It helps develop the central nervous system, has a role in synaptic plasticity, and modulates homeostasis. Amazing, right? What about the receptors?
CB1 – This receptor is primarily found in the brain and the central nervous system. This deals with the motor functions, pain, stress, and memory centers. This is why CBD helps with concentration, stress, and chronic pain.CB2 – These guys are found in the organs and along with the immune system. This receptor has a vital role in the muscular and cardiovascular systems and the immune system. Thus its healing properties.
CBD Comes In All Shapes And Sizes
There is a range of CBD products. At first, you might be confused with CBD jargon being thrown around. Luckily we will cover everything from full-spectrum CBD to broad-spectrum CBD products, the types of CBD, and how potency varies between each.
As we get stuck into the different types of CBD products, we will be recommending some of our favorite brands.
Over the years, we have sampled many products and have our very own favorites across a few brands.
Different Ways to Deliver CBD
If you have heard of the potential benefits that CBD oil offers, you will be ecstatic to know that there are different types to suit different needs.
Smooth Creams and Buttery Balms
Pain, glorious pain, has no chance at sticking around when it comes to the powerful punch that topical CBD has to offer. Packed with moisturizing butter and oils, topical products with organic CBD oil are the best at fast-acting pain relief.
Why is this important?
Chronic pain – Chronic pain is a condition that is often debilitating for MANY Americans. Longstanding injuries such as back pain, joint ache, and old wounds, which sometimes require harsh opiate prescription medications, can be managed using topical CBD balms for pain.Inflammation is one of the most common issues for people who experience pain. CBD targets inflammation at its core and helps reduce it while offering healing benefits to the area.Sports injuries – Muscle ache and sports recovery from training sessions or injuries can be hard to deal with, especially if you need to recover fast. Topical CBD balms offer targeted relief within minutes that aids in faster recovery and pain relief.Arthritis – Arthritis can produce chronically painful joints. CBD-infused balms and creams can help reduce inflammation in the joint area and offers targeted pain relief that you can feel in as little as 10 minutes.
Treat pain like a pro: cbdMD is one of our longstanding favorites. The cbdMD Recover range is strong with 1500mg of CBD and has non-cooling effects. It is perfect for a wide range of uses such as back pain, muscle ache, and joint pain. With added arnica, aloe vera, and MSM for extra healing powers, it is one of our all-around favorites when it comes to pain relief.
Glowing Skin with CBD
Fast becoming popular across the globe is CBD skincare. CBD-infused beauty products such as night lotions and serums are fast becoming popular for many reasons. CBD has anti-aging properties by healing the skin and keeping it moisturized. Few people know that the key to looking and feeling great lies in hydration; CBD oil offers precisely that.
It helps soothe irritated skin or skin that has become inflamed. Beauty serums that contain CBD often contain other excellent moisturizers, aromatherapy-style essential oils, and complementary carrier oils such as jojoba and shea butter. Another added benefit is CBD for acne, as it soothes inflammation and helps combat bacteria that can induce a flare-up or worsen it.
Get some Joy out of your skincare: Joy Organics is perhaps one of our favorite beauty regimens. WE absolutely love the face serum with 90mg of CBD, added good stuff such as rose hips, citrus, chamomile, and milk thistle. It leaves your skin feeling notably tighter and smoother after the first application.
Tasty Oral CBD Solutions
There are several different types of CBD edibles, and these are some of the most popular ways to incorporate CBD in your life. We will look at the different types of CBD edibles and what they have to offer in a little more detail.
CBD Gummies
Who doesn't love gummy candy? Well, the world of CBD has taken its potent hemp extract and married it to gummy candy. Some of the best CBD gummies contain just the right amount of CBD needed for a single dose delivered in a great-tasting gummy. It is a match made in heaven; it is beautiful. We absolutely love it.
The best part is it is not only CBD; many brands have discovered that they can use added ingredients such as melatonin for sleep or ashwagandha and multiple cannabinoids naturally found in the cannabis plant in their gummy products. This makes for a full house power-packed supplement.
Need Sleep? Try this product to catch some Zs:
If you need some well-deserved sleep, CBDfx has the perfect vegan-friendly gummy made with melatonin and magnesium; you can be sure that your night's rest will be the best. These gummies are made with premium hemp-based broad-spectrum CBD oil.
CBD Capsules
When you need a no-frills approach to your daily dose, hemp plant extract capsules are the way to go. They deliver the perfect measured dosage directly to your gut, with no added frills. This type of CBD product makes it easy and doable for anyone who doesn't want to deal with a tincture's taste or texture or added sugar from a gummy.
They come in various types, so if you need a capsule with added benefits, you are sure to find one. CBD capsules are also available in full-spectrum (with 0.3 percent THC) and broad-spectrum (0.03 percent THC). They are made for discretion!
Pure CBD goodness in a capsule, try the New Phase Blends Pure range;
This broad-spectrum CBD oil product is sophisticated and put together, and it is made with vegan-friendly softgel capsules and pure premium CBD; you don't have to compromise on your health.
It's All in the Drop CBD concentrates/tinctures.
This CBD type is the OG of CBD oil products. Back in the day, it consisted of CBD and a carrier oil, no-frills, no tasty tropical flavors, or anything to mask the earthy flavor of an industrial hemp oil. However, these days, tinctures are soaring to new heights with flavors and synergistic add-ons that make life great again.
Tinctures come in a range of flavors with specific goals; they are made to help you relax, boost your energy, or get a well-deserved night's rest. All you need to do is decide what you need and drop it under your tongue, wait ten minutes and feel it kick in. Simple. Good!
Looking for a boost of energy? Give this product a Go:
Using CBD for energy might sound like a joke. How can something soothing and relaxing help you focus and move better? Any form of CBD in smaller amounts can boost performance; add a little synephrine to it, and you have the perfect formula for added energy! Like this tincture from New Phase Blends.
Up in Smoke/Vape
The fun part of your daily dose might just come from a vape! CBD is well known within the vape community and is increasingly popular. They are made with isolate CBD and have ZERO THC in them so that you won't get high; you will just experience the benefits of pure CBD.
The range of flavors makes it an easy, fun, and delicious way to experience CBD. While we don't necessarily endorse vaping, you need to understand that you should only purchase vape juice from reputable companies with third-party testing.
Minty goodness with a hit of CBD, try CBDfx vape juice!
CBDfx is one of our trusted favorites. CBDfx has a wide range of vape flavors. It is solvent-free and made with broad-spectrum CBD.
Prescription CBD Oil Products
CBD for epilepsy is fast becoming a preferred treatment for many patients. While the products mentioned above fall under the nonprescription CBD products, there are prescription-based ones. These are tasked explicitly with treating medical conditions such as epilepsy and severe seizure disorders.
If you suffer from epilepsy and seizures, it might be time to speak to your doctor about CBD and whether it could help you.
But What Form of CBD Is best?
This is down to preference. What works best for you might not work best for someone else. While you might prefer full-spectrum CBD oil products, someone else might prefer broad-spectrum CBD oils. There is no absolute right or wrong answer.
We want to point out that topical might be your best bet if you are looking for targeted pain relief, while you might better combat anxiety with a tincture. It all boils down to your needs.
What Should I Look for in a CBD Product?
Before you decide to take CBD, it is good to cover the basics, and there are two; potency and spectrum. These two essential concepts don't change when it comes to the product type; by understanding that, you will quickly choose the right kind of CBD product with a little more ease.
Additionally, if you aren't signed up for our email program: do it! You'll thanks us later, especially, if you're new to CBD. The fourth email in our introductory chain gives you the fine details of how to avoid being scammed when purchasing CBD products.
Sign up below:
Ok. Let's dive straight in.
Potency
It simply refers to the amount of the cannabidiol compound present in the product. CBD oils and products made with them come in a range of potencies. For example, in a 30ml bottle with a strength of 1,000-2,000mg of rich CBD oil per bottle, you can expect to get 33-66mg of CBD per 1ml serving.
The rule of thumb with CBD is that LESS is often better; starting on the lowest potency and amount and working your way up to a level that suits your needs ideally is the best way to approach CBD.
Spectrum Type
The spectrum refers to differentiating between CBD products on a microscopic scale. You get two types of spectrums; Full Spectrum CBD oil and Broad Spectrum CBD Oil; we will offer a notable mention of the third type, which is a CBD Isolate.
Full-spectrum CBD
Full-spectrum CBD contains the full range of naturally occurring compounds, trace amounts of THC, and other cannabinoids naturally found in the hemp plant. It is important to note that the federal limit of THC in a full spectrum product cannot exceed more than 0.3%; no matter the CBD brand, this is important.
The combination of the compounds offers the user a chance to experience the entourage effect. It contains fatty acids, terpenes, and cannabinoids. It is one of the least processed types of CBD oil.
Broad Spectrum CBD
Perhaps the most commonly found spectrum, it has a wealth of phytochemicals with less than 0.03% THC, a trace amount that cannot be detected nor offer any psychoactive effects. It still gives you the entourage effect without any THC as it still contains flavonoids and terpenes.
The trace amounts of THC have made it, so broad-spectrum products are becoming more popular as a way to ensure that they pass drug tests. This is especially important as the trace amounts of THC do not accumulate to form a false-positive test result.
CBD Isolate
While this is not a spectrum, it is worth noting that it is one of the most processed forms of CBD and contains 99% CBD making it the strongest. It comes in a white powder substance and offers no other cannabinoids, terpenes, THC, or flavonoids, just pure CBD. It does not provide an entourage effect that requires interaction with other cannabinoids.
Testing and Certification
Many CBD companies only offer broad-spectrum products. While neither full nor broad-spectrum CBD oils will provide you with a high or any psychoactive effects as the amount of THC is too low. To remain legal, CBD oil companies have to stick to these guidelines.
It is also worth noting that it is good practice for companies to offer you a surefire way of knowing that your CBD contains EXACTLY what the bottle says by use of third-party lab testing and certification.
Hemp Authority Certified
While we all know that organic produce is often better for us, we sometimes forget to ensure our supplements are under the same category. The Hemp Authority provides that any products labeled with their stamp of approval are made under tight regulations.
Each company listed and registered with them is bound to strict protocols and that each product is exactly what the label says it is. This is important for a variety of reasons. It keeps you and the company safe with yearly audits.
What About FDA Approval?
This is an important question; the Food and Drug Administration has not approved nonprescription CBD products. This is why it is vital to make sure that you invest in good quality CBD products made by a reputable company.
Third-party testing is vital to ensure that the amount of CBD and other cannabinoids present in the product you are taking is accurately listed on the label. It protects you from coming to harm. You also need to make sure that you are not on any contraindicated medications, which is why we always recommend speaking to your doctor before you start your hemp oil journey.
Why Take CBD?
CBD oil is one of the best dietary supplements out on the market. Its wealth of health benefits runs a little deeper than just surface-level benefits, such as making you feel less anxious. CBD oil and its products offer the user an everyday life, especially if they suffer from chronic pain, anxiety, insomnia, PTSD, and acne.
CBD offers healing in its natural form. Taking CBD products can help you rebalance hormones and improve your overall quality of life while still offering you a range of different types of CBD oil types for targeted relief.
Are All of These CBD Types Legal?
Good question!
Federally speaking, CBD items are legal, so long as they contain less than 0.3% THC content. Check out our state by state guide to see if CBD is legal in your state.
While CBD is legal in a vast majority of states, a few states have somewhat different laws.
Our Final Thoughts on CBD Products
Whether you prefer topical applications over tropical gummy sensations, one thing is true, and consuming CBD is life-changing. Its natural origins make it an attractive solution for people wary of harsh chemical medications that are habit-forming or simply don't offer the same amount of relief. Hemp-derived CBD products provide many people a new lease on life and allow them to live pain-free or with less anxiety.
Always use your discernment when choosing between CBD brands, and don't be afraid to experiment with different brands. One brand might offer a better topical solution for your needs, while you might prefer another brand's synergistic compounds in their CBD tincture offerings.
If you have any favorites, let us know below!
References:
National Center for Complementary and Integrative Health (2019). Cannabis (Marijuana) and Cannabinoids: What You Need to Know. [online] NCCIH. Available at: https://www.nccih.nih.gov/healthcannabis-marijuana-and-cannabinoids-what-you-need-to-know.
US Senate: www.usda.gov. (n.d.). Farm Bill. [online] Available at: https://www.usda.gov/farmbill.
‌Lu, H.-C. and Mackie, K. (2016). An Introduction to the Endogenous Cannabinoid System. Biological Psychiatry, [online] 79(7), pp.516–525. Available at: https://www.ncbi.nlm.nih.gov/pmc/articles/PMC4789136/.
Johnson, J. and Theisen, RN, MSN, AGPCNP-BC, E. (2020). CBD oil for pain management: Effects, benefits, and uses. [online] www.medicalnewstoday.com. Available at: https://www.medicalnewstoday.com/articles/319475 [Accessed 20 Feb. 2022].
NCCIH. (2021). Melatonin: What You Need To Know. [online] Available at: https://www.nccih.nih.gov/health/melatonin-what-you-need-to-know.