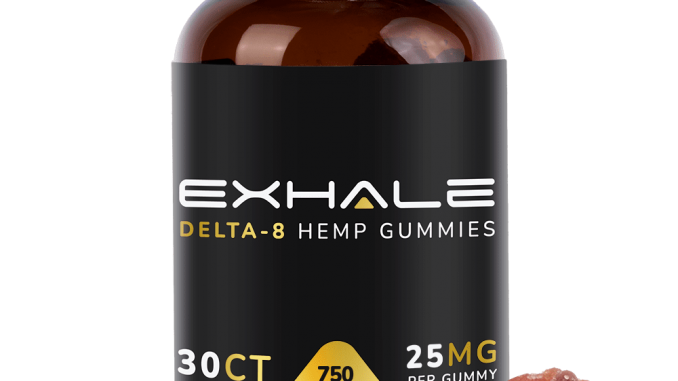 If you're feeling stressed out with life events and feel like you're getting overwhelmed with things to do, it's time to do more than just take a deep breath and try to focus. Thanks to the delightful Delta-8 THC gummies by Exhale Wellness, now you can take back control of your anxiety and stress with a single chewy treat! In addition to helping you relax and focus, these Delta-8 THC gummies can improve creativity, stimulate appetite, help with some sleeping disorders and so much more.
Before I even set out to review these gummies, I was contacted by an elderly customer who has been using Delta-8 THC products for quite some time now. When I asked her which ones were her favorite, she cited these exact gummies! Mind you, this sweet 70+ lady was excited to share her experiences with this particular brand and raved about how much she enjoyed them. My curiosity was piqued and I'm delighted to share my own experiences with you today. We'll start off with a brief explanation of what Delta-8 THC is (for our new readers) and jump into a review of the brand itself, the product packaging, and of course, the product review. Let's begin!
Delta-8 THC: A Very Brief Overview
While Delta-8 THC might be new to you, this incredible cannabinoid has been used for decades. Thanks to the legalization of medicinal and recreational use of marijuana, Delta-8 THC has increased in popularity amongst users who prefer a smoother and calmer mind and body high. Delta-8 THC allows the user to stay in control and remain clear-headed, sans the accompanying paranoia and anxiety that traditional weed users experience. If you'd like to learn more about how Delta-8 THC affects you and how it differs from marijuana, check out some of our earlier posts that offer an in-depth explanation of this fascinating cannabinoid: How Does Delta-8 THC Affect the ECS, What Using Delta-8 THC Feels Like The First Time, Guide to Delta-8 THC Products on the Market, and A Simple Guide To How Is Delta-8 THC Made.
For consumers who are already familiar with the Delta-8 THC effects, always keep in mind that you should start off with low doses. Once you understand how your body reacts to the cannabinoid, you can slowly increase your doses as desired. Avoid driving or operating machinery while under the influence of a Delta-8 THC high, and always consult your primary health physician before taking Delta-8 THC for the first time. Delta-8 THC is considered the "lite" version of marijuana, and is known to cause certain side effects, including dry mouth, appetite stimulation, drowsiness, enhanced arousal, and sleepiness. Consuming too much Delta-8 THC can result in extreme drowsiness, paranoia, and more. Your Delta-8 THC high and accompanying side effects can vary based on your weight, metabolism, previous exposure to THC, age, and other factors. The 2018 Farm Bill requires all hemp products to contain less than 0.3% THC in order to be legally bought and sold, but can vary greatly depending on your home state.
The Exhale Wellness Brand
The Exhale Wellness brand is a premium hemp product that claims to have "The #1 Legal Delta-8 THC In The World." I admit, I was a bit taken aback by the profoundness of such a claim, but decided to explore the website and see for myself. The company website was truly a work of art (seriously, hats off to the graphic designer!) and offered scores of information at every click. A gold banner at the top of the site offered a 20% off discount on your first purchase, while stunning photos showcased their most popular products. The site exclusively sells Delta-8 THC products in every form imaginable. Prerolls, edibles, cartridges, flower, concentrates, and even bundles! Each product listing had crisp pictures of the item in question that showed both size and texture, along with a lengthy description, ingredient list, recommended usage, and so much more. The Exhale gummies I'm reviewing today were the 750mg option. The glass bottle comes with 30 gummies, each containing 25mg of Delta-8 THC. The gummies are sold for $59.95, but if you opt for the bi-weekly or monthly subscription, you can save a whopping 25% with each purchase.
My only complaint about the site was the overly-frequent popup windows. In the course of being on the site for about 15 minutes, I had to navigate out of email address requests, customer service chat windows, and a few other discount popup windows. I understand trying to save the customer some money and encourage a purchase, but it was slightly frustrating to have the screen completely filled by a popup and being interrupted from what I was currently reading. Again, this was more of an inconvenience than a breaking point, but keep this in mind when you visit their site for the first time.
Delta-8 THC Hemp Gummies Product Review
I've had the privilege to sample and review quite a few different Delta-8 THC gummies over the past few months. Every single one of them come in a pre-designated flavor, such as strawberry lemonade or black cherry while some brands offer familiar sugary sweets like sour worms and sour belts (Check out my entire review of the Dimo Hemp collection!) but all in a singular flavor. This was surprisingly not the case with the Exhale Wellness gummies! I originally fished a gummy out of the tall darkly stained bottle and noticed it was shaped like an orange slice. I assumed that the entire bottle contained the same shape and flavor, but upon closer inspection, I noticed that there were five different fruit flavors included! The gummies were shaped and flavored like strawberry, grape, orange, pineapple, and apples! Each one was coated in sour sugar crystals and was delightfully soft and squishy. The recommended dose is listed on the website: "5 – 15 mg of Delta 8 if you have a low tolerance or are just starting out. If the effects are not satisfactory at that level, you should increase the dosage to 15 – 45mg. Those with a high tolerance can try from 45 – 150 mg or more, if necessary." One gummy contains 25mg of Delta-8 THC, so that's what I started with.
As an avid lover of citrus, I popped the orange gummy into my mouth. I noted the texture was the perfect consistency of firm and chewy, with an excellent authentic orange flavor. There was a light hemp flavor that was quickly overpowered by the orange flavor, virtually no aftertaste, and no slimy residue on my tongue or teeth. Usually with gummies, there are gummy particles that remain in my teeth that can only be gotten rid of by a swig of water or by brushing my teeth, but not with these gummies! I noted that my start time was five minutes past midnight, and I settled in to wait for the gummies to kick in.
I felt something begin a mere 30 minutes in, but it wasn't until around 90 minutes that I REALLY felt the high begin. It was a very mild high at first, reminding me of how a Delta-10 THC high felt (check out my review of the Work Hard gummies) in terms of alertness and clarity. I ate a second gummy at 1 am (about an hour after the first one) and quickly felt the high intensify within the next half an hour. I felt my eyelids begin to droop and noticed a warm tingling sensation in my arms and legs. I noticed my mouth was a little dry and felt hungry, so I grabbed a few snacks and some water. Let me tell you that these snacks were exponentially magnified by the high, with the pizza-flavored Cheez-Its and Rolos tasting like foods of the gods. The munchies are real!
In addition to munchies and tingling, I noted that I had slightly red eyes and felt like I was covered with a warm weighted blanket. I spontaneously launched into fits of giggles and was wonderfully euphoric. I started feeling drowsy and officially went to sleep about 4 hours after consuming the first gummy. I fell asleep quickly and slept for a solid eight hours…but woke up and still felt high! The high eventually wore off after an hour after waking, but it was a little disorienting to wake up still feeling that way. If you plan on taking these gummies during the week, I highly suggest you take it early enough so it won't interfere with your work the next morning, or on a weekend where you can enjoy the high for several hours uninterrupted.
Lab Testing
In the vast market of Delta-8 THC products, it's crucial to ensure you're obtaining premium hemp products that contain what they say they do. The only way to do that is through independent third-party lab tests. The FDA does not regulate any hemp products, thus making it all too easy for some companies to spring up and make claims about their hemp products that are simply not accurate. With independent third-party lab test results, you can rest assured that your CBD, Delta-8 THC, and other cannabinoid-infused products are authentic and premium. These tests are time-consuming and often very expensive, but extremely necessary. Exhale Wellness provides their COA (Certificate of Analysis) on both their website and on their product packaging in the form of a scannable QR code. On the Exhale Wellness website, simply hover your mouse on the Why Exhale tab and click on the Lab Testing tab. The page will redirect to all of their available lab test results, and depending on which results you click on, the lab results will open in a new tab. Having access to these test results really shows that Exhale Wellness is dedicated to excellence and committed to alleviating any consumer concerns.
Hemp Information
Exhale Wellness provides detailed information about their hemp in every single product listing. Their Delta-8 THC is crafted by converting premium CBD to Delta-8 THC via CO2 extraction methods, thus allowing the Delta-8 to be free of any harmful solvents. The hemp is organically grown in Colorado by certified growers and is shipped to the company's California headquarters. The hemp is grown in uncontaminated soil, without pesticides or pollutants, and after the extraction, contains less than 0.3% THC.
Product Packaging
The product packaging for the Exhale Delta-8 THC gummies was the first company I've encountered that uses darkly stained glass bottles instead of the traditional resealable pouch. The glass bottle was roughly the size of my hand and had a beautiful black and gold label that wrapped around nearly the entire bottle. A small section was left open between the label edges that allowed me to look inside and see roughly how many gummies remained. The front of the label displayed the brand information, the product count (30 gummies), mg count per gummy (25mg), and the total mg count for the entire bottle (750mg). The left of the label displayed a large scannable QR code, manufacturing information, and customary warnings about consumption and storage. The right side of the label showed the supplement facts and serving size, as well as a complete list of ingredients. I would have liked to see a recommended dosage or an estimated wait time, but I understand that dosages and reaction times are quite varied,more of a guideline for new users rather than a sure thing. Aside from that, the label was crisp, professionally designed, and carried an aura of elegance that was well-received.
CONCLUSION
These gummies from Exhale Wellness were truly some of the finest gummies I've ever sampled. From the texture to the flavor, to the wide range of fruit flavors and shapes and affordable price, to the fine packaging and professionally designed company website, these gummies are well on their way to earning their claim as the top Delta-8 THC product on the market. If you're looking for a deliciously flavored gummy that delivers a fantastic high in just under two hours, these soft and chewy sweets deserve a spot on your shelf. While the 90 minute start time was a bit longer than I expected, the slow-building high was incredible for both first-time users and experienced users alike. I wasn't expecting to be so impressed with a gummy, but these delicious sweets were everything I wanted and more. If you're trying Delta-8 THC for the first time or wanting to relax with a bit of Delta-8 THC help, I highly encourage you to grab a bottle for yourself.
Have you tried these Exhale Wellness gummies or any of their other products? What is your favorite type of Delta-8 THC product? Do you have a favorite brand or have you tried any of the products from our review? We'd love to hear from you! Drop a comment below or feel free to reach out to us with your comments and questions. Delta-8 THC comes in a variety of forms, and it's always an honor to review products from so many different brands. In our next review, we'll be checking out a vape cartridge and gummies from the Skyhlo brand. Check back with us in the next few days for that and more awesome Delta-8 THC and CBD reviews!