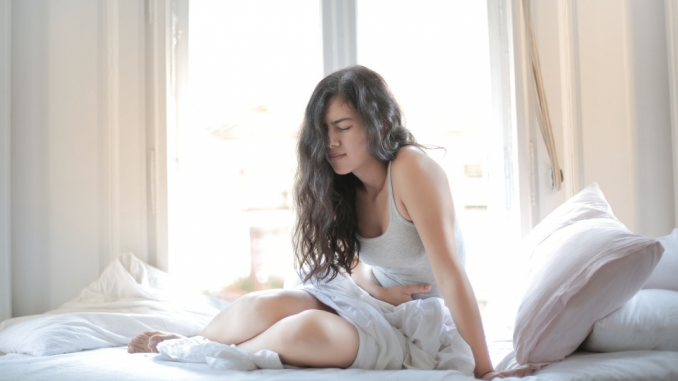 If you struggle with menstrual cramps, you're certainly not alone. 84% of women have cramps before or during their period. As such, you have probably used every product under the sun for your cramps. But can CBD do anything for menstrual cramps?
While research is still ongoing, CBD does show pain-relieving benefits. Here are what we know now and some CBD product recommendations.
TL;DR? Here's the bottom line: While research into CBD has been positive, we don't exactly know how CBD decreases pain and inflammation. Choosing the right products, such as the type of CBD and administrative method, will ensure CBD works when Aunt Flow comes back.
My top product pick is GoGreen Hemp CBD Curcumin Softgels. The softgels are not only strong (containing 25 mg of CBD per capsule) but also contain other pain-fighting supplements such as curcumin.
What the Science Says
CBD has been shown to reduce different types of pain. In addition, CBD can combat inflammation.
However, CBD causes complex biological processes in the body, so it's unknown exactly how CBD relieves pain. While there aren't many studies on the effects of CBD on menstrual cramps, the anti-inflammatory and pain-relieving properties do show promise.
What about THC and other cannabinoids? Studies do show that complete cannabinoid profiles do offer mild-to-moderate pain relief. The entire cannabis plant also reduces inflammation. 
We recommend using CBD with THC for the most benefits. However, broad-spectrum CBD (which contains no THC) ensures you still reap the benefits of the Entourage Effect.
How Does CBD Compare to Other Pain Relief Methods?
Over-the-counter pain relievers, such as ibuprofen and acetaminophen, have been a woman's go-to for cramp relief. However, these come with side effects that include ulcers, liver damage, and kidney problems.
What about other holistic pain relief methods? Yoga is an effective pain relief method. There are various yoga poses and stretches for period cramps. 

Are There Any Risks of Using CBD?
One of the most fortunate aspects of CBD is safety. It's generally considered safe and comes with few side effects, though it's unlikely you'll even experience side effects. In case you do, the side effects you may experience include:
The biggest concern is the chance that CBD may interact with any medications you're taking. The risks include additional side effects and the medication not working altogether. However, we're not sure which medications CBD actually interacts with. Always talk to your doctor before trying CBD and ensure it won't interact with your medications.
Some CBD administrative methods also come with their own side effects. For example, we will be recommending topical CBD products here, and you'll want to be aware of skin allergies.
How to Choose the Best CBD for Cramps
A few factors will help you choose the best CBD for your cramps: product quality, testing, type, and ingredients.

Product Quality
You'll want to look beyond organic and high-quality CBD. Ensure the hemp was grown domestically and was used using organic methods. The hemp should have no GMOs, pesticides, or dangerous toxins.
Safety isn't the only reason to look for organic CBD. Organic CBD is more effective and even tastes better.
Third-Party Testing
CBD products have no regulations, so it's up to brands to take it upon themselves and deliver a safe product. An easy way for brands to exercise transparency is to offer third-party testing. 
Brands usually offer test results called a Certificate of Analysis (COA) readily on their website. If they don't have a COA on their website, you can request to see it. Make sure the COA is recent. If you can't find a COA, buying from that CBD brand isn't worth it.
Product Type
There are many types of CBD products you can take. These include:
Edibles
Tincture
Topical
Vape
You'll also want to know whether or not you wish to experience the Entourage Effect. This is when you also receive healing from other cannabinoids and terpenes.
Ingredients
The most transparent companies will share the ingredients in their products. In addition to organic ingredients, the brand shouldn't use unnecessary compounds or excessive additives. Keep in mind, some extra ingredients may be necessary. For example, some CBD products for cramps may also be made with other pain-relieving supplements such as turmeric.
How to Use CBD for Cramps
The way you use CBD depends on the product you buy. If you're using a topical CBD product, apply it where you're experiencing cramps. Every brand has its own instructions, but it's recommended you only reapply the balm every few hours.
Always check the brand's recommendation for edibles. For gummies and capsules, you usually take one at a time. If you're taking a tincture, start by taking 30 mg/day and increase your dosage by 10 mg if necessary.

How I Made This List
Now that I'm offering some product recommendations, I want to explain how I made this list. I usually recommend the products I use; however, CBD honestly doesn't do anything for my period cramps. 
Therefore, I'm searching online for products that got great reviews and ones that other women recommend (and I may try these products in the future).
In addition to quality, all of these brands are devoted to safety and transparency. Some other qualities I looked for include:
Third-party testing
A combination of full and broad-spectrum
Based in the USA
Potency
Few and safe ingredients
Positive brand reputation
My Favorite CBD Products for Cramps
GoGreen Hemp CBD Curcumin Softgels
These softgels are pretty potent, containing 25 mg of CBD per capsule. There are 30 softgels in the bottle, so you can definitely experience period cramp relief for a long time. 
In addition to CBD, curcumin is a great supplement for pain. Curcumin is the substance in turmeric that decreases inflammation.
GoGreen Hemp offers many benefits to customers, such as a reward program and free shipping on all domestic orders. Users have also raved about their customer service.
Pros
Customers say it helps their pain and inflammation
Cons
Vertly Muscle Soak Bath Salts
Not all women enjoy taking baths on their period (I don't blame you, neither do I). But in case you don't mind a period bath (or if you get the worst cramps before your period like me), use these bath salts.
In addition to CBD, these bath salts are made with other powerful natural ingredients such as lemon, arnica, lavender, and sage. You'll not only experience eased cramps, but you can also unwind after a long day with a luxurious bath.
In addition, this product is vegan, organic, and made in California.  Be sure to use it before bed, since you'll feel nice and relaxed.
Pros
Made with other powerful naturals
Vegan
500 mg hemp
Organic
Also good to use as a gentle exfoliant
Cons
Elate CBD Freeze Roll-On Pain Relief Topical
If you prefer a topical, this is one of the most unique products I can find. Elate's topical gel uses cold therapy combined with CBD. This may relieve pain and reduce inflammation. Plus, it's free of THC. 
Elate recommends starting with a thin layer of gel and reapply as needed. 
In addition to the five-star reviews of this product, customers are raving over Elate. They offer free shipping and gummy samples when you purchase two or more products. When you support Elate, you're supporting a small local business (local to Chicago).
Pros
Easy to use
Cooling feeling causes immediate effects
Can use daily and as often as you need
Small business
THC-free
Cons
May not take your pain away completely
CBDistilerry Full-Spectrum CBD Oil Tincture
I'm a tincture fan, so I had to include one in here. Looking at reviews online, this is one I may want to try. 
The full-spectrum formula will also give you the benefits of THC. Other than CBD and hemp extract, this tincture only contains terpenes and MCT oil. 
The oil is pretty potent at 1,000 mg and 33 mg per serving. CBDistillery recommends taking one serving at a time, not exceeding two servings per day. One serving is an entire dropper, so this is easier to dose than other tinctures.
Pros
Full-spectrum CBD enhances your range of wellness
Affordable
Cons
Customers say this is better for sleep, so I recommend using this at the end of the day
Seabedee CBD-Infused Peach Rings
Admit it, we all need a sweet treat during "shark week."
Why eat any regular gummies when you can eat gummies infused with CBD? And seriously, the peach flavor is delicious! Each ring contains 10 mg of CBD. There are also no gimmicks with dosing. 
Seabedee recommends eating one ring. I would only eat two if you're used to CBD. These gummies are fat-free, dairy-free, low-sodium, gluten-free, peanut-free, tree nut-free, and MSG-free. They contain no artificial sweeteners. Keep in mind, these rings only contain CBD isolate – not broad or full-spectrum CBD. On the plus side, they contain no THC, and therefore they're non-psychoactive.
Seabedee also receives excellent reviews as a company. They offer free shipping for orders over $30. If you really like the gummies, they offer a monthly subscription, so you maximize savings.
Pros
Taste delicious
Great customer service
Fast shipping
Cons
FAQ
Question: Which Type of CBD Should I Choose?
Answer: As you can see, I recommended a range of CBD products. But if you're a brand new user, you may not know which products you need at all.
First, let's look at broad and full-spectrum versus isolates. 
While CBD isolates are effective, the argument is you'll experience more benefits when you utilize the Entourage Effect. The Entourage Effect encompasses healing properties from all cannabinoids and terpenes. 
If you struggle with other PMS symptoms, you may want to look into the Entourage Effect. For example, sleep issues are a common PMS symptom. The cannabinoid CBN is said to have sleepy and relaxing properties.
Next, you'll want to gauge your tolerance and choose a potency. Most CBD products mention their potency in milligrams. Mid-level potency is about 500 mg, so start with that intensity. 
I would say anything over 2,000 mg is a high potency, so any range between 500 – 2,000 is a good level for beginners and intermediate users.
There are also various administration methods, ranging from tincture oils to topicals. If you're a new user, I suggest the easier methods. Topicals and edibles are the easiest to take. Once you're used to CBD and dosing it, you can move on to tinctures which are a little tricky to dose.
Question: I Heard CBG Is Better for Pain Than CBD. Is This True?
Answer: First, let's cover what CBG is. 
CBG is another cannabinoid. I honestly haven't looked into too much, but it does look like it has benefits that CBD doesn't have. Studies show that both work in similar ways to reduce pain as far as pain goes. 
However, CBG seems to be better at treating muscle soreness. On the contrary, CBD is more effective at reducing inflammation. I would take broad-spectrum CBD to ensure you're getting both benefits.
Question: I Struggle With Heavy Periods. Will CBD Make My Period Worse?
Answer: CBD shouldn't affect your period or your menstrual cycle. This cannabinoid does interact with your bodily functions, but it shouldn't impact your hormones. While this is still being studied, there have been no reported menstrual complications when taking CBD.
Question: I Have More Pain Other Than Cramps. Is There an All-in-One CBD Product I Can Try?
Answer: Instead of topicals, I would consume CBD. Start with capsules or gummies and switch to the tincture when you think you're ready. Always ensure the brand uses organic hemp and check the test results to ensure they're honest about CBD content.
Question: Can I Put CBD Oil on My Tampon?
Answer: Hmmm, I wasn't expecting to read this question. But I guess some CBD brands have been recommending this. 
C'mon, have common sense. Don't put anything up there without a doctor's recommendation. That's because your vagina needs an optimum ph balance plus good bacteria. CBD may mess with that, and none of us want that.
Bottomline
Most women struggle with cramps during that special time of the month. If you're sick of popping OTC pain pills in all week, you may be debating about trying CBD. The science has been positive, and CBD does seem to reduce different types of pain, so it's worth trying. 
Feel free to refer to our product recommendations as a starting point. Understand that the FDA doesn't approve CBD, so you're using CBD at your own risk. You should still get a doctor's recommendation, especially if you're on any prescription medications.