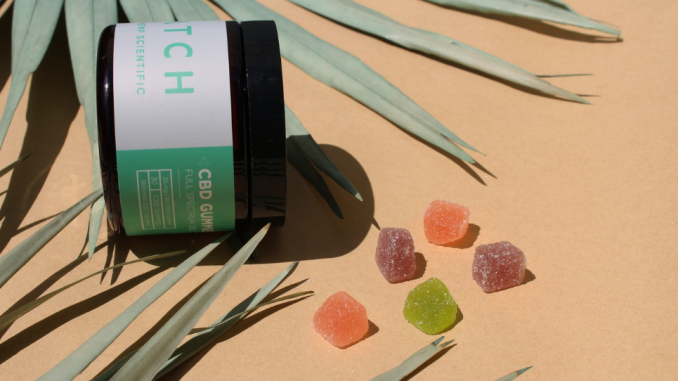 Have you been experiencing frequent anxiety attacks? It's challenging to seek help when you have this mental health issue, but Delta 8 THC can be a lifesaver. 
This article covers how to find the best Delta 8 for anxiety and my top recommendations for you. These products effectively calm your nerves to keep you in a better headspace.
Bottom Line Upfront
I recently tried Delta 8 for my anxiety to see firsthand what the effects are. And I have to say, I really enjoyed the Simply Crafted Gorilla Cake Delta-8 THC Flower. It made me feel calm and relaxed and settled a lot of my anxious thoughts. I'd definitely recommend it for low to moderate users. 
Top 3 Picks
What is Delta 8?
Delta 8 THC is a cannabinoid that is less powerful than Delta 9 but just as beneficial. A Canadian group of scientists first discovered the compound and its advantages in 1941. This hemp-derived flower is rare, typically from lab-performed isomerized CBD. 
Another method for Delta 8 THC production is the use of a thin film distillation. Companies use different temperatures and pressures to separate the Delta 8 THC from the entire plant. 
Manufacturers often mix the extracted Delta 8 with other ingredients to produce tinctures, gummies, or capsules. Gummies are the most common D8 products because the sweetness satisfies users and provides further relief.
Delta 8 interacts with the body through the endocannabinoid system to balance neuroreceptors and neurotransmitters. You'll experience a mild cognitive effect that can help manage anxiety.
Delta 8 vs. Delta 9
Some people refer to Delta 8 as "Delta 9 Lite" or "Diet Delta 9" because of their similarities. But Delta 8 THC and Delta 9 THC also have considerable differences.

Molecular Structure
Delta 8 THC and Delta 9 THC have the same chemical formulation. But the two carbon atom's double bonds have different placements. Simply put, Delta 8's double bond is on the 8th chain, while Delta 9's is on the 9th chain.
Production
You'll find more Delta 9 THC products because it's easier and cheaper to extract than Delta 8. Some manufacturers even produce Delta 8 synthetically through solvents. This method ensures the safety and quality of the cannabinoid.
Potency
Delta 8 is a psychoactive compound that can get you high like Delta 9. However, the effect is not as outrageous. If you're a regular THC user, you may tolerate or even love Delta 9's high. 
Delta 9 may trigger your anxiety and lead to paranoid delusions if you're a beginner. D9 can also change your motor skills and cause brain fog. Meanwhile, Delta 8 is calming, sweet, and gives you clearer thoughts.
Legality
Delta 8 THC is federally legal, but most states ban Delta 9 THC because of its higher potency. Marijuana is federally illegal if the portion of THC level is over 0.3%. However, Delta 8 THC was still a controlled substance for the DEA back in August.
Which is Better for Anxiety: Delta 8 or CBD?
Delta 8 THC and CBD are good for anxiety, but Delta 8 can be more intense. It also increases your appetite and food consumption, while CBD helps reduce weight. Delta 8 also shows up on drug tests, unlike CBD.

Effects of Delta 8 on Anxiety
Studies on the impact of Delta 8 on anxiety are still lacking and inconclusive. But the compound is a psychotropic cannabinoid famous for instant anti-anxiety properties. Most users report better sleep and calmer emotions when intaking Delta 8. 
Unlike Delta 9 THC, Delta 8 doesn't cause paranoia and worse anxiety because it is weaker. The National Cancer Institute states that D8 is also anxiolytic, analgesic, antiemetic, appetite-stimulating, and neuroprotective. 
Delta 8 THC's activation of the CB1 receptor accounts for restful sleep. This finding led many to think that it's the same receptor that manages anxiety.
What to Look for in Delta 8 for Anxiety
Here are some factors to ponder when selecting the best Delta 8 for anxiety.

Dosing Method
Your dosing method depends on your preferred rate of the effect. The most common ones are vapes and edibles, although the former quickly takes effect. Vaping also allows you to perform microdoses until you attain your desired sensation. 
Delta 8 Oils are also potent and will take effect in only 20 minutes. Those with anxiety find this dosing method convenient. Like vaping, you can customize your dose to adjust to your needs. 
Delta 8 flowers also manage mood disorders depending on the strain you are getting. Some also say that smoking hemp flower provides the most instant effects for a quick clearing of the mind.
Lab Testing
Third Party Lab testing is vital in transparency to your Delta 8's safety, effectiveness, and potency. It makes sure that all cannabis products are free from pesticides, solvents, metals, and dirt. All product recommendations have their lab test results on their sites.
Overall Brand Feel
You can't entrust your state of mind to a brand that doesn't have a great mission, advocacy, and charm. After all, the relaxing sensation should begin with building relationships with clients. You also want to check their site's user interface and online presence.
Price
Cannabis users know that the more expensive the product, the more high-quality it is. The Delta 8 THC's price dictates the performance, brand's reliability, and testing regulations. Don't hesitate to splurge on premium-quality Delta 8 if you want to combat your anxiety.
Best Delta 8 for Anxiety
Check out these top Delta 8 for anxiety from reputable brands taking over the hemp industry.
Everest Delta 8 THC Gummies
Everest's Delta-8 Gummies use high-quality hemp from the United States to provide pain relief to the body. Even though it's new to the industry, many users love it because it's vegan-friendly and GMO-free. Vegans and people with food allergies can enjoy this treat. 
Type: Gummies.
THC level: 20mg of Delta 8 THC per gummy.
Best for: pain relief.
Price range: $73-$77.
Each gummy contains 20 mg of Delta 8 THC and is available in Peach, Watermelon, and Blue Raspberry. A third-party lab has double-tested the product for its contaminants and potency. 
Pros
non-GMO.
It comes in three yummy flavors.
Vegan-friendly, which is hard to find in Delta 8 THC brands.
Cons
More affordable than other Everest products.
Limited potency.
How to Use
Open the lid of the Delta-8 THC Gummies and take only one gummy. Then, wait for half an hour or two before the effect kicks in. Don't take too many gummies, especially if it's your first time.
Everest Mint Delta 8 THC Oil
Another Everest product that will relieve your pain and provide you with mint's benefits is the Delta-8 THC Oil. A 30ml bottle has 1000mg of cannabinoids. The business carefully selects the ingredients to be vegan-friendly, dairy-free, and non-GMO.
 Type: Oil.
THC level: 33.33 mg of Delta 8 THC per 1 ml.
Best for: pain relief.
Price range: $123-$127.
The THC oil uses MCT oil as its carrier. It also contains hemp oil and artificial flavorings. But compared to Everest's Gummies, the Delta 8 THC Oil is more expensive because of its high concentration.
Pros
Everest's most potent form of Delta 8.
Comes in a minty flavor.
Lab-tested.
Cons
Doesn't have other flavors and an unflavored variant.
It may be too intense for first-time users.
How to Use
The most effective way to take this THC oil is through a sublingual method. Place a drop of oil below your tongue right where it leads to the bloodstream. The oil does not have to pass through your stomach, so you'll experience the effect after fifteen to thirty minutes.
Hometown Hero Delta 8 THC Gummies
Hometown Hero's gummies are available in packs of eight to thirty. The grape flavor has the most substantial concentration at 100 mg, while the rest have 25 mg of Delta 8 THC. They deliver an uplifting sensation that relaxes the body, soothes anxiety, and relieves pain.
Type: gummies.
THC level: 25mg of Delta 8 THC per gummy.
Best for: uplifting.
Price range: $28-$31. 
All Delta 8 THC gummies from Hometown Hero are vegan and gluten-free. A third-party DEA-certified laboratory tested the product to ensure its safety. 
Pros
Available in five fruity flavors.
Comes in various sizes and potency.
Vegan and gluten-free.
Lab-tested.
Cons
Inconsistent strength.
The colors of the gummies vary.
How to Use
Take only one gummy when needed as Hometown Hero's Delta 8 THC Gummies may cause dizziness. Tightly close the lid and store it in a cool, dry spot.
Hometown Hero Delta 8 Discreet Pack
Hometown Hero's Delta 8 Discreet Pack allows you to choose between the capsule, gummy, or tincture, depending on your need. I love the user reviews on this product, enough that I'm considering trying it myself! 
Type: capsule, gummies, and tincture.
THC level: 15-600mg Delta in the bundle.
Best for: Chill.
Price range: $103-$107.
The 30 pills contain 15 mg of Delta 8 each, while the ten gummies have 25 mg of Delta 8. And 600mg of Delta 8 THC are in the tincture.
Pros
Save more money with the bundle.
Available in different potencies and forms for other occasions. 
The business donates a share of its profits to organizations.
Lab-tested.
Cons
Expensive.
Not beginner-friendly.
How to Use
For the capsule and gummy, only take one piece to avoid drowsiness. If you opt to use the tincture, place 1 ml under your tongue for a quicker effect.
Simple Crafted Pineapple Jack Live Resin Delta-8 THC Vape
The Live Resin Delta-8 THC  uses small batches of organic hemp flower for an excellent terpene game per puff. Simple Crafted boasts of the vape's high purity and fantastic quality. It's full-spectrum, so you'll also experience CBD and other cannabinoids.
 Type: vape.
THC level: 95% Delta 8 THC.
Best for: psychedelic bliss.
Price range: $38-$42.
The lab-tested vape uses Pineapple Jack, a mostly Sativa marijuana strain that offers a blissful feeling. It tastes earthy, piney, tropical, and citrusy. It will lift your spirit and engage you in weightless euphoria to alleviate depression and stress.
Pros
A convenient way to smoke Delta-8 THC.
No chemicals or additives.
Has fewer 0.3% Delta-9 THC.
Cons
Causes dry mouth.
May result in dizziness.
How to Use
To use Delta 8 THC vape, set up the cartridge and smoke the device. It's a cleaner and easier method for getting high. You can take a big or small hit, and you don't need to have a lighter.
Simply Crafted Delta-8 THC Water-Soluble Syrup
Simply Crafted Water-Soluble Syrup contains 1000 mg of Delta 8 THC at 118 ml. It has an all-natural watermelon flavor with nano-encapsulated Delta 8 THC for a tasty cannabis cocktail. It's ideal for novice and experienced users who want to take control of the dosage.
 Type: syrup 
THC level: 8.4 mg of Delta 8 THC per ml.
Best for: stress relief to euphoria.
Price range: $48-$52.
The brand only works with organic, sustainable, and local farms to provide premium-quality products like syrup. It's fast-absorbing, sugar-free, and has a high bioavailability.
Pros
The customized dosage is suitable for all experience levels.
Mix the syrup with other beverages.
High bioavailability.
Beginner-friendly.
Cons
Less potent than Delta 8 THC oil.
Expensive for its low concentration.
How to Use
Take an appropriate amount of the water-soluble syrup directly or mix it with other drinks. You can modify the dosage according to your need and preferred effect.
Simply Crafted Sublingual Delta-8 THC Tincture
The Delta-8 THC Tincture by Simply Crafted may have various ingredients, but they are all-natural. They also don't interfere with THC's effectiveness. Simply Crafted infuses the D8 with MCT oil, frankincense, lemon, and bergamot for the best kind of stimulation.
Type: Oil.
THC level: 100 mg of Delta 8 THC per dose.
Best for: an energy boost.
Price range: $78-$82. 
At 100 mg per dropper, the Delta 8 oil is quite powerful and quick-absorbing. Beginners may not enjoy it, but experienced ones will. 
Pros
100% organic.
3000 mg Delta 8 THC.
Contains other essential oils for a better experience.
Cons
It may be too intense for new users.
It contains additives that some do not prefer.
How to Use
Add a drop of the hemp tincture below your tongue. Close the lid securely and wait for the Delta 8 THC to take effect.
Simply Crafted Gorilla Cake Delta-8 THC Flower
Simply Crafted aims to solve one problem with most Delta 8 THC flowers. Some companies unevenly distribute the cannabinoid by spraying D8 distillate on the unfresh flowers. 
Type: flower.
THC level: 26.8% Delta 8 THC.
Best for: relaxation and sleeping.
Price range: $28-$32.
But the brand uses a cold-fusion method to infuse Delta 8 flower into the fresh hemp flower.
Pros
A pure and potent form of Delta 8 THC.
The most aromatic method to take the cannabinoid.
Cons
Has 0.15% Delta 9 THC.
Reports of anxiety and dry mouth.
How to Use
Grind the Delta 8 flower, put it in a pipe, and smoke. You can also smoke the flower in a bong by grinding it and filling the bong bowl with the flower. Light a flame next to the bowl and inhale from the mouthpiece.
FAQ
Question: Is Delta 8 Suitable for People With Anxiety?
Answer: Yes. Delta 8 calms the nerves and reduces symptoms of anxiety.
Question: Does Delta 8 Make Anxiety Worse?
Answer: No. Delta 8 is mild and unlikely to worsen anxiety or paranoia.
Question: What is Better for Anxiety, Delta 8 or CBD?
Answer: Delta 8 and CBD can relieve anxiety, but Delta 8 is cognitively more robust.
Question: Can Delta 8 Help With Panic Attacks?
Answer: Yes, but the effect may take a while to kick in, depending on the dosage.
Wrapping It Up
Delta 8 is rightfully gaining popularity because of its effectiveness in managing anxiety. You can take it through edibles, smoking, vaping, or a sublingual procedure. 
Which Delta 8 for anxiety are you trying first? Personally, I love the Simply Crafted Gorilla Cake Delta-8 THC Flower for its awesome qualities and premium brand. We'd love to know what you think in the comments. And share this post with a friend who needs stress relief. 
Always check local regulations and talk with your doctor before taking cannabis-related products. Once you get a yes, consider buying from our list of products! And for great reviews and tips, check out our website.