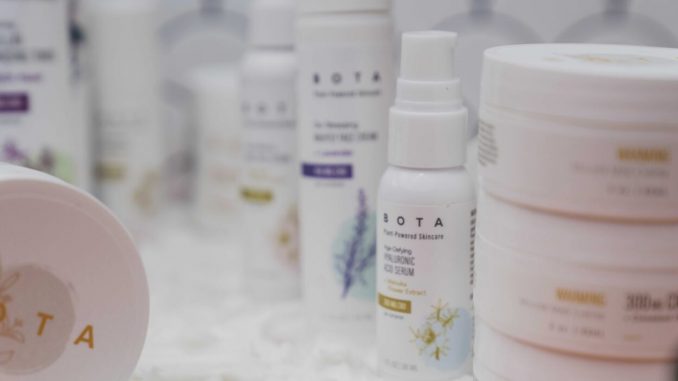 Many health-conscious consumers are reducing their exposure to artificial fragrances, parabens, sulfates, and other potentially harmful substances by switching to clean skincare products made with natural ingredients. If you've been following industry trends, you've likely noticed a marked increase in the number of companies offering serums, toners, and moisturizers made with hemp-derived CBD. Although CBD is now one of the most sought-after ingredients in the skincare industry, many people still wonder if CBD skincare is safe.  
In most cases, the answer is yes. CBD is generally well-tolerated, safe for most people, and has many potential skin benefits. But manufacturing practices and quality control standards can vary significantly from one beauty brand to the next. That's why it's essential to stick with reputable, experienced brands that prioritize purity, potency, and consumer safety.
Why Are So Many Beauty Brands Adding CBD to Their Products? 
Not all that long ago, relatively few people had even heard of CBD. Today, adults of all ages are using hemp-derived CBD tinctures, capsules, gummies, and topicals for better sleep, relaxation, and more. Although most evidence supporting CBD use is based on lab results and a limited number of clinical trials, current research also shows many potential benefits for skin health and appearance.1 
Based on what the research shows so far, CBD molecules are small enough to penetrate the surface of your skin. Once absorbed, the cannabinoid mimics the effects of chemical messengers produced as needed in your body (endocannabinoids) and interacts with important receptors found on nearly every type of skin cell (CB1 & CB2). That includes the receptors regulating oil production, barrier function, collagen synthesis, inflammation, pigmentation, and skin cell turnover.2 
Researchers believe CBD is also a potent antioxidant that helps protect skin from free radical damage. Based on current data, the cannabinoid could be 30-50% more potent than vitamins C and E, important nutrients with considerable skin benefits of their own.3 Whenever a product ingredient generates this much consumer interest, you'll typically see a rapid surge in the number of beauty brands riding the wave.
Why Do Some People Worry About CBD Safety? Should I Be Concerned? 
Even with an impressive list of possible skin benefits, many people still wonder if CBD skincare products are safe. Some ask if CBD skincare is safe because they worry about possible side effects. Others ask the same question because of concerns about heavy metal contamination or intoxication. So instead of giving a vague answer about CBD safety, let's take a few minutes to dig a little deeper and address those concerns head-on.
Worries About Intoxication 
People often question the safety of CBD skincare when they have concerns about the lingering stigma of cannabis use. They worry about the risk of intoxication. Most often, their fears resolve with clarification about the differences between CBD and THC, the cannabinoid that causes the intoxicating effects the plant species is known for. Since hemp plants produce large amounts of CBD, but only trace amounts of THC (0.3% or less), intoxication is not an issue.
Concerns About Adverse Reactions 
Some people question CBD safety because they worry about unexpected side effects. Most find it quite reassuring to know that CBD poses little risk of adverse effects, and preliminary studies show favorable results for several inflammatory skin conditions, including acne. Although reactions can happen, most appear to be caused by dyes, fragrances, preservatives, or other ingredients found in some products, not the CBD.4,5
Doubts About Product Purity
Hemp crops are well-known for their ability to pull heavy metals and pesticides from the soil as they grow. Since any toxins lingering in the plant extracts could absorb through their skin, many would-be CBD users are hesitant to purchase CBD skincare products. Most often, these concerns resolve once they feel empowered with enough information to make informed determinations about product purity, potency, quality, and safety.
How Can I Be Sure My CBD Skincare Products Are Safe? 
Many beauty brands are adding CBD to their products with little to no knowledge of CBD use. If they're using poor-quality, untested plant extracts, intentionally or not, you could end up with more issues than you bargained for. That's why it's essential to investigate your options and choose wisely, look past the high-end packaging, hefty price-tags, and potentially misleading marketing claims. As you browse any selection of products, consider comparing your options based on the following criteria.
Safe Farming Practices & Extraction Methods 
The best, safest CBD skincare products are made with cannabinoid-rich oils sourced from naturally cultivated, non-GMO crops, plants grown without pesticides or other potentially harmful chemicals. Once the mature plants are harvested, the cannabinoid-rich oil is separated from the unwanted plant components. Since your skin could also absorb any potentially harmful residue left behind after extraction, stick with brands that rely on ethanol or CO2, food-safe extraction methods.6
A Verifiable Certificate of Analysis 
The easiest way to ensure you're using high-quality CBD skincare is to stick with reputable brands that rely on an independent lab to screen their products. This essential step helps ensure purity and potency. Since any company can claim their products are third-party tested, look for a Certificate of Analysis. You can use that document to verify the products you select have been screened for heavy metals, solvent residue, and microbial contamination.7 
Brand Certifications & Production Standards 
The certifications held by any beauty brand can tell you a lot about their priorities, corporate values, commitment to quality, and brand philosophies. Although the Federal Trade Commission (FTC) considers many industry claims too vague to enforce, the certification symbols you'll often find on product labels and company websites can help you identify which aspects of production are presented accurately.
Are You Using Safe, High-Quality CBD Skincare Products? 
It's natural to assume the ingredients used to make the products you rely on to help keep your skin clear, supple, and vibrant are safe for their intended use. But are they? When you're purchasing skincare products made with hemp-derived CBD, even seemingly minor details matter. If you're not purchasing CBD skincare products from a knowledgeable, reputable brand, a name you can trust, how can you be sure?
CBDistillery™ is a company that specializes in hemp-derived CBD products. This distinction sets us apart from other beauty brands. Our products are also made without artificial fragrances, parabens, and other questionable ingredients suspected of harming the environment or interfering with healthy skin function.
You can verify our commitment to quality control and consumer safety by viewing the Certificate of Analysis on our product pages or scanning the QR code on our labels. All CBDistllery™ CBD skincare products are vegan, gluten-free, US Hemp Authority™ certified, Leaping Bunny certified, and backed by our 60-day satisfaction guarantee.
Although CBD is generally well-tolerated and considered safe for most people, CBD skincare products are not right for everyone. If you have a medical condition or take medication, please consult your health care provider before committing to a purchase. CBD and the many other potentially beneficial cannabinoids in our full spectrum hemp extract can interact with several prescription and over-the-counter medications.
When using any skincare product for the first time, consider applying a small amount to an inconspicuous area, behind your ear, for example. Then wait at least 24 hours before attempting a full-face application. While CBD poses little risk of side effects on its own, CBDistllery™ plant-powered CBD skincare products feature a range of botanicals selected for specific skin concerns. If you notice itching, redness, irritation, or other possible signs of an adverse reaction, discontinue use immediately and wash the area with soap and water. Contact your healthcare provider if you have questions or concerns.
Additional Sources:
1. ACS Chemical Neuroscience. M Caterina (2014 November 19) TRP Channel Cannabinoid Receptors in Skin Sensation, Homeostasis, and Inflammation.
2. Phytecs (2022) Introduction to the Skin's Endocannabinoid System.
3. Cannabis and Cannabinoid Research. K Iffland, F Grotenhermen. (2017 June 01) An Update on Safety and Side Effects of Cannabidiol: A Review of Clinical Data and Relevant Animal Studies.
4. Forbes. N Nazish (2019 December 30) Everything You Need to Know About CBD Skincare.
5. Self. S Jacoby. (2019 July 01) Is There Literally Any Reason for CBD to Be in Your Skin Care Products?
6. CBDistillery. (2019 August 14) Why CO2-Extracted CBD Oil is the Superior Choice for CBD Extraction.
7. CBD Reviews Today. (2021 November 01) Why Should You Buy Third Party Lab Tested CBD Products?