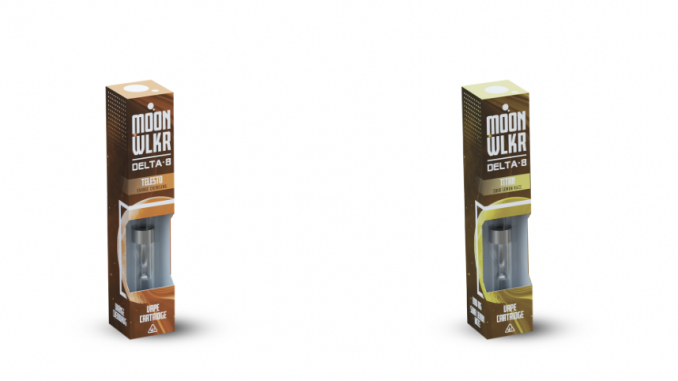 Back in February of this year, we combined both a review and a "what to expect" article for users trying Delta-8 THC for the first time. The very first Delta-8 THC product we reviewed were gummies from a company called Moonwlkr. Now we've come full circle with another of Moonwlkr's products, this time a more advanced user item: the Moonwlkr Telesto Orange Chemdawg vape cartridge! Vape cartridges are one of the more advanced forms of Delta-8 THC because it requires external hardware and some prior knowledge of vaping. Vape carts are also wildly popular due to their fast reaction time and array of unique flavors. Before we get into the review itself, let's take a moment to briefly go over what Delta-8 THC is as well as some of the expected side effects.
Delta-8 THC: A Very Brief Overview
Delta-8 THC is one of the many cannabinoids found in the hemp plant, along with two other cannabinoids you may already be familiar with: Delta-9 THC (marijuana) and CBD. Marijuana has been used for centuries as a natural pain reliever for users suffering from chronic pain and mental anguish. Throughout the years, marijuana was villainized for its psychoactive properties and debilitating effects to the user, often resulting in increased paranoia and numbing drowsiness. However, there have been radical changes in the public perception of this impressive cannabinoid, resulting in many states legalizing the use of both medicinal and recreational marijuana.
Another famous cannabinoid of the hemp plant is CBD, short for cannabidiol. This particular cannabinoid is completely devoid of any psychoactive elements, yet still delivers the healing properties of the hemp plant. CBD comes in several types of products that make it easy to improve both your mental and physical health with continued use. CBD is federally legal in all 50 states but some states have their own legislation on the legal use of any hemp product.
Delta-8 THC is commonly referred to as the "lite" version of weed, and is considered the middle ground between the powerfully psychoactive marijauna and the non-psychoactive CBD. But make no mistake, Delta-8 THC does indeed deliver a heady high for both the mind and body, just not as immobilizing as Delta-9 THC. Many first-time marijuana users have been previously scarred by weed usage (from either consuming too much or using the incorrect strain) and appreciate the smoother and more controlled high from Delta-8 THC products. For more information on what Delta-8 THC is and how it works naturally with your body's endocannabinoid system (ECS), check out some of our previous articles titled How Does Delta-8 THC Affect the ECS, What Using Delta-8 THC Feels Like The First Time, Guide to Delta-8 THC Products on the Market, and A Simple Guide To How Is Delta-8 THC Made.
What To Expect On Your Delta-8 THC High
If you're taking Delta-8 THC for the first time, there's a few things you should be aware of. Since this cannabinoid does get the user high, it's critical that you do not drive or operate machinery while experiencing the effects. Always consult your primary care physician before consuming Delta-8 THC products to confirm it does not react with any pre-existing health issues or medication. When trying a Delta-8 THC product for the first time, always start with small doses. Most companies will advise the recommended dosage right on the product packaging: gummies is usually ½ or 1 gummy, tinctures is usually a 1mL dropper-full, cartridges usually one or two pulls, and so forth. However, your high can vary depending on several factors such as metabolism, weight, age, gender, etc. Taking too much Delta-8 THC can result in extreme drowsiness and mild paranoia, which is why it's important to start slowly until you can gauge your body's reaction.
Some of the side effects of Delta-8 THC are enhanced creativity, appetite stimulation, heightened sensitivity and arousal, and warm euphoria. Some of the more unpleasant side effects include dry mouth, slightly red eyes, and drowsiness, but these effects may vary based on both the user and the product. The effects, reaction time, and time-frame of the high will also vary based on consumption method and the user, which is why it's so important to start with small doses and increase the dosage over time. Now that we've learned about what Delta-8 THC is and what to expect during the high, it's time to jump right into our product review. We'll start off with the company Moonwlkr and then check out the actual Telesto vape cartridge.
The Moonwlkr Brand
The Moonwlkr brand emphasizes the importance of using all of the parts of the hemp plant, whether it be for therapeutic or medicinal use. Moonwlkr offers products that contain non-psychoactive cannabinoids like CBD, CBD, and CBN as well as the psychoactive Delta-8 THC and newly popularized HHC cannabinoids. Their selection of Delta-8 THC products ranges from edibles like gummies and hard candies as well as more advanced items like vapes and disposables. The vape cartridges come in four different flavors and are designed to be screwed into a battery-powered vaporizer that is specifically intended for 510-threaded vape cartridges. A single cartridge is sold for $49.99, on sale for $39.99, and is also available in three- and five-packs for a small discount. I didn't see any option for a discounted subscription plan, but there are wholesale options for those looking to line the shelves of their online or brick-and-mortar store. BONUS: Moonwlkr offers a free sample pack (just pay a small shipping fee) for users who enter their email address. There is also a current holiday sale of buy two, get three free, so be sure to check out this and other deals that the Moonwlkr site occasionally offers.
With a name like Moonwlkr, I was hoping for more of an outer space design for the website. There was a single picture of an astronaut holding an enlarged gummy as well as a moon in the company logo, but that was it for the space theme. The entire website had a bit of a plain feel to it, but appeared crisp and professionally designed. Each product had a detailed description, a clear photo of the product, and a product rating based on customer reviews. I was especially pleased to read that the vape cartridges do not contain any cutting agents like Vitamin E, MCT, or traditional vape juice ingredients. Each cartridge contains 800mg of Delta-8 THC oil, and is crafted with natural flavoring and plant-derived terpenes. Oddly enough, I did not see anything about the strain information (sativa, indica, or hybrid) on either the product packaging or the website description. While that's not a requirement for using vape cartridges, it would have been nice to know what to expect (drowsiness with indica, alertness with sativa, or a nice middle blend). Now, without further ado, let's review the Telesto Orange Chemdawg vape cartridge by Moonwlkr!
Telesto Orange Chemdawg Delta-8 THC Product Review
If you're short on time or simply don't have the patience to wait for edibles to kick in, vape cartridges are a quick and effective way to enjoy a premium high in a matter of minutes. Cartridges are more of an advanced user item but beginner Delta-8 THC users can get the hang of it fairly quickly. You'll need to have a 510-threaded vape pen (check out our review of the Vuber Pilot pen here) in order to use any type of Delta-8 THC cartridge. While not required, it's extremely helpful to have some knowledge of vaping or smoking in order to use these types of Delta-8 THC cartridges. Also, some cartridges have a tendency to get clogged over time. You can either soak the cartridge tip in hot water or use a blow dryer to gently heat the contents enough to clear the blockage. Keep in mind that all products that contain a concentrated cannabinoid oil can cause the user to experience intense fits of coughing. When it comes to using the actual cartridge, try to take light inhales instead of a full-blown lung draw. You may feel a tightening sensation in your lungs and throat, thus resulting in the unpleasant urge to violently cough. There are several methods of inhaling the vapor, either deep lung draws or light mouth hits, so feel free to experiment with which one is right for you.
The cartridge came packaged in a simple paper box that was orange to reflect the citrus flavor within. I opened the top of the box and found a small glass vial that housed the cartridge. I pulled open the cap and tilted the glass tube so that the cartridge slid out. The Delta-8 THC oil was dark yellow and extremely concentrated, so much so that the oil did not slosh around despite vigorous shaking. The tip was also a smooth round shape with a large bowl, very different from the tapered tip of many cartridges I've used prior. I screwed the cartridge into my device and held the cartridge to my nose. I detected a sharp piney scent mingled with a hint of citrus, a delicious fusion of scents that made me eager to take my first hit. I brought the device to my lips and took my first pull.
The flavor was almost identical to the scent, offering a sharp hemp flavor that was lightly balanced by a sweet citrus. I felt the urge to cough building in my chest, and succumbed to a minor coughing fit that lasted only for a few seconds. A quick swig of water helped to soothe the tightness in my chest, and I was able to take a second pull more smoothly. I felt the effects kick in with five minutes of my first pull, almost as if a light fog had descended on my senses. I felt a dreamy euphoria that lifted my spirits and heightened my sensitivity. I felt a warm drowsiness descend upon my senses and noted that my eyelids felt slightly heavy. I enjoyed the high for about half an hour before noticing the effects were beginning to fade. I was able to drift away into a refreshing sleep and awoke the next morning with no "hangover high," as I like to call it. The design of the cartridge tip, the combination of sweet and sharp flavors, and the fast-acting effects made this cartridge a true delight to review.
Lab Testing
Currently, there is no FDA regulation on Delta-8 THC or any other cannabinoid-based product. As a result, many unscrupulous cannabinoid companies have sprung up and offer an array of products that may contain pesticides, traces of metal, or may not even contain the legal 0.3% THC content as mandated by the 2018 Farm Bill. That's why many companies send out their products to independent third-party labs, where the products are thoroughly tested for purity and potency. The results of these tests are made available to consumers either directly on the website, listed on the product packaging, or both.
Unfortunately, the mere presence of lab testing does not indicate a company has done its due diligence. We recently posted a Buyer Beware article on a company that maliciously doctored an authentic lab test template and claimed that the edited results were authentic. Even more concerning is that this is not an isolated event. These tests conducted by independent third-party labs are expensive and time-consuming, but are crucial to gaining customer trust and encouraging repeat purchases. If you're suspicious about a certain company's lab test results or are curious to learn more, you can find contact information for the lab (usually listed on the lab test result page)and confirm the results via the batch information number, sample number, or order number.
Moonwlkr provides the results of their independent lab testing in a tab called Lab Tests. Simply click on the product you want to view the results of, and the page will redirect you to an uploaded PDF. You can also scan the QR code listed on the back of the product packaging (which we'll go over shortly) and view the results on your smartphone. Moonwlkr offers these results for free and confirms that each product is tested for potency, heavy metals, pesticides, microbials, mycotoxins, residual solvents, and much more. It was comforting to see that Moonwlkr takes these lab results very seriously, thus instilling confidence in both potential and current customers.
Hemp Information
There was very little information on the specifics of Moonwlkr's hemp cultivation process, but I was able to find some information in the FAQ section of the website. The hemp is acquired from organic Colorado hemp farms and is shipped to Moonwlkr's headquarters in Henderson, Nevada. The hemp is extracted in a state-of-the-art facility, where it is infused into a variety of products. While not much is detailed about the extraction process, Moonwlkr confirms that everything is done in-house, including manufacturing, production, packaging, and shipping,
Product Legality & Drug Tests
Delta-8 THC products are required to contain no more than 0.3% THC as per the 2018 Farm Bill. Delta-8 THC is legal on a federal level, but many states have their own legislature regulating the production and sale of hemp-based products. A small handful of states do not allow the sale or shipment of Delta-8 THC products, so you'll need to check with your state's laws before attempting to order any Delta-8 THC product.
Despite containing less than 0.3% THC, many Delta-8 THC products may cause you to fail a drug test. Drug tests only test for the presence of THC metabolites and do not distinguish or detail how those metabolites came to be present within your system. Depending on several factors, the THC metabolites may remain in your system for several weeks. If you are required to submit to random drug testing by your employer or require a drug test for initial employment, it is strongly advised that you do not use Delta-8 THC products before submitting to a drug test.
Product Packaging
As we mentioned earlier, Moonwlkr's Telesto Orange Chemdawg vape cartridge comes in a thin orange paper box that contains a small glass tube. The front of the paper box has a cut-out section to showcase the glass vial, and has the company name, cannabinoid type, and cartridge flavor clearly listed. The right side of the box shows the Delta-8 THC amount (800mg) while the left side of the box once again displays the cartridge's flavor. The back of the packaging contains a full ingredient list, customary warnings, suggested dosage (one 3-second draw), estimated puff count (300), and a large QR code for the lab test results. The company website and social media account is also listed, making it easy to check out the company's other products and relevant information.
CONCLUSION
I thoroughly enjoyed using Moonwlkr's Telesto Orange Chemdawg vape cartridge for several reasons. First of all, the improved drip tip was much easier to inhale a mouthful of vapor, as opposed to the thin tapered tip of other cartridges I've reviewed. Secondly, the flavor was an absolute delight, blending the rich piney flavor of hemp with a sweet citrus tang. The product packaging was also a delight, especially with that glass vial as an extra step of protection from shattering. Lastly, the company website offered a delightful assortment of cannabinoid-infused products, a plethora of information for frequently asked questions, and great deals for whatever Delta-8 THC products you're interested in.
Have you tried any of Moonwlkr's products, including their free samples? What are some of your preferred Delta-8 THC products? Feel free to share your experiences in the comments below! We're excited to review these products in the hope that Delta-8 THC can make a positive difference in your mental and physical wellness. Check back with us next week where we'll be reviewing the Chill Plus gummies from Diamond CBD. Hope to see you there!