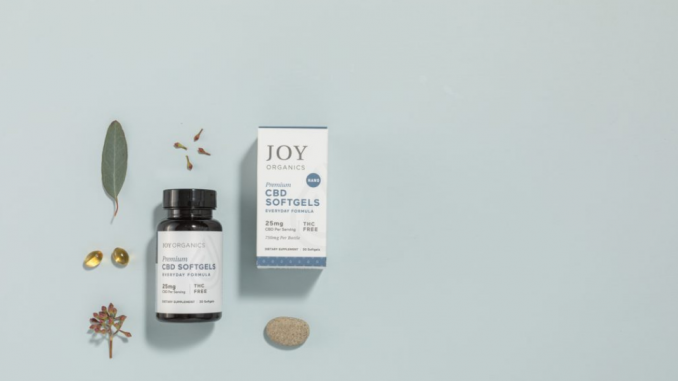 Do you sometimes feel that insomnia, nausea, stress, or anxiety are taking over the quality of your life? If you feel like you've tried everything, maybe CBD products are the solution. Read our Joy Organics review and guide to discover the good, the bad, and the ugly about one of the USA's most reputable CBD brands. 
About the Joy Organics Name
Joy Organics was originally founded back in 2018 by Joy Smith and her family. After experiencing pain and difficulty sleeping, she learned about CBD and wondered if it could provide her with relief. She was fascinated about discovering very effective products and eventually decided to create her own.
Joy Organics now provides a comprehensive spectrum of CBD products known for being certified organic, third-party tested, and always being highly rated by their consumers.
What Products Does Joy Organics Offer?

 
Joy Organics' entire line of products is broad-spectrum. The company's product line includes tinctures, candies, salves, lotions, bath bombs, and even energy drinks. Additionally, a few bundles are available that include many products at a discounted price.
Nontopical products have a potency of 10 to 25 milligrams (mg), while topicals have 200 to 500 mg.
Let's take a look at some product examples to understand what to expect from Joy Organic's line. 
CBD Gummies
These gummies are available in two flavors: green apple and strawberry lemonade. They are made without any dyes or artificial flavors.  
Additionally, they taste delicious, which is not usually the case with CBD gummies. These gummies do not contain gelatin, making them suitable for vegetarians. They don't contain any THC.
CBD Tinctures
All of the components in Joy Organics premium CBD oil tinctures are USDA Certified Organic. The company doesn't skimp on quality, which is why each batch of these USDA Organic CBD tinctures is extensively tested by a third-party laboratory to assure their safety. 
You can choose from a range of delectable compositions, including full-spectrum (less than 0.3 percent THC) and broad-spectrum (0.0 percent THC), and experience the impact Joy can make in your life.
Prices vary depending on product quantity and strength, but they start off at $45 for 450 mg bottles with 15 mg per serving.
CBD Softgels
The Joy Organics quality nano CBD oil softgels are available in three unique formulations for daily health, sleep support, and healthy muscles and joints.  
Each of the three softgel formulations contains quality broad-spectrum CBD oil that has been enhanced via the use of nanotechnology.
CBD Oil Topicals
These premium topical CBD products are made with the best components and are particularly tailored to promote overall wellness. 
Choose from Joy Organics' convenient on-the-go salve sticks, sumptuous jarred salves, colling sports creams, bath bombs, or unscented CBD cream to find the topical assistance that's right for you.
Expect to pay around $33 for a bottle of CBD cream or around $20 for their bath bombs. 
CBD Pet Products
The pet goods are made with the same care and dedication to excellence as the company's human products. Shop a selection of dog chews and pet tinctures to help support your pets' emotional and physical health.
You can choose between CBD dog treats, organic tincture for cats and dogs, and salve sticks. None of the products in the pet category contain any THC, and prices start off at $33. 
Pros and Cons to Joy Organics
As with every other CBD brand out there, there are advantages and drawbacks to buying Joy Organics products.
Advantages include:
The company provides finance in the form of monthly payments and subscriptions.
It sells CBD products for pets.
You can return within 30 days after purchase.
All items are free of animal testing.
Some of the drawbacks are:
The prices of Joy Organics CBD products are higher than those of some competitors.
There is no international shipping available.
Not all goods are vegan-friendly.
How Is Joy Organics Oil Made?
To understand more about Joy Organics as a brand and what their products have to offer, let's look at how their CBD oil is made. 
Organic Farming
The company's farmers adhere to tight requirements and utilize cutting-edge organic farming techniques. This improves the quality of their natural proprietary strains, but it also ensures the unmatched consistency and quality of their products. 
Hemp Flower Processing
The plants are dried following harvest. After the buds, also known as flowers, are dried, removal and storage are done in a climate-controlled location until they are ready to use. The company doesn't use any stems, seeds, stalks, or leaves in its oil manufacturing process. 
Just before the extraction procedure, they mill the buds, similar to how you grind your coffee before brewing a fresh cup of coffee.
USDA-certified organic milled hemp is extracted using a USDA-certified organic hemp extraction technique. 
The extracted oil is next purified using USDA organic standards, resulting in a lovely honey-colored organic CBD oil devoid of pesticides, solvents, lipids, waxes, and other unwanted plant elements. 
The USDA-certified organic full spectrum tinctures are made with this lovely full-spectrum oil. The THC content of full-spectrum oil is less than .3%.
THC Content
To create their broad-spectrum oil, the company uses a patented USDA organic certified chromatography technique to eliminate the THC. This is a complex, time-consuming, and costly procedure, so real USDA organic broad-spectrum CBD products are so uncommon.
The Joy Organics products contain no detectable (0.0 percent) THC, as evidenced by their broad spectrum lab reports.
Tips for Safely Using Joy Organics Products
If you're not about how to safely use Joy Organics products, then consider the general safety recommendation that experts give out to anyone looking to consume CBD:
Chat with a doctor before taking any CBD-based products.
Be on the lookout for potentially harmful drug interactions. 
Research into the current cannabis laws in your state. 
Avoid using CBD if you are pregnant or nursing.
Start with small doses then work your way up, if need be. 
Features of Joy Organics

Reputation
No lawsuits have been brought against Joy Organics in connection with any of its goods or business operations. Additionally, it is accredited by the Better Business Bureau, with an A rating at the moment.
It's important to note that in 2018, after independent testing by Remedy Review it was discovered that the company's Orange Tincture contained a fungicide widely used on citrus fruit. 
Joy Organics immediately recalled the product and instituted a new third-party lab testing procedure to ensure the product's quality and substance.
COAs
Joy Organics was already providing internal lab data to its website prior to the Orange Tincture recall. It did so for both the raw phytocannabinoid-rich (PCR) hemp oil and the finished goods.
However, a 2018 statement stated that the Orange Tincture recall caused the firm to change its third-party testing procedures to maintain its commitment to transparency and quality.
The company began publishing independent laboratory reports for each batch of raw PCR hemp oil as measures. 
They also started publishing third-party laboratory reports for all final products and QR tags on all labels. These measures simplify it for you to access the lab reports for each product you purchase.
Prices
The products are competitively priced compared to many other high-quality CBD companies, ranging between $20 and $100. Veterans, teachers, first responders, medical staff, and individuals with modest incomes receive additional discounts.
Customer Service
Customer reviews are extremely good for Joy Organics products, but they also speak highly of the company's customer service and return policies. Numerous reviews remarked on the speed of delivery and the ease with which things could be returned if they did not match their expectations.
Joy Organics offers a money-back guarantee of 30 days. Even better, the website states that you can use the full bottle before requesting a refund, which gives you time to determine whether you're receiving the effects you want.
Hemp Growth
Joy Organics' website details the complete process of farming and processing hemp. Its hemp is farmed in the United States and is USDA-certified organic.
While Joy Organics is not certified to follow the FDA's current good manufacturing practices, the company says on its website that its facility follows cGMP standards. 
This indicates that, while Joy Organics has not been formally certified by the FDA for good manufacturing procedures, it complies with these laws.
Nanoemulsion Technology
The Joy Organics nano softgels require an additional processing step for their oil. The hemp oil undergoes a patented process that converts it into water-soluble nanoparticles, resulting in increased absorption and potency.
Along with the nanoemulsion process, Joy Organics uses additional proprietary technology to create the water-soluble CBD powder which is used to make pet treats and energy drinks.
Shipping & Returns
There is no minimum purchase requirement before Joy Organics will ship your order. Therefore, feel free to experiment with them.
Joy Organics ships to all 50 United States of America. Due to different regulations in countries across the globe, Joy Organics does not offer international shipping.
Apart from the Austin site, Joy Organics also has physical stores in Illinois and Colorado where you may purchase your favorite product.
Joy Organics CBD comes with a 30-day money-back guarantee. If you are dissatisfied, contact the brand, and you should receive the assistance you require.
Alternatives to Joy Organics
Royal CBD
Royal CBD is a California-based firm specializing in non-GMO and organic hemp extracts to provide you with only the purest and most effective full-spectrum CBD. Royal CBD was one of the CBD firms to watch in 2020, as one of its top products was designated one of the Best CBD Oils of 2020.
Pros
Made with organic hemp extracts.
Sustainable farming.
Free shipping.
Cons
No international shipping.
No lab reports posted on website.
Cannaflower
Cannaflower is an American premium merchant of organic hemp flowers of the highest quality. As stated on their website, Cannaflower believes in "whole-plant medicine," as the majority of the advantages associated with cannabis are enhanced when the hemp plant's entirety is consumed.
Pros
Gorgeous packaging.
Quality buds.
Strain-specific extracts.
Cons
Some harsh-hitting strains. 
CBD Lion
CBD Lion is an Illinois-based family-owned business focusing on CBD products. While the best-selling brand is most known for their vape cartridges, they also provide high-quality hemp flowers, tinctures, and edibles. All goods are safe and exceptional, as the business was developed by medical and recreational professionals.
Pros
Multiple flavors to choose from.
Variety of potencies available.
Extensive product offer. 
Cons
Website could be more user-friendly. 
FAQ
Question: Is Joy Organics a Good Company?
Answer: Joy Organics is a top-rated CBD company. The customer experience speaks for itself. Even when facing difficulties with their products, the company chose to be transparent with lab testing and results. 
Question: Who Owns Joy Organics?
Answer: The company was founded and is owned by Joy Smith. As someone who struggled with sleep and other issues herself, Joy created a line of products to help aid others in need. 
Question: Where Does Joy Organics get their Products?
Answer: Each Joy product begins with natural customized hemp strains that are strong in CBD. The organic hemp they used to make the products is grown in nutrient-dense soil on USDA-certified organic farms in the US.
Final Thoughts
If you're looking for effective CBD products, look no further than Joy Organics. The CBD oil's purity is unquestionable.  One minor criticism is that the brand makes some strong promises without providing the necessary scientific evidence.
After the product recall of 2018, Joy Organics has worked diligently to avoid repetition. As a consequence of its meticulous testing, it has earned a reputation as one of the most trustworthy CBD companies in the business. While some of its products are pricey, you normally get what you pay for.