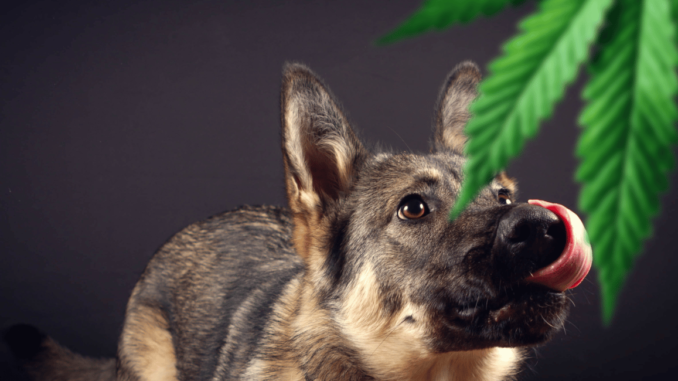 Lawmakers in Rhode Island introduced a bill allowing pets to use medical cannabis if and when it is certified by a licensed veterinarian. House Bill 5504, or the Edward O. Hawkins And Thomas C. Slater Medical Marijuana Act, was introduced Feb. 10 in the Rhode Island House, then referred to the House Health & Human Services Committee.
NBC 10 News in Rhode Island reports that this marks the second time the bill was introduced. The Rhode Island Veterinary Medical Association (RIVMA) didn't support the bill in 2021, and most veterinarians say cannabis hasn't been proven to be safe. Reps Patricia Serpa and Charlene Lima sponsor the bill along with Reps Julie Casimiro and Deborah Fellela.
"We need to get this dialogue going to see if it will be beneficial," said Lima. "It might not be, studies have shown THC can be very deadly for animals." With factors such as a smaller body, and considering that pets break down THC in different ways, it's rarely a good idea.
The lawmaker acknowledged that lots more research is needed to better understand how cannabis affects pets. "You know how quickly science changes," she said. "There's a lot more studies out there now than there was last year when it was first introduced." 
But some veterinarians think the bill would unleash a Pandora's box of problems, given the lack of solid evidence to suggest cannabis is safe for pets.
"If it does get passed it's going to be a really big problem for pets in Rhode Island," said Dr. Shelly Pancoast, emergency vet and president of the Rhode Island Veterinary Medical Association.
Pancoast reminded the media how THC is considered toxic for pets when ingested and has significantly different effects.
"They get pretty severe neurological signs and can sometimes look like they're dead or in a coma," explained Pancoast.
Dr. Ralph Pratt, on the board of directors for RIVMA, compared cannabis to acetaminophen (in 2021), which is completely safe for humans but dangerous to pets.  
For years, people have been treating their pets with medical cannabis—primarily CBD—products with anecdotal reports of success for treating everything from seizures to stress. The science is beginning to mount.
CBD but not THC for Pets in Most Cases
The general consensus appears to be that pet owners should never give their pets THC, with potential bad outcomes, but that CBD is likely less harmful. 
Allowing medical cannabis for pets is a relatively new concept. Only a tiny handful of states offer any sort of protection.
Only California currently gives veterinarians a Get Out of Jail Free pass, explicitly allowing them to discuss medical cannabis without fear of repercussion. Assembly Bill 2215, which was passed and signed into law in late 2018, paved the way for Senate Bill 627, by allowing veterinarians to discuss medical cannabis treatments with pet owners. It prevents the state Veterinary Medical Board from taking special enforcement actions against vets who recommend cannabis products, such as CBD oil.
What is considered cruelty when it comes to pets and cannabis? Most organizations, such as the Anti-Cruelty Society, seem to give CBD a pass but note that THC breaks down in a very different way in animals and can be dangerous. "CBD found in cannabis pet supplements is usually sourced from hemp, a variety of cannabis that naturally contains extremely low concentrations of THC, which is the main psychoactive compound found in marijuana. As a result, CBD is non psychoactive and appears safe to be used on pets," the organization wrote.
More states will likely follow the path of California and Rhode Island with protections for veterinarians.