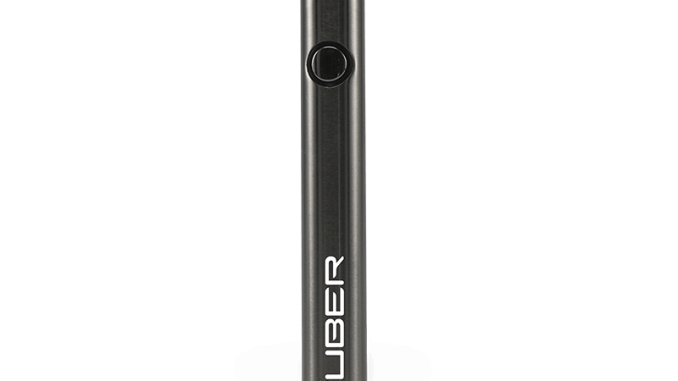 While we normally review CBD and Delta-8 THC products, today we have a special treat for you: we decided to review a piece of hardware called Pilot Battery by Vuber Vaporizers! This piece of hardware is a must-have for specific CBD and Delta-8 THC cartridges, one of which we've already reviewed on our site: Crystal Clear Delta-8 THC Cartridge and D8 THC Shop Delta-8 THC Cartridge, which we'll review in a few days. Many cartridges require an external vaporizer to work, and it may be intimidating to select a device that will work with your cartridge. Thankfully, this slim piece of hardware simplifies that decision, as it has an excellent battery, is easy to use, and is wonderfully affordable. Let's check out this vaporizer pen now and see how it can help you use CBD and Delta-8 THC cartridges today!
The Vuber website is dedicated solely to selling hardware and accessories: pen style and box mod vaporizers, dabs, empty cartridges, cases, grinders, mouthpieces, and more. The website is simply designed, with a white background and black lettering. The pictures are professional and prices and ratings are listed clearly beneath each picture. The company offers consumer and wholesale prices, as well as an About Us and Contact Us link for any other questions you may have. The company offers seven different types of vaporizers, ranging from $15.99 to $109.99, as well as a plethora of affordably priced accessories that can be used for your specific flower and liquid needs. The Pilot Battery is priced at $15.99 on the company website and only comes in a silver color. The device is geared more towards experienced vapers, and offers three different voltage settings that work with any oil, regardless of viscosity. Some cartridges have very thick oil, but the preheat setting on the device is designed to work with all oil types, even those affected by cold or warm temperatures.. Now that we've gone over the vaporizer's appearance and cost, let's check out the actual product review!
Pilot Battery Product Review
The device has no screen, which increases the battery life and makes it extremely simple to use: just fire, inhale, and go! The device is powered by a single button that glows blue when activated and glows red when in need of a recharge. The device can be recharged via an included microUSB charger and takes about an hour to fully recharge. I was able to easily screw in my cartridges, and noted that they were firmly screwed in. The device fired smoothly and quietly, allowing for deep pulls. I would have liked a screen on this to at least show remaining battery life and length of puff, but I understand the elimination of a screen allows for a smaller device size and extended battery life. The device is sleek, light, and discreet, making it one of my favorite vaporizers to use on a daily basis.
Keep in mind that CBD and Delta-8 THC cartridges are very strong, and use of these cannabinoids in cartridge form may result in unpleasant coughing fits. If you're not used to using cartridges, start off slow to allow your body time to get used to it. Even the most experienced CBD and Delta-8 THC users will still cough occasionally, so don't dismiss these types of products just because of the coughing fits. Remember that CBD and Delta-8 THC have different effects depending on a range of factors, such as age, weight, height, metabolism, previous exposure to CBD and THC products, and more. The hemp plant has many cannabinoids that offer a plethora of health benefits, ready to improve your physical and mental health on a daily basis. Always consult your primary physician before starting a CBD or Delta-8 THC routine to ensure it does not interfere with any medication or pre-existing health conditions.
Lab Testing
Vuber Vaporizer only sells hardware devices and accessories, there is no need for the devices to be third-party tested. However, since the devices can be used with any type of screw-in cartridge, you should always verify the type of cartridge you're using is verified by third-party independent labs.
Product Packaging
The pen-style device came packaged in a thick cardboard packaging that was painted white with black lettering. An actual picture of the device was displayed on the front, along with the device name (Pilot Battery) and the company name and logo on the side. The back of the packaging had the company's contact information, social media, and website, along with the words "lifetime warranty" marked in bold letters. To open the box, you pinched the sides and pulled out a thin box that housed the device in soft padding, much like a coffin. Once the padding was removed, there was a thin box that housed a small microUSB cable and a small piece of paper. The paper listed various information about the device, such as operating instructions, charging information, helpful tips, and warnings. The device was smartly packaged and I appreciated the attention to detail despite the small size.
This pen-style vaporizer made using my Delta-8 THC cartridge so simple and easy. I love the simple and slim design, great for beginner and advanced vapers alike. Cartridges can be intimidating to use if you're inexperienced, but this device took the guesswork out of everything. I highly recommend it for anyone looking for a vaporizer device to use with their CBD and Delta-8 THC cartridges.
What are some of your preferred vaporizer devices? Have you tried anything from Vuber Vaporizers? Share your experiences in the comments below! Cartridges provide almost instant results and offer an enjoyable way to use CBD and Delta-8 THC, making them one of the most attractive products on the market. Here at CBD Origin, we take pride in offering honest and accurate reviews from CBD and Delta-8 THC products from companies across the country. If you have any questions about this or other product reviews on our website, you can always reach out to us via email. We look forward to sharing our vast knowledge of CBD, Delta-8 THC, and other cannabinoids of the hemp plant with you. In our next review, we'll touch on two products from CBD Pure: a CBD infused cream and gel capsules. Until then, be sure to check out our other CBD and Delta-8 THC product reviews!