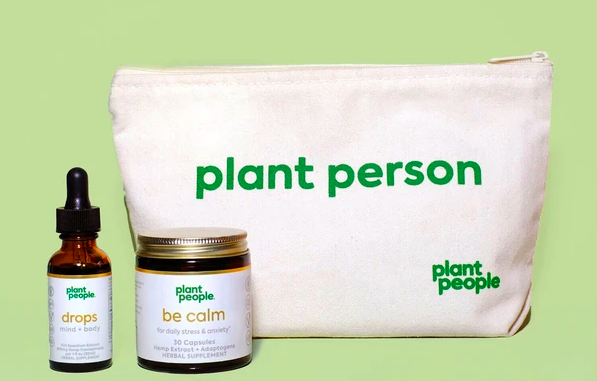 CBD TINCTURES – MIND + BODY, SLEEP, & RELIEF
Tinctures have long been promoted as a simple yet effective way to incorporate CBD into your daily life. Whether you place a dropperful under your tongue, add it to your morning coffee, or sprinkle some over your midday snack, the tincture makes it easy to add CBD to your day. 
Plant People CBD Tincture Quality 
For the Mind and Body tincture, the ingredients are Organic Full Spectrum Hemp Extract and Organic MCT Oil (coconut). The Sleep tincture ingredient list is a bit longer, containing Organic Full Spectrum Hemp Extract Organic Coconut MCT Oil Organic Terpenes: Myrcene, Linalool, Humulene, Geraniol, Terpineol, Delta-3-Carene, and Nerolidol. Lastly, the Relief tincture has an ingredient list with the following: Organic Full Spectrum Hemp Extract, Organic Fractionated Coconut Oil (MCT), Organic Hempseed Oil, Turmeric Oil, Black Pepper Oil, Ginger Oil, and Vitamin E. 
As with the capsules, these tinctures contain full spectrum CBD. Plant People only uses 100% organically grown hemp, locally sourced from Colorado. The CBD is extracted from the entire plant in order to craft a holistic tincture oil. Many hemp that is sourced from overseas is lacking in the high quality and efficacy that Plant People strive to provide to their customers. 
And now that we've checked out the ingredients, third-party testing, and prices of the tinctures, it's time to check out the actual product right out of the box! Let's dive in and see what these three 5mL bottles from the starter pack have to offer! 
Plant People CBD Drops+ Tincture Experience 
The starter pack comes in a slim and very plain white cardboard box with flaps that keep it from opening accidentally. There is a picture of hemp plants with golden buds in the center, and the company name on the front flap, but the package is very non-descript. When you open the box, a neatly lined trio of tinctures sit in perfectly shaped cutouts to prevent them from laying around. A short message is inscribed on the top of the cardboard box, specifying what each tincture is best used for. It was a little difficult to get the bottles out of the carbon inserts, but I used my nail on the rubber dropper to wedge it out. Each one of the 5mL bottles was stained so dark (nearly black) that it was almost impossible to see how much tincture remained in each bottle, even after holding it up to the light. Each bottle had a white label, but each label had different color lettering and a top stripe to differentiate between the three (Sleep tincture was a calming blue, the Mind + Body was gold, and Relief was red). 
Despite being different tinctures for different functions, each one had the same information on the label (except for the name and color): directions for use, bottle size, type of hemp, and seals on the side (gluten-free, vegan friendly, THC-free, organically grown, and GMO-free). There was a perforated plastic casing around the screw-off dropper to ensure none of the tinctures had been tampered with. I carefully unscrewed each one and observed the scent and color of each. The Sleep tincture had the darkest color (similar to olive oil) and the most pungent hemp smell of the three oils. The Mind + Body tincture was the lightest in color (almost as light as lemonade yellow) and had such a faint hemp smell that I almost had to stick my entire nose into the small bottle to detect any scent at all. The Relief tincture was somewhere in the middle of the other two, with a very light yellow color but a noticeable scent of hemp. 
Oddly enough, only the Mind + Body Drops and the Relief drops had graduated droppers. The Sleep one did not, making it impossible to see how much I was consuming in a single sitting. In lieu of this, I simply sucked up what looked to be a full dropperful and released it under my tongue. 
Drops+ Sleep Tincture
The Sleep tincture was smooth and oily and was very easy to keep under my tongue for the recommended 30 seconds. The taste was earthy and had a distinct hemp flavor that was pleasant. Upon swallowing, I had a light and almost sweet aftertaste that lingered on my taste buds for several seconds. I could very easily see myself taking a dropperful of this before bedtime since the taste was calming and pleasant. 
Drops+ Relief Tincture 
Next, we have the Relief Tincture, what I call "the middle child," as it seemed to be the same color as the Mind+Body oil, but had a similar scent to the Sleep oil. I carefully measured out half a dropperful (0.5mL) on the graduated dropper and placed it under my tongue. I had some difficulty keeping this tincture under my tongue for the recommended 30 seconds. Upon swallowing, I had a slightly bitter, very piny aftertaste that made me think I'd swallowed a mouthful of pine needles. It wasn't terribly unpleasant, but it did make me reach for a glass of water to wash away the cloying tincture flavor.
Mind+Body Tincture 
Lastly, we have the Mind+Body tincture. As the tincture that had the lightest color and faintest scent, I was curious to see how this tincture would taste. I measured out half of the dropper (0.5mL) and released it under my tongue. The tincture was smooth and easy to hold under my tongue for thirty seconds and barely had any taste while in my mouth. It was only until I swallowed the tincture that I detected any real flavor. The oiliness in the flavor came out and coated my throat with a faint pine flavor, much like if I'd had a pine-flavored cough drop. There was a light hemp aftertaste lingered in my mouth for a few seconds, but within a minute it had vanished completely.
Overall, these tiny tinctures were the perfect way to test out all three of the Plant People Oils. I was very impressed with the packaging, flavor, and usefulness of each tincture. If you're considering getting any one of these tinctures as a full-size, I urge you to check out this sample set first. You can also buy it as a gift, as it comes in discreet packaging and can be a great gift for those looking for an all-natural approach to their health issues. 
Lab Testing
Just like the capsules, the tinctures all have lab reports, located in the description towards the middle of the page. Simply click on the tab that says "View our lab report" to read through the third-party testing results. You'll have to scroll through the entire PDF to find the lab result for the product you're looking for, but the test results are very clearly written and informative.