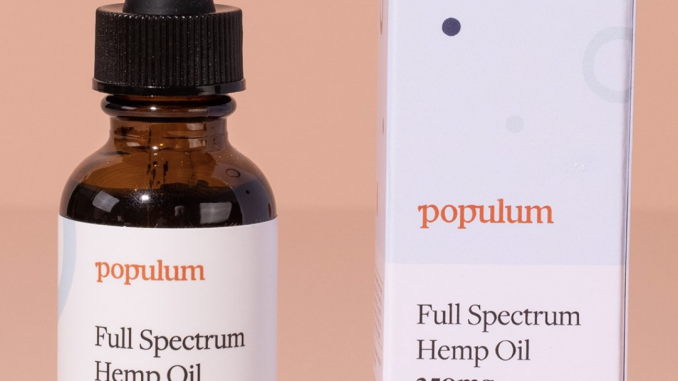 It's been a while since we've featured a CBD product, and we decided to really knock this CBD review out of the park with a total of four products from one of the most well-known CBD brands in the entire industry. But first, a riddle: What do you get when you mix a popular non-psychedelic cannabinoid with the ultimate spa day? That's what today's review of CBD products promises to bring, thanks to the brand Populum! This brand has a fantastic lineup of products that promise to deliver the full power of the hemp plant in a variety of ways. Today we'll be reviewing four of their best-selling products: Hemp Oil Softgel Capsules, Full Spectrum Hemp Oil, Cold Therapy Hemp Rub, and Lavender CBD Face Oil. Each of these products come in different strengths and can easily be incorporated into your daily skincare and vitamin routine. But before we dive into the much-anticipated review, let's take a look at the brand itself and see how Populum differs from the staggering amount of CBD products on the market.
Populum Brand Information
In Latin, Ad Populum translates as "for the people." With such a strong background forged quite literally "for the people," Populum has grown to be one of the strongest companies in the entire CBD industry. They have been featured in several award-winning publications, including Forbes, Town & Country, Allure, and the American Sleep Association. Populum is serious about luxury CBD products that inspire confidence, results, and trust with both current and future customers. Their products are proudly made within the United States and are chock-full of full-spectrum CBD. The company website offers CBD supplements, skincare products, and even Pet CBD. If you'd prefer to build your own kit, there is a 20% discount code for all orders over $200. A final discount can be applied for sending out a $10 coupon to friends and family. For each member that uses your code to make a purchase, a $15 discount is applied to your future purchases. Each of their products are backed by science and are warrantied for 30-day satisfaction. The sprawling selection of products are completely vegan and non-GMO, and undergo not one, not two, but three separate rounds of lab testing performed before they are put on the market. You can read more about Populum's backstory in their Why Populum section located in the Support drop-down tab, but for now, let's check out the first of our four products: the Full Spectrum 500mg Hemp Oil!
Full Spectrum Hemp Oil Product Review – 500mg
Our first product from the Populum lineup contains the strongest CBD content of all four products: the Full Spectrum Hemp Oil. Sold for $99 as a one-time purchase, the oil is also eligible for a 20% off subscription price of $63.20. This type of product is extremely easy to use either sublingually (releasing contents under the tongue for a few seconds before swallowing) or it can be incorporated directly into beverages and foods (dressing for a salad, swirled into oatmeal, stirred into your protein shake, etc.). For maximum bioavailability, it is recommended to use oils and tinctures sublingually to bypass the digestion system and allow the CBD to enter the bloodstream directly.
Armed with this knowledge, I carefully pulled the darkly stained glass from its light blue paper box and tore off the plastic seal. I easily unscrewed the childproof dropper and held the bottle to my nose. I detected a rich piney hemp scent with a hint of sweetness, most likely due to the inclusion of Stevia for taste. I squeezed the rubber nub to draw the oil into the graduated dropper and studied the e-liquid within the glass tube. The liquid was a bright yellow color, similar in both color and consistency to olive oil. The oil moved easily within the glass, sloshing merrily against the sides. I filled up my dropper as close to the 1mL mark as I could get (recommended serving size is 1 full dropper, about a milliliter) and released the oil under my tongue. The liquid was easy to hold underneath my tongue, and I allowed about a minute to pass before swallowing. The hemp oil tasted smooth and sweet (no doubt compliments of the Stevia) and left a lightly sweetened flavor on my tongue after swallowing.
I highly appreciated the Stevia-enhanced flavor as opposed to the harsh all-natural flavor that some oils and tinctures feature. While I can understand wanting to remain all-natural, the raw taste of hemp can be quite harsh and unpleasant for daily use. There was a lightly sweet and almost citrus-y aftertaste several seconds after swallowing which was very pleasant. I rinsed my mouth out with water a few minutes later and could still detect traces of the Stevia on my taste buds. I would definitely recommend this for daily use due to how easy it was to hold the liquid under my tongue as well as the sweet pleasant flavor and aftertaste left behind.
Hemp Oil Softgel Capsules Product Review – 450mg
Next in our Populum product review is the Hemp Oil Softgel Capsules. These vegan softgels contain a blend of cannabinoids such as CBD, CBG, and CBN, for a total 15 mg per softgel. The softgels are priced at $79 for a one-time purchase, but customers that sign up for the monthly subscription can enjoy a 20% discount of $63.20 per bottle. I removed the darkly-tinted glass jar from the light teal box and removed the plastic seal from the cap. I shook out a softgel from the jar and inspected the tiny capsule. Now I don't recommend you doing this, but for the sake of thoroughness I like to squeeze all softgel capsules until they burst. This helps me gauge how thick the capsule wall is and how it might be broken down by my digestive system. This translucent capsule held out for about five seconds of intense pressure before rupturing between my thumb and forefinger. The oil within was clear with a tinge of yellow and very oily, similar to the hemp oil in the previous paragraph. I popped the softgel into my mouth, took a quick swig of water, and swallowed the softgel easily.
Softgels are one of the preferred methods of CBD consumption, as there is no aftertaste, no measuring, and it's very easy to incorporate into a daily vitamin routine. Softgels are also easier to swallow than traditional capsules, due to their soft texture and small size. If you're looking to start your CBD journey with the simplest form of CBD there is, you'll be sure to enjoy this cannabinoid-rich product that makes individual daily dosing quick and easy.
Cold Therapy Hemp Rub Product Review – 450mg
Cold Therapy Hemp Rub sells for $3 as a sample pack, which literally just covers shipping. The sample "pack" actually includes 3 arctic cooling packets, but the catch is that there's a limit of one per household. The hemp rub is both vegan and paraben-free, and are intended to be used for muscle and joint relief. If you like how the sample is, check out the full sized 3 oz. tube for only $45, which is also available at a 20% discount of $36 if you sign up for their monthly subscriptions. I received the sample pack, so I'll be reviewing that. Feel free to check out the full sized version and let me know how you like it!
I carefully tore a portion of the pack open, as I wanted to preserve the contents for later use. I squeezed out a dime-sized amount and held the packet to my nose. It smelled medicated, but not overly harsh like Vicks VapoRub. The hemp rub itself was clear but viscous, much like a salve. I slathered the hemp rub across my upper back (between my shoulder blades) and felt the menthol begin to work instantly. The hemp rub dried extremely quickly and did not leave any oily residue. In fact, the section of my back was dry to the touch a mere five seconds after applying. I could feel the menthol working to soothe my achy back muscles, and only need a small dime size amount to thoroughly rub into my upper back between my should blades. The scent nor the sensation were overpowering and i loved how quickly it dried.
Lavender + CBD Face Oil Product Review – 250mg
I saved one of the more unique products as the pièce de résistance to finish off this review of Populum products: the 250mg Lavender + CBD Face Oil. This luxurious face oil sells for $79, but is available for a 20% discount price of $63.20 when you sign up for their subscription service. I've used topical creams and lotions before, but never a specific oil for the face. With the inclusion of lavender in the product description, I was almost giddy to try out this intriguing product. The instructions advise that the face be cleansed before applying. I took this a step further and used some deep cleansing pore strips to rid my face of any blackheads and oil buildup before applying to oil. I removed the bottle from its lavender colored box and removed a sleek black-tinted bottle from within. The bottle reminded me of sea glass due to its sanded-smooth texture and opaque visibility. I tore off the plastic casing and unscrewed the childproof dropper from the bottle. I noted that the dropper tip had a blunt bubble shape designed for blotting directly onto the face or dripping directly onto the palm. The oil color was an extremely light yellow, similar in both color and viscosity to watered-down extra virgin olive oil. I held the bottle to my nose and detected a dense hemp scent mingled with a hint of lavender.
Initially I dripped about five drops onto my palm with the intent to massage into my cheeks, but my hand was quickly covered in more oil than I anticipated. I rubbed as much of the oil from my hands onto my face, but decided to drip a few drops onto my T-zone (forehead and both cheeks) as well as on my chin. The oil seemed to spread much easier once on my face, and it absorbed quickly into my skin. I left the oil to dry for a few minutes and touched my cheeks once I was sure the oil had been absorbed. My skin felt silky yet slightly oily, and I had to wipe my hands on a paper towel to remove the excess oil once I had finished touching my face. I loved how moisturized my cheeks and chin felt, and I detected a light whiff of the oil fragrance every so often. The label confirms that the oil can be used with all skin types, but I definitely recommend this for use after a shower or cleansing to harness the full moisturizing effect. I have naturally oily skin that can get quite dry once I wash my face, so this was a nice and luxurious product that I got to enjoy in place of my usual skincare cream. For those of you worried about breakouts, this lavender face oil actually helps to prevent acne from popping up and can help minimize the appearance of scarring. I was also a tad worried that my face would have a reaction to the oil or would appear too shiny the following morning, but my skin was as smooth and blemish-free as the night before. I highly recommend this product for those looking to incorporate a hemp-infused product to their daily face and skincare routine.
Quality
Populum has become one of the leading CBD brands in the world due to their luxurious lineup of hemp-based products. Their full-spectrum hemp is grown in Colorado in the warm spring months, then harvested in the fall. The hemp is cured and air dried, after which it undergoes the first round of lab testing to ensure cannabinoid potency and no unwanted pesticides or heavy metals. Next, the extraction process removes unwanted compounds and is formulated with other naturally-sourced ingredients in Populum's CGMP processing facility. The formulated oil is sent out a second time for third-party lab testing, and is bottled up for sale. The finished product undergoes a third and final round of third-party lab testing to ensure no missed heavy metals, solvents, or pesticides are present. The lab results are certified to confirm purity and accuracy and are included in each shipment of products across the country, ready to delight eager customers looking to benefit from the healing powers of CBD.
Lab Testing
At first, I had trouble locating the independent third-party lab results that are advertised throughout the site. I discovered a video on their page that states that for every product a customer purchases, a copy of the most recent lab testing is included in paper form. Then I discovered that each product has a clickable tab that allows the potential customer to view the results directly on the site. Oddly enough, these results are not listed on a QR code directly on the product packaging, something that many companies are turning to for even more transparency. Perhaps Populum felt that this cheapened the product packaging, or simply believed that the online PDF and in-person paper are enough. Regardless of this decision, the lab results confirm that each of Populum's products contain less than 0.3% THC. Under the 2018 Farm Bill, this allows Populum's products to be sold legally throughout the country in conformance to local state hemp laws.
I was blown away by Populum's dedication to helping their customers understand how to read the test results. So many companies simply give this information away for free, but do not explain how to understand it or assume the customer will figure it out. Populum not only presents a detailed video on how to read this information, but also relays these instructions on each of the lab result pages. This dedication to helping their customers understand exactly what they're reading is profoundly impressive. In addition to helping customers understand how to read Populum's lab results, this knowledge can be used for future hemp-infused products from other brands as well.
Packaging Information
Populum's product packaging focuses on a calming design that does not detract from the actual product. Each product is packaged in relaxing pastel colors with abstract shapes, perfectly shaped to fit the product within. The bottled oils and capusules were darkly stained to prevent sunlight spoiling the inner contents, and each one came sealed with a plastic protective seal.
On the front of the packaging, the product name, CBD content, and product content was listed clearly. The left side of the packaging displayed FDA disclaimers and encouraged new users to consult their primary care physician before using, along with four seals indicating the product was made in the USA, is lab tested, carries a 30-day guarantee, and recycling recommendations. The right side of the packaging contains supplement information such as servings per container and the recommended serving size. The ingredients list is displayed just beneath the supplement facts, along with manufacturing information and allergen warnings. The back of the packaging displays information on the supplement itself, citing the natural sources and domestically grown hemp that go into a single serving. Each product contained a batch number and expiration date on the bottom of the container, along with suggested use and serving size on both the label and the box.
Price vs. Value
While it's true that you can get quality CBD at significantly lower prices than what Populum products are sold for, I strongly urge you to consider what Populum products go through before they reach you. You'll be hard-pressed to find such dedication to consumer education, devotion to purity and accuracy via three separate rounds of testing, and luxurious CBD products that can be incorporated seamlessly into your daily routine. From packaging to application, these products impressed me at every turn. The hemp oil was flavorful, the face oil was luxurious, the capsules were easy to consume, and the quick-drying hemp rub was perfectly tailored to sooth my muscles while avoiding a sticky smelly mess on my skin.
Conclusion
Populum has been well-known in the CBD industry as being one of the top-tier products. After reviewing nearly every product in Populum's catalog, I can clearly see why! The level of information available on both the product packaging and the company website, the luxurious feel of each product, the attention to detail, and the commitment to excellence had me feeling like I was in my own personal spa. I implore you to look past the price tag and see the value of these products as a luxurious way to enhance your body and mind with the healing powers of CBD. If Populum's prices may seem a bit daunting, there are many ways to save on your purchases with the adequately placed pop-up windows that offer discounts, referral bonuses, and discounted subscription prices. When it comes to Populum's CBD products, I fully support the phrase, "You get what you pay for." If you're looking for a premium line of CBD products that are worthy of their price tags, I highly encourage you to check out all that Populum CBD has to offer!
If you've had the pleasure of trying any or all of the products listed in our Populum review, feel free to share your experiences in the comments below! What are some of your favorite CBD products that you are interested in or currently use? Drop a comment and let others know how CBD has changed your life for the better. In our next review, we'll be jumping back into our Delta-8 THC reviews with a review on Mystic Labs Tasty Mixed Berries gummies. With such an intriguing name, I have high hopes for this particular product (no pun intended!) and look forward to sharing my experiences with you. Stay well, my fellow CBD and Delta-8 THC friends and I hope to see you again soon!