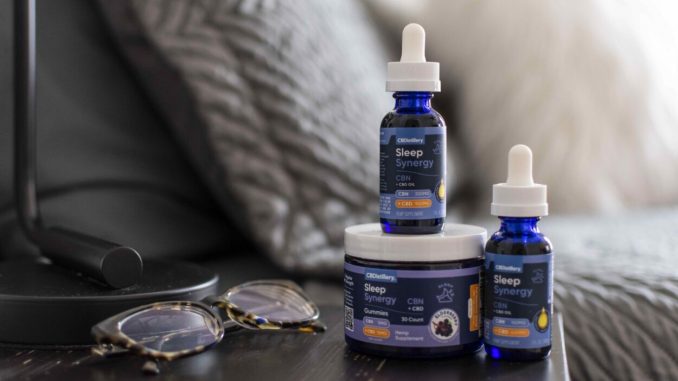 Some of the most detrimental effects of too little sleep or poor sleep quality are immediately obvious. Others gradually build over time. Although most people are painfully aware of the physical, psychological, and emotional impact of too many sleepless nights, about 35% of US adults are chronically sleep-deprived.1
While there are pharmaceutical solutions available, a lot of people struggling with sleep issues are hesitant to use them because of the high risk of side effects, chemical dependency, and morning grogginess. That's why so many people looking for ways to fall asleep faster or improve sleep duration eventually turn to holistic treatments and herbal supplements. If you're leaning towards investing in a plant-sourced sleep solution, there are 5 things about CBD you should know.
Are You Curious About What CBD Is or How It Works? 
CBD (cannabidiol) is one of more than 100 non-intoxicating plant elements in cannabis classified as a cannabinoid. Although there are two potential sources, hemp and marijuana, most CBD products sold in retail shops, specialty stores, and through online merchants are sourced from industrial hemp. According to the feedback of nearly 2000 survey respondents, most people are using hemp-derived CBD products to feel more relaxed, to ease discomfort after physical activity, and for better sleep.
The impressive list of possible benefits is easily explained by the way cannabinoids interact with the receptors of the largest regulatory system in your body, your endocannabinoid system (ECS). Since ECS function regulates everything from stress responses to muscle function, the impact of CBD on your body depends on which essential processes might be restored to balance (homeostasis) through ECS support.
Could CBD Help You Sleep Better? 5 Things to Know Before You Decide 
First and foremost, it's important to remember that CBD is not a medication; it won't prevent, cure, or treat any known health concern. Although individual results can vary significantly from one CBD user to the next, 9 out of 10 of our survey respondents report better sleep. However, CBD is not right for everyone. Before deciding against CBD use or committing to a purchase, there are 5 things you need to know.
1. Hemp-Derived CBD Does Not Cause Intoxication 
Since it's a cannabis product, many people initially worry about the possibility of intoxication.  But there's no cause for concern. The intoxicating effect of marijuana is caused by the high levels of THC (tetrahydrocannabinol), an entirely different cannabinoid. Full spectrum hemp-derived CBD products contain only trace amounts of THC, never enough to cause intoxication. If you're concerned about ingesting even trace amounts, consider investing in products made with 0% THC CBD isolate powder or broad spectrum extracts.  
2. CBD is Generally Well Tolerated by Most People
Most of the scientific evidence supporting the health and wellness potential of hemp-derived CBD is based on lab results, animal studies, and a small number of clinical trials. Although the research is ongoing, these preliminary investigations confirm that CBD is generally well-tolerated. According to a report published by the WHO (World Health Organization), there have been no "health-related problems" associated with CBD use. The organization also confirms that CBD has a "good safety profile" and "no risk" of chemical dependency.2,3  
3. CBD Can Interact with Medications
Although CBD is generally well-tolerated by most people, the cannabinoid can interact with several prescription and over-the-counter medications, including calcium channel blockers, some antibiotics, anti-depressants, anti-inflammatory drugs, and corticosteroids. If you have a medical condition or take medication, it's important to discuss your interest in CBD with your health care provider before adding hemp-derived products to your daily routine.4
4. It Can Take Time for CBD to Have an Effect 
When you take an over-the-counter pain reliever or allergy medication, you have a pretty good idea of how long it might take for your symptoms to subside. But that's not how CBD works. Before investing in CBD, it's important to know there are numerous factors that influence how long it might take your system to respond. Some CBD users report relief within hours of their first serving, but most of our survey respondents report achieving their best results within 7-14 days of consistent use. You might need to be patient.
5. Ideal Serving Sizes Vary Between CBD Users 
While you'll find serving size recommendations on product labels, every CBD user is unique. A serving size that works well for someone else could be quite different than the amount of CBD that works best for you. That's why you'll find so many sources suggesting that first-time users start with a partial serving. If you don't achieve the results you're looking for, increase your serving sizes gradually in small increments at a pace you're comfortable with.
Could CBDistillery™ CBD Products Help You Sleep Better? 
Most adults need about 7 hours of uninterrupted sleep to wake feeling alert, energized, and refreshed. When your usual routine allows for just enough time in bed to meet your minimum sleep requirements, even seemingly minor sleep issues can have major consequences.
Could CBD help you sleep better? It's possible. The only way you'll know is to choose a product that appeals to you and try it. Although any of our high-quality CBD products could help you get the rest you need, when you want CBD for sleep, consider trying one of the following CBDistillery™ products specifically formulated for nighttime use.
CBDistillery™ 30 mg Broad Spectrum CBD Sleep Gummies + Melatonin
CBDistillery™ Broad spectrum CBD Sleep Gummies give you 30mg of CBD and 2mg of melatonin per serving. Although CBD and melatonin each have considerable sleep-promoting potential on their own, we think you'll find they work even better together. Our melatonin-infused sleep gummies could be your best option if you're looking for a delicious, convenient way to enjoy your CBD at home or while you travel.
CBDistillery™ CBN + CBD Oil Sleep Tinctures 
CBDistillery™ CBN + CBD Oil Sleep Tinctures are made with a blend of full spectrum CBD oil and CBN (cannabinol) isolate, a cannabinoid known for its sleep-promoting properties. Our regular strength CBDistillery™ Sleep Synergy CBN + CBD Oil Tincturegives you 150mg of CBN and 450mg of CBD per 30ml bottle. For twice the potency, choose our extra strength Sleep Synergy CBN + CBD Oil Sleep Tincture.
CBDistillery™ Sleep Starter Pack – Sleep Gummies & 600mg CBN + CBD Oil Sleep Tincture
If you're having difficulty deciding between these distinctly different products, consider trying a CBDistillery™ Sleep Starter Pack. With each starter pack, you'll get a 30-count bottle of our 30mg Broad Spectrum CBD Sleep Gummies, a 30ml bottle of our regular strength Sleep Synergy CBN + CBD Oil Tincture, and a discounted price. With a sleep starter pack, you can kiss sleepless nights goodbye as you compare the effects of CBN and melatonin.
Are You Ready to Kiss Sleepless Nights Goodbye? 
Few people have the luxury of adjusting their schedules to compensate for the time they spend tossing, turning, and trying to get comfortable. If you're looking for a natural plant-sourced solution, consider adding CBD to your daily routine. Based on the responses of our survey participants, most people using multiple products found CBD more effective than using one product alone.
To learn more about the sleep-promoting potential of hemp-derived CBD and the many possible benefits of daily ECS support, visit CBDistillery™ to download The Ultimate CBD User Guide. Then take a look at our selection of high-quality, fairly priced hemp-derived CBD tinctures, gummies, softgels, and CBD topicals. You might also want to read some of our more than 10,000 reviews. All CBDistillery™ products are third-party tested, US Hemp Authority™ certified, and backed by our 60-day money-back guarantee.
Sources: 
1. Med Alert Help. M Dobric (2021 April 19) 48 Surprising Sleep Statistics & Facts to Know in 2021.
2. Healthline. S Ferguson. (2020 May 11) CBD for Insomnia: Benefits, Side Effects, and Risks.
3. WHO International. (June 2018) Cannabidiol (CBD) Critical Review Report.
4. CFAH, L Ashton. (2021 July 07) CBD Drug Interactions – Mixing Cannabidiol and Medications.