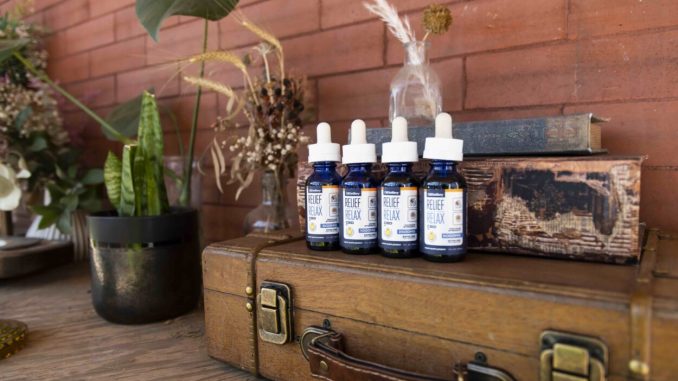 Many people start using CBD because they're intrigued by the health and wellness potential of plant-sourced cannabinoids. Most CBD users choose hemp-derived products because they can be purchased just about anywhere and don't contain enough THC (tetrahydrocannabinol) to cause intoxication. Although you'll find a considerable number of resources focusing on the benefits of using CBD products made with full spectrum hemp extracts, they're not right for everyone.
Many CBD users aren't comfortable with the trace amounts of THC found in full spectrum hemp-derived CBD oil tinctures, softgels, or gummies. Although their reasons can vary, there could be a factor or two influencing their decisions you might want to consider. Once you know why other CBD enthusiasts prefer using CBD without THC, and the differences between product options, you'll be that much closer to finding the CBD products that are right for you.
How THC Can Be Intoxicating and CBD Is Not
CBD and THC are both cannabinoids, active plant elements capable of interacting with the receptors of the largest regulatory system in your body, your endocannabinoid system(ECS). Although the chemical composition of CBD (cannabidiol) and THC is the same, their structures are slightly different. The differences in structure allow THC to bind directly with the CB1 receptors in your brain. That's how the cannabinoid produces the type of intoxication associated with marijuana use.1
CBD does not bind with the CB1 receptors in your brain. Instead, the cannabinoid has an indirect effect on the ECS receptors throughout your system and reduces THC's ability to cause intoxication.2 Since your endocannabinoid system regulates nearly every crucial function in your body, the possible benefits of using any hemp-derived CBD product depend on which essential processes might be restored to balance (homeostasis) through ECS support.3
Why CBD Users Might Avoid Products with THC? 
There are plenty of CBD enthusiasts who are completely unconcerned about using full spectrum CBD products because they know the trace amounts of THC (0.3% or less) won't cause intoxication. But many equally devoted CBD users would never consider using full spectrum CBD products.
Some live in states requiring 0% THC CBD; others are simply uncomfortable ingesting any amount of THC because of the long-standing stigma associated with cannabis use. However, a significant number of people avoid using full-spectrum CBD over concerns that ingesting trace amounts of THC could trigger false-positive test results during a routine drug screening.  
Although you'll find numerous sources suggesting that full-spectrum CBD products don't contain enough THC to raise any red flags, it's important to remember that everyone metabolizes cannabinoids differently. Although it's true that the chances of testing positive for THC on a standard immunoassay urinalysis are slim, it can happen.4,5
Which Products Should You Choose If You Want to Avoid THC? 
You can avoid ingesting THC by paying attention to the type of hemp-derived CBD products you purchase. Only full spectrum CBD products contain the 0.3% THC produced naturally in the plant. To accommodate CBD users who prefer avoiding THC, product manufacturers reduce the cannabinoid to non-detectable levels or remove the component entirely. If you're leaning towards using hemp-derived CBD products without THC, consider how you might benefit from either of the following product types.
Broad Spectrum CBD Products 
Many people are initially drawn to full spectrum hemp-derived CBD products after learning how each of the many additional cannabinoids, terpenes, and other phytonutrients work together to maximize the impact of each plant element. Cannabis researchers call this benefit maximizing phenomenon an "entourage" effect.6
Many people interested in the potency enhancing potential of an entourage effect but want to avoid THC choose broad spectrum CBD products. A process called chromatography reduces the THC in full spectrum plant extracts to non-detectable levels.7 Since the rest of the cannabinoids, flavonoids, and terpenes remain, broad-spectrum CBD products retain their natural flavor and aroma.    
CBD Isolate Products 
Although broad spectrum CBD products have non-detectable levels of THC, less than .01%, products made with pure CBD isolate test even lower. CBD isolate is the purest form of cannabidiol available. Once extracted, the plant oils are heated for a specific amount of time to activate the CBD. Then a process called winterization separates the cannabidiol from the unwanted plant components.
All that remains after winterization is a flavorless, odorless powder that is nearly 100% pure cannabidiol, a product that contains 0% THC. Not only are tinctures, softgels, and gummies made with pure CBD isolate a great option for CBD users concerned about ingesting even small amounts of THC, pure CBD isolates won't alter the flavor or aroma of your favorite recipes.
What Are the Benefits of Using CBD Without THC?  
Many CBD users prefer the effects of full spectrum products, but you're sure to find just as many people reporting favorable results using tinctures, topicals, softgels, and gummies made with broad spectrum hemp extracts and pure CBD isolate.
Although the only way to know exactly how you might benefit from any CBD product is to try it, we have every reason to believe you'll experience favorable results. Based on the feedback of nearly 2000 CBD users, people using a range of product types and potencies, most people say they're using our hemp-derived CBD products for relaxation, better sleep, and for inflammation, pain, and stiffness after physical activity.
Why Choose CBDistillery® for CBD Products without THC? 
The quality of the CBD products you select can have a huge impact on your overall experience. When you're ready to add CBD to your daily routine but want to avoid THC, it's important to stick with a brand you can trust.  When you choose CBDistillery® broad spectrum and pure CBD isolate products, you're in good hands.
CBDistillery® is a reputable industry leader with more than 2 million satisfied customers. Our products are sourced from naturally cultivated crops, and third-party tested for purity and potency. You can use the Certificate of Analysis on our product pages to verify that the THC levels in our broad spectrum products are reduced to non-detectable levels and our CBD isolate products are as pure and potent as we claim.
To learn more about ECS function or how you could benefit from our hemp-derived CBD products, visit CBDistillery® to download The Ultimate CBD User Guide, the #1 resource guide for CBD users. Then take a few minutes to browse our selection of CBD tinctures, topicals, softgels, and Broad Spectrum CBD Drink Mixes. CBDistillery® products are cruelty-free, US Hemp Authority™ certified, and crafted in a cGMP certified facility.
Sources:
1. National Institute on Drug Abuse. (July 2020) Marijuana Research Report: Is Marijuana Addictive?
2. Analytical Cannabis. J Rudd. (2018 February 20) CBD vs THC – What are the Main Differences?
3. Journal of Young Investigators. C Sallaberry, L Astern. (June 01, 2018) The Endocannabinoid System, Our Universal Regulator.
4. US Drug Test Centers. J Schwab. (2021) Can You Fail A Drug Test Due to CBD?
5. Forbes. M Adams (2018 October 18) Marijuana Madness: This Is How CBD Oil Cab Cause A Failed Drug Test.
6. Project CBD. (2021 June 23) CBD And Its Entourage.
7. CFAH. L Ashton. (2021 July 02) Broad Spectrum CBD Oil, Capsules, Edibles: Definition & Benefits.