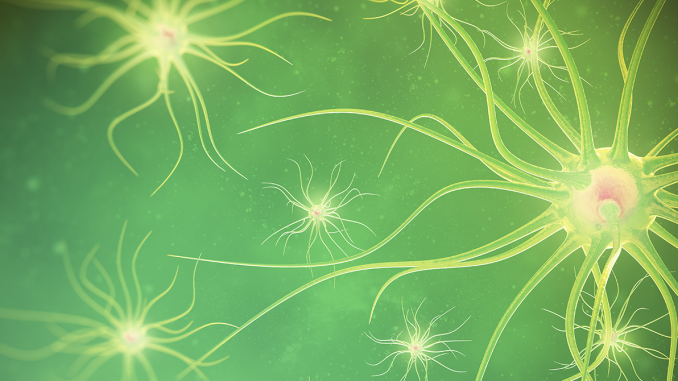 At Project CBD, we often write about how cannabinoids and the broader endocannabinoid system help maintain homeostasis in the body and affect physical health in myriad ways. But this vast system of cellular receptors, ligands (compounds that bind to these receptors), and enzymes also influences mental health, cognition, emotion, and other processes seated squarely in the brain.
Cannabinoid receptor type 1 (CB1) is perhaps the most abundant G protein-coupled receptor throughout the central nervous system.1,2 The broader family of GPCRs includes roughly 750 different receptors,3 nearly 150 of which are targeted by pharmaceuticals representing more than one-third of all approved drugs in the United States and Europe.4
CB1 is present in very high levels in several brain regions, including the cerebellum and the hippocampus,5 and distributed at lower levels more generally6 – where it helps modulate neurotransmitter release,7 among other functions. Key CB1 agonists, which activate the receptor to produce a variety of cellular responses, include the endogenous cannabinoids anandamide and 2-AG and the phytocannabinoid THC.
So it's really no wonder that cannabis, as well as various foods and activities that enhance the endocannabinoid system (ECS), can have a pronounced, positive impact on brain function. Though there is still much more to learn, recently released papers suggest a growing range of beneficial effects.
Stuttering
Speech dysfluency, sometimes called stuttering, affects about 5% of children. It is successfully managed or eliminated in most patients through standardized treatments, including speech therapy, cognitive behavioral therapy, and relaxation techniques. For some, however, the condition is more stubborn. A case study published in the journal Cannabis and Cannabinoid Research8 in late July tells the story of a 20-year-old male with treatment-resistant stuttering who finally found relief through cannabis.
The authors – from the Medical University of Warsaw, Poland, and the Hannover Medical School in Germany – report that along with speech fluency the patient experienced improvements in mood, attention, concentration, sleep, and self-confidence, plus reduced social anxiety and stress. No adverse side effects were reported, and efficacy did not decline over time.
Dementia
Cannabinoids can also successfully treat neuropsychiatric symptoms of dementia, according to a review published by a team of Brazilian researchers in July in Trends in Psychiatry and Psychotherapy.9,10 Based on an analysis of 15 previous studies with original clinical data, the authors conclude that administration of THC, CBD, and the synthetic cannabinoid drugs dronabinol and nabilone generally resulted in favorable outcomes for patients in moderate to advanced stages of dementia.
In particular, the treatments seemed to help with agitation, aggressive behavior, sleep, and sexual disinhibition. "Many pharmacological details are yet to be determined, such as dosing, treatment duration, and concentrations of active compounds (e.g., CBD/THC ratio) in commercial preparations of medical cannabinoids," the authors write.
Lockdown
Here's another condition cannabis may help with that we hope not to experience again anytime soon: social isolation due to lockdown during a pandemic. A team of researchers based at the University of Padua in northern Italy, near where COVID-19 made its first terrifying stand, has proposed in a new paper for the journal Frontiers in Psychiatry11 that behaviors known to improve endocannabinoid tone could help individuals comply with emergency public-health measures like lockdown while minimizing adverse psycho-physical impacts.
Drawing on existing knowledge of the relationship between the effects of social isolation in animals and endocannabinoid system function, the authors suggest that ECS-boosting "lifestyle interventions" like probiotics, CBD, meditation, and exercise could make individuals less prone to fearful and negative thoughts and aggressive behavior during stressful times like lockdown or quarantine. These healing modalities also buffer other biological reactions that could lead to health complications.
Social interaction and motivation in mice
A pair of studies published in August suggest that increased ECS activity is also tied to improved social interaction and motivation, at least in mice. In the first study, published in Cannabis and Cannabinoid Research,12 researchers in Italy fed mice an extract of "nonpsychotropic," low-THC, CBD-containing cannabis – hemp, essentially – for two weeks, to see what kind of behavioral effect it had. While the researchers didn't notice any effect on motility or anxiety, they did observe increased social interaction.
In a second study published in the Journal of Neuroscience,13 researchers based at universities in New Mexico, Minnesota, and Maryland used a monoacylglycerol lipase (MAGL) inhibitor to boost levels of the endocannabinoid 2-AG in mice and measured the effect on goal seeking. They found that chronic MAGL treatment "facilitates goal seeking" – a result that "supports cannabinoid-based therapies for treatment of motivational disorders."
So much for the lazy stoner.
Nate Seltenrich, an independent science journalist based in the San Francisco Bay Area, covers a wide range of subjects including environmental health, neuroscience, and pharmacology.
Copyright, Project CBD. May not be reprinted without permission.
Footnotes