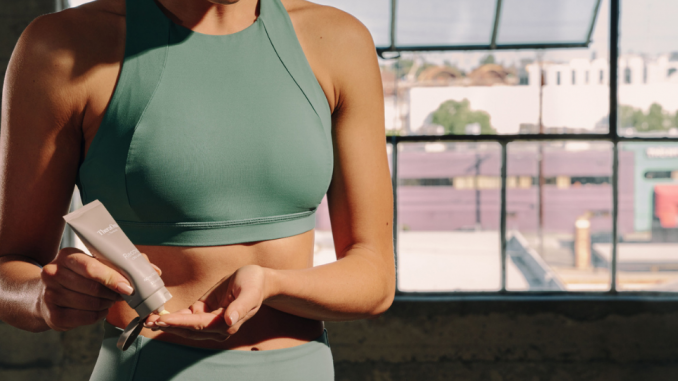 Nowadays, it's common to suffer from carpal tunnel syndrome. 3-6% of adults will develop carpal tunnel at some point in their lives. Thank goodness you don't have to live with the side effects. 
I'm sure you've been curious about treating carpal tunnel with CBD, which is why I'm going to guide you through the benefits of using CBD as a natural pain reliever. I'll also show the best CBD for carpal tunnel that you can buy online based on their effectiveness, ease of use, and application. Ready to relieve your symptoms? Stay tuned!  
Bottom Line Upfront
I've never dealt with full-blown carpal tunnel. But, as a writer who basically lives at her laptop, I've experienced wrist pain and mild carpal tunnel symptoms. I tried Therabody Revive CBD Body Balm and it actually relieved a lot of the symptoms! I'd recommend it, but I might also try out a few other balms and salves to see how they compare.
Top Picks
Before I go into what carpal tunnel is and how you can use CBD to help treat it, I want to show you my top picks for CBD that helps with this syndrome. Studies around the world have shown CBD can be a powerful pain reliever. If you want to check out some of the most popular options, give these a try!
What is Carpal Tunnel?
Carpal tunnel syndrome can develop when pressure is put on the median nerve in your wrist. The median nerve runs through your arm, wrist, hand, and fingers. This nerve can become compressed from the surrounding bones and ligaments. Carpal tunnel is very common, especially if you work with your hands.
Symptoms of Carpal Tunnel
What exactly does carpal tunnel syndrome feel like? I pulled some of the most common symptoms into a handy list. If you haven't done so already, talk to your doctor if you're experiencing these common symptoms of carpal tunnel:
Tingles and shocks in your hand, thumb, index, middle, and/or ring finger
Numbness in your hand, thumb, index, middle, and/or ring finger
Pain in your hand, thumb, index, middle, and/or ring finger
Uncontrollable weakness in your hand and fingers that causes you to lose your grip
What Causes Carpal Tunnel?
The unfortunate truth is, there are a lot of variables that can make someone more or less likely to develop carpal tunnel. Usually, instead of one cause, carpal tunnel is triggered by multiple causes accumulating over time.
Repetitive hand motions from playing video games, artist work, and hand-straining jobs
Being born biologically female
Having small hands and wrists
Dislocating or fracturing your wrist
Developing arthritis that alters the bone structure in your hands and wrists
Obesity
Body fluid retention during pregnancy and menopause
Using Arimidex, which is commonly used for treating breast cancer
Kidney failure, lymphedema, and thyroid disorders
Diabetes
Inflammatory conditions affecting your wrist and hand
Tips for Treating Carpal Tunnel
There are lots of ways to treat carpal tunnel and alleviate some of those annoying symptoms. Besides using CBD, I've listed some of the other most common treatments for carpal tunnel syndrome. Here's what you can do:
Use anti-inflammatory drugs without steroids, called NSAIDs
Consider treatment with corticosteroids
Use a wrist splint when you sleep at night
Receive hand and wrist massages
Gently do some hand and wrist exercises each day
Stop using vibrating tools, or use an anti-vibration product
Use natural pain relievers
Completely relax your hand, wrist, and fingers for 2 weeks
Talk to your doctor about even more treatment methods
Can CBD Help with Carpal Tunnel?
Yes! It's true that CBD can't cure or officially treat your carpal tunnel. What CBD does do is help relieve the unpleasant symptoms that carpal tunnel gives. CBD is a natural pain reliever. When applied to areas on the body causing you pain, CBD can provide relief that isn't just skin-deep. The long-lasting pain-relieving effects generally last for a few hours.
You can also ingest CBD in certain forms to feel the relaxing effects throughout your entire body. Taking CBD orally can also help relieve symptoms of anxiety and insomnia.   
Pros and Cons of CBD for Carpal Tunnel
CBD is still a relatively new treatment. Because of this, you probably want to weigh your options for using this magical treat from nature to alleviate your carpal tunnel, right? I've listed out some of the most important pros and cons of using CBD for carpal tunnel below, so you can make an informed choice.
Pros
Few people are allergic to hemp, and therefore CBD
Provides instant and long-lasting pain relief
Relieves anxiety symptoms, which people with chronic pain may experience 
Has a huge range of CBD doses to pick from
Natural pain reliever
Many sellers provide CBD for carpal tunnel using all-natural, organic ingredients
Cons
A small percentage of people will experience an allergic reaction
Using too much CBD can make your hand feel number than before
Finding the Best CBD for Your Carpal Tunnel
I'm going to split CBD products into 2 basic groups to help you decide which one is the better fit for you. Some CBD is applied topically (balms and salves), and some types of CBD are taken orally (oil tinctures.) 
Topical CBD Options are Best for: 
Relieving pain in one specific area 
Calming muscles wherever the treatment is applied 
Ingestible CBD Options are Best for: 
Providing your body and mind with a calming sensation 
Alleviating stress, anxiety, and insomnia 
Top CBD Choices for Carpal Tunnel
These are the 4 best choices when it comes to CBD for carpal tunnel. Relieving the symptoms of carpal tunnel with CBD is a very low-risk treatment because few people are allergic to CBD. If you're interested in trying this natural pain reliever, check out some of the most popular picks online!
CBDistillery Full Spectrum CBD Oil 
Best for:

Experienced CBD Users

About
This CBD tincture contains 1,000mg of non-GMO, full-spectrum CBD! Since this is a tincture, it's meant to be taken orally instead of applied to your wrist and hand. By ingesting this CBD, you'll be able to feel widespread, calming effects throughout your entire body. CBDistillery is a trusted brand in the CBD industry, which is one reason I recommend them. Their products are all lab-tested and approved.
Price Range: $55-$65
Quantity/Volume: 30ml
CBD: 1,000mg
Medicinal Ingredients: Non-GMO full-spectrum CBD oil
Type: CBD oil
Pros
Full-spectrum CBD allows you to enjoy the benefits of many different terpenes from hemp
Made with non-GMO hemp
Most popular CBD strength for this brand
Cons
To save money on your purchase, you have to subscribe
Lazarus Naturals CBD Oil Tincture
Best for:

Intermediate CBD Users 

About
Lazarus Naturals is another well-respected brand selling organic CBD products. This CBD oil tincture contains not just organic CBD, but also organic carrier oils like hemp seed oil and coconut MCT oil. With 750mg of CBD, this is the perfect product for people who have dabbled in CBD and know they want a stronger dose than 500mg. This is another CBD oil that you ingest instead of applying to your skin.
Price Range: $19-$29
Quantity/Volume: 15ml
CBD: 750mg
Medicinal Ingredients: Organic full-spectrum CBD, organic hemp seed oil, organic coconut MCT oil
Type: CBD Oil
Pros
Made with all organic, natural ingredients
Full-spectrum CBD lets you enjoy lots of different terpenes
Perfect for intermediate CBD users
Cons
Some people may not like that there isn't any flavor added
Organic CBD Salve
Best for:

Beginner CBD Users

About
When you apply this organic CBD salve to your hand and wrist, you'll feel the calming effects of the CBD, lavender, and eucalyptus immediately. Since there are 500mg of CBD, this is the right amount for a beginner or someone who knows this is their preferred dose. Using a topical treatment like this allows you to specifically target areas in your wrist, hands, and fingers that are irritating you.
Price Range: $35-$45
Quantity/Volume: 1 fl. Oz.
CBD: 500mg
Medicinal Ingredients: Organic CBD, lavender, and eucalyptus   
Type: Salve
Pros
Organic CBD that's the perfect amount for beginners
Cruelty-free product made without animal testing 
Shipped to customers with carbon-neutral shipping methods
Cons
Applying CBD topically won't help relieve anxiety
Therabody Revive CBD Body Balm
Best for:

Best Quality

About
This skin-softening CBD body balm that makes use of unrefined shea butter is a treat for your skin and treatment for your pain. Ingredients like turmeric warm the afflicted area while menthol gives you a cooling sensation. The CBD used to make this balm is organic, which I know many of us appreciate. Also, out of all of TheraOne's products, this is the one they most recommend for targeting problem areas.
Price Range: $60-$70
Quantity/Volume: 1 fl. Oz.
CBD: 500mg
Medicinal Ingredients: Organic CBD, turmeric, organic essential oils, and menthol
Type: Balm
Pros
Organic CBD that's the perfect amount for beginners
Menthol provides a nice cooling sensation
Organic refined shea butter deeply nourishes skin
Cons
None of the mentally calming effects will occur when applying CBD directly to skin
FAQ
If you have any more questions, please don't hesitate to leave them in the comments below so I can give you an answer.
Question: What is the Best Pain Reliever for Carpal Tunnel?
Answer: This depends on what kind of pain reliever you want. If you want a natural option, I think CBD is the best pain reliever for carpal tunnel. Beginners can start with 500mg, but most companies offer up to 3,000mg doses for experienced CBD users. You can buy organic CBD products, so none of the ingredients sound like something that hopped out of a test tube.
Question: What Helps Carpal Tunnel Heal Faster?
Answer: Doing everything you can to rest your fingers, hand, and wrist will help your symptoms go away. Try icing your wrist, taking pain relievers like CBD, and talking to your doctor about what else you can do for your unique case. Using a wrist splint at night when you're ready to go to bed has helped lots of people who are suffering from carpal tunnel. It keeps all your bones and ligaments in perfect alignment while you sleep.
Question: Does CBD Help with Hand Pain?
Answer: Yes, CBD does help with hand pain! CBD can drastically help reduce neurotherapy pain, which is the type of pain associated with carpal tunnel. CBD is great to use as an anti-inflammatory. Just make sure you're not using CBD as a substitute for real medication prescribed to you by a doctor. Doctors know best. CBD is there to help you manage symptoms in a natural way!
Let's Relax
Ah, who's ready for some sweet relief from carpal tunnel? Do you have a favorite of the CBD products for carpal tunnel that I showed you?
I loved the soothing effects of  Therabody Revive CBD Body Balm, and now I'm curious how it compares to other balms. And for more great recs and helpful info, check out my list of the best CBD gummies!