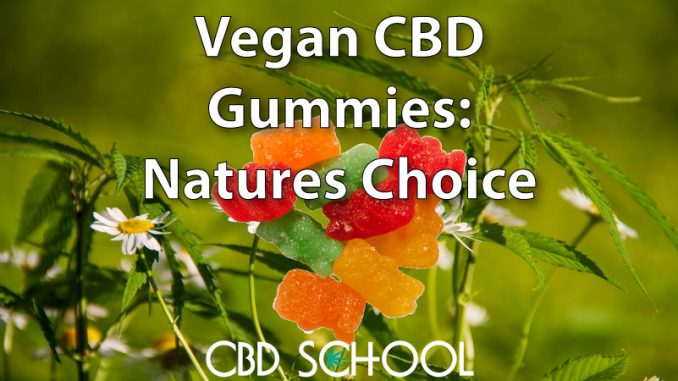 Whether you have just switched to being vegan or always been one, finding vegan varieties of some products can be hard. Vegan CBD gummies are one of those products that you might not have thought about looking for. Until now…
Many people love CBD gummies because they taste great, which is why it can be hard to say goodbye when you change to a vegan lifestyle.
This is why we have put together the ultimate guide to finding a plant-based CBD gummy; finding your daily dose just got easier, and tastier! Win, win!
But First, Before We Dive In…is CBD Vegan Friendly?
YES. That is a big resounding YES. Extracted from the cannabis plant – most commercially available CBD products found are made with hemp-derived CBD as this is the only legal form of CBD in the US. Industrial hemp produces CBD and many other plant compounds without THC. CBD oil on its own is vegan.
Cannabidiol extracted from the hemp plant is an entirely plant-based compound. It is often added to a carrier oil such as coconut oil or MCT oil. In some cases, it is mixed into olive oil.
For this reason, most CBD oil products (such as tinctures and certain softgels) are vegan friendly.
Gummies, however, often contain animal gelatin, making them unsafe to consume for vegans.
The THC Talk
Before diving into the best parts, it is vital to know that hemp products are naturally THC-free. Meaning you are less likely to fail a drug test. All CBD gummies and products need to contain less than 0.03% THC to be federally legal in the US.
This is why you won't feel high, and there is no stigma attached to taking a CBD gummy or even a CBD tincture.
The Green Truth
With so many people switching to a vegan lifestyle (it is currently estimated that as of 2020, there are 9.6million vegans in the US, according to a study), there are vegan alternatives for almost everything from meat alternatives skincare products.
Why not CBD Gummies?
The truth is there are vegan CBD gummies on the market; it simply means you need to look a little deeper to find them.
The animal gelatin creates that delicious chewy texture in gummy candies. That same texture can be achieved using plant-based gelatins such as pectin, tapioca, agar-agar, and other plant-based sources. Pectin is found in fruit peels and can produce the same gummy texture without animal-derived gelatin.
Are All CBD Gummies Vegan?
Unfortunately, not all CBD gummies are vegan; many vegans overcome this by sticking to vegan edibles or a fully vegan softgel capsule. However, this is not always possible, as eating a single serving of a gummy every day is far easier than tucking into a brownie or any other kind of CBD edible.
Let's face it, CBD gummies are the perfect solution to deliver your daily dose.
Another benefit of opting for a gummy is that they tend to have fewer questionable or unsuited ingredients to your diet or in smaller amounts. For example, other edibles might contain gluten, high amounts of sugar, artificial sweeteners, and other preservatives, additives, and chemicals to ensure freshness.
Added to that, the portion sizes can really impact what you can eat daily.
Most other edibles are considered recreational treats, perfect for a movie night or any other occasion, especially if you are not gluten-free and watch your diet. So, herein lies the problem: are there vegan CBD gummies?
Yes.
There are a few golden rules to look for when searching for the perfect gummy. Let's take a look.
So Are There Truly Vegan CBD Gummies?
Knowing what to look out for is the first step. If you know how to look for the right ingredients, you will quickly figure out which brands are vegan-friendly and which aren't.
Leading a vegan diet and lifestyle can be complex at times, so it is essential to understand that some gummies contain animal products such as gelatin. Still, emulsifiers and other additives can also be from an animal source.
Things to look out for:
Flavoring
All-natural flavors such as fruit-based flavorings are essential as many artificial flavors can be made with animal byproducts. Such as castroleum, which is made from beavers and is typically sweet. It is where a lot of vanilla-flavored products come from. The flavoring enhances certain berry flavors, such as strawberry and raspberry flavors.
All-natural ingredients could also mean naturally found in animals; it is best to check with the company you are purchasing your CBD gummies from.
Binding agent
The gelling agent or the binding agent in most gummies is gelatine—vegan alternatives to look for are plant-based gelatin such as agar-agar, pectin, tapioca, or wheat-based gummies.
Some gummies can contain both wheat and gluten, so if you are gluten-free, make sure you read the labels; even if it says "Cruelty-free, vegan-friendly," it might not be suited to your other dietary restrictions.
Colorants
Natural fruit-based colorings are often vegan friendly and just as vibrant as artificial ones. Artificial colors often have a sketchy background, such as some red dyes. Cochineal is an example of an animal-based colorant made from the crushed shells of beetles.
Double-check that if your gummies have colorants in them, they are from natural plant-based sources.
Other Considerations Besides Cruelty-Free Selections
There are a few different factors to consider when looking for the perfect CBD gummy.
Organic ingredients – As most CBD users have chosen the compound to improve their health, it can only be said that it is vital to look for organic formulations. Why would you mix Organic hemp oil with inorganic ingredients? Top-notch CBD gummies should be as organic as possible for the best results.Sweetener – Gummies are well known for their sweet taste, so it is essential to go for options with organic cane sugar instead of artificial sweeteners.Spectrum – This simply means whether you will need to choose between a full-spectrum CBD oil-based gummy or a broad spectrum CBD. This is a personal choice depending on your own preferences. It might be worthwhile contacting the company you are interested in purchasing from and asking them about which spectrum will suit your needs.
Dosage – When starting, go for a low dosage and work your way up. One of the many benefits of phytocannabinoid-rich hemp oil is that it is powerful and excellent at what it does in the smallest of doses.THC Content – THC is a controversial factor, as legal companies that understand the laws surrounding THC and CBD gummies will only ever sell gummies with no more than 0.3% THC. This is why you should make sure that you only use lab-tested CBD companies and their products.
Related read: State by State Guide to CBD Laws
With that down, let's dive into the real juicy questions.
Choosing the Right CBD Gummy
When faced with choosing the right kind of CBD gummy, you might be faced with terms like "Full spectrum CBD," "Broad-spectrum CBD," and different strengths… so how do you choose?
Choosing the right Vegan gummies for you should be based on your needs. The best vegan CBD gummies are the ones that help you feel better, achieve better, and function better. The right CBD product will tick all the boxes without compromising your beliefs.
At CBDSchool, we understand that health shouldn't come second best, which is why we are here to help guide you through the different options. We will look at the most common problems you might face and how you can best choose the right kind of CBD edibles for your condition.
Vegan CBD Gummies for Anxiety
Anxiety plagues many Americans and people across the globe; whether it is social anxiety or generalized day-to-day anxiety, it can be debilitating for some. CBD and other cannabinoids are an excellent way to combat feelings of anxiety.
Many users discovered the benefits of CBD products as a result of anxiety. Vegan CBD gummies are the perfect solution to anxiety.
For anyone that loves CBD, Vegan gummies are a great solution that tantalizes your taste buds while giving you the relief you need.
How Does CBD Help for Anxiety?
CBD is well known for its impact on reducing anxiety. Many who face anxiety know that it can hit at any moment without warning. Vegan CBD gummies are an easy and discrete way to tackle an anxiety attack head-on. CBD gummies kick in fast and taste great; they are ideal for anxiety and other situations where relief is needed quickly and discreetly.
Anxiety can stem from many other conditions such as stress, depression, ADHD, and PTSD. CBD gummies and other cannabinoid edibles are often used to treat these conditions, especially PTSD.
How Much CBD Do you need for anxiety?
Some consumers take a gummy when they need relief from an anxiety attack. In contrast, others only take a gummy once a day in the morning before starting the day or at night before bedtime. Depending on your anxiety and its cause, the amount of CBD you need is up to you.
As always, starting with the lowest dose possible and eating one gummy at a time, work your way up to what is needed for you to feel daily relief.
Vegan CBD Gummies for Sleep
This one is a little tricky. Most CBD gummies for sleep contain melatonin and beneficial cannabinoids; they are not vegan unless explicitly stated. Melatonin is a natural compound extracted from the pineal gland of animals. It is therefore not vegan friendly.
Most companies in the CBD industry that use melatonin don't have an alternative plant-based source.
It is not the end of the road for you if you are still looking for a good night's sleep and the relief that CBD can bring. CBD products have been proven to help you get better quality sleep. CBD on its own is perfect for helping you calm down to settle the anxieties that might be keeping you awake.
Regular vegan CBD gummies might be able to offer you the relief you need.
The Benefits of CBD for Sleep
There are many benefits to using CBD for everyday life. It is essential to understand that it is not just good for your daytime life. It has far-reaching benefits for your sleep, too! CBD is excellent for sleep for several reasons. It helps you relax by triggering the neurotransmitters that produce dopamine, and its anti-inflammatory properties make getting to sleep a lot easier.
CBD products work by offering you relief from nightmares, chronic pain, and medication that impacts the sleep-wake cycle. It is perfect for shift workers who need to sleep while the sun is up.
How Much CBD Do you Need for Sleep?
One thing to remember is that you will need to find the correct dose that works for you. Finding the perfect dose of CBD can vary from person to person. What works for Sally, your neighbor, might not cut it for you, you might need to take less, or you might need double the amount.
We know that one of the CBD golden rules is 'less is more.' starting with a smaller dosage might and adjusting until you find the amount that works for you is best.
For some, 1 gummy 30 minutes before bed is exactly what is needed.
CBD Gummies for Chronic pain
One of the most common conditions people treat with CBD is chronic pain. A 2019 study showed that over 20% of Americans live with chronic pain. That is an astounding number of people who battle pain that has contributed to the opioid epidemic. Many doctors prescribe extremely harsh chemical-based pain medications, which can have severely addictive properties.
Many people opt to switch to more natural alternatives such as CBD with that in mind, as chronic pain can affect every facet of life, from waking to sleeping, with devastating effects on both. Pain management is often a personal matter, working for different people.
CBD works at directly reducing inflammation, reducing swelling around possible painful joints. It eases pain receptors and can be used topically as well as orally. Vegan CBD gummies are a discrete way to get the most out of your pain relief.
What CBD Gummies Are Vegan?
Now that we know what Vegan CBD gummies are and how to spot them, here are some of the companies that produce the best vegan CBD gummies.
cbdMD
As you know, we are a big fan of cbdMD at CBDSchool. They have a wide range of CBD vegan gummies. With three main categories that their gummy products fall under are "Tropical," "Sour," and "Wellness."
Tropical and Sour are simple references to their flavors, while under the Wellness range, the company has tailored it to suit three different needs.
Sleep – With one of the very few brands to have vegan CBD and melatonin gummy, this one is pretty cool. It contains other synergistic compounds, such as magnesium. You can reap the benefits of both compounds and get that good night's sleep you deserve.ACV – This one is formulated to help you get all your needs under one roof for apple cider vinegar fans out there.
Calming – With a synergistic blend of complementary natural herbs and remedies, this CBD-infused gummy is one way to keep you feeling calm and relaxed on the most stressful days.
cbdMD is one brand we know delivers on quality every time.
CBDfx
Another brand we approve of is CBDfx. This brand understands that people are unique, and with that uniqueness comes a need for unique products. Their entire gummy range is vegan friendly, and each of the CBD gummies comes in a range of flavors.
Notable ranges include:
Tailored to men and women – These CBD oil-infused gummies are tailored to your individual needs as a man or a woman.
Superfood gummies – Packed with powerful anti-inflammatory superfoods such as spirulina and turmeric. This gummy offers the user a boost of energy and wellness.Day and nighttime sets – The perfect powerhouse couple in the CBD world, the day and night set offers targeted relief for any sleep issues you might face while providing a daytime solution that will give you a boost of energy during the day.
Whether you need a boost of energy or something a little more specific to manage your daily needs, CBDfx comes through with their range of awesome Vegan gummies infused with premium CBD oil.
Joy Organics
This no-frills brand of CBD gummies has one of the most straightforward gummy ranges with one proprietary type of gummy the only difficult choice you will need to face is choosing between Green apple and Strawberry lemonade.
These vegan gummies are perfect for managing everyday stresses and staying calm and focused throughout the day. The gummies are also corn syrup-free which is excellent for anyone wanting to avoid it and stick to healthier organic cane sugar options.
The Takeaway on Vegan CBD Gummies
Whether vegan or vegetarian, finding gummies that suit your needs is easier than you think. Many companies offer a range of CBD gummies in different flavors that cater to different needs. Hemp-derived CBD has a wealth of benefits, so if you are already a fan of CBD tinctures and want to indulge in something a little sweeter, you have all the tools you need to find the right gummy for your needs.
Have you tried any vegan gummies or CBD edibles? Let us know what you tried and what you think of the results. We would love to hear your thoughts!
References
Ipsos. (n.d.). Exploring the explosion of veganism in the United States» Ipsos» Market leader in people counting, management and behaviour insights. [online] Available at: https://www.ipsos-retailperformance.com/en/vegan-trends/.
‌www.medicalnewstoday.com. (2020). Edibles: Effects, side effects, and what to know. [online] Available at: https://www.medicalnewstoday.com/articles/effects-of-edibles
Scott Shannon, MD, Department of Psychiatry, University of Colorado, Denver, Nicole Lewis, Department of Naturopathic Medicine, Heather Lee, North Range Behavioral Health and Shannon Hughes, School of Social Work, Colorado State University College of Health and Human Sciences (2019). Cannabidiol in Anxiety and Sleep: A Large Case Series. [online] US National Library of Medicine National Institutes of Health. Available at: https://www.ncbi.nlm.nih.gov/pmc/articles/PMC6326553/ [Accessed 9 Feb. 2022].
Duenas, M., Ojeda, B., Salazar, A., Mico, J.A. and Failde, I. (2016). A Review of Chronic Pain Impact on patients, Their Social Environment and the Health Care System. Journal of Pain Research, [online] Volume 9(1), pp.457–467. Available at: https://www.ncbi.nlm.nih.gov/pmc/articles/PMC4935027/.