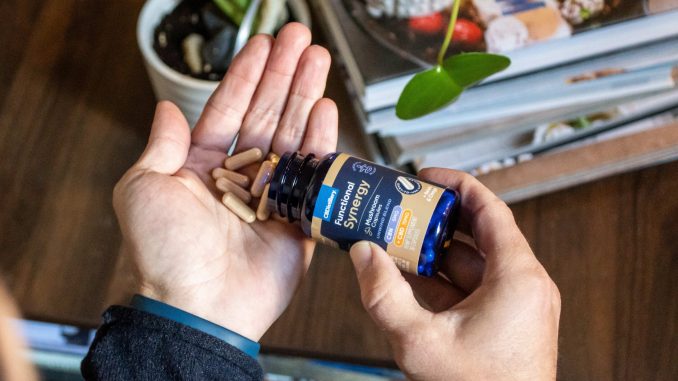 Market analysts predict that nearly 35% of our population will be using hemp-derived health and wellness products within the next few years.1 With adults of all ages embracing the many possible benefits of cannabinoids, many CBD brands are meeting the increase in demand by expanding their inventories. But not all companies are keeping up with evolving consumer interests.
CBDistillery® was one of the first brands offering hemp-derived products made with higher concentrations of cannabigerol (CBG) and cannabinol (CBN), lesser-known cannabinoids selected to enhance certain attributes of our full spectrum extracts. While the response to those products has been overwhelmingly positive, we were just getting started.
A short time later, we introduced cannabinoid-infused products featuring the benefit maximizing potential of synergistic supplements, including valerian root, vitamin C, and L-theanine. Our latest release, another exciting first for our brand, features the combined health and wellness potential of our hemp-derived cannabinoids and functional mushrooms.
What Are Functional Mushrooms? 
Functional mushrooms are nutrient-dense fungi. Researchers estimate that the nearly 2,000 edible species have significant antioxidant potential and other possible benefits extending far beyond their nutritional value. Their polyphenols, beta-glucans, polysaccharides, and other active components are shown to impact numerous processes throughout the body and brain.2
The most noteworthy benefits are found in the mushroom's fruiting bodies, the stalks, caps, and gills. Functional Mushrooms are a bit different than culinary types. As you browse the research, you're sure to find numerous sources crediting the health and wellness potential of functional mushrooms to their adaptogenic properties.3, 4
How Do Functional Mushrooms Benefit Health and Wellness? 
Adaptogens help modulate the physical and emotional impact of stress. Although researchers are just beginning to understand how adaptogens function, many suspect they work by interacting with the hypothalamic-pituitary-adrenal axis through several molecular channels.5 That interaction is believed to help ensure all related processes keep working as they should by restoring balance (homeostasis).
Many of the reported benefits of functional mushrooms are backed by scientific evidence, including lab results and clinical trials. Based on what the research shows so far, it's easy to see why so many people are using mushroom supplements to enhance cognitive function, increase physical stamina, improve focus, support digestive health, and get their sleep schedules back on track.6
Which Products in the Synergy Collection Feature Functional Mushrooms? 
The Synergy Collection by CBDistillery® has four distinct product categories. You'll find the many possible benefits of functional mushrooms in two products featured in Wellness Synergy. Although the only way to know how you might benefit from any functional supplement is to select a product and try it, we think you'll be impressed by the impact of the following cannabinoid profiles and mushroom blends in our Functional Synergy Capsules.
CBDistillery® Functional Synergy Blend for Focus 
CBDistillery® Functional Synergy Focus Blend gives you the health and wellness potential of our pure, potent hemp extracts and a 1:1 CBD (cannabidiol) to CBG (cannabigerol) ratio. We achieved that 1:1 ratio by adding just the right amount of CBG isolate, a cannabinoid believed to maximize potency by producing an enhanced entourage effect. Then we paired the enhanced cannabinoid profile in our capsules with 300 mg of each of the following adaptogenic mushrooms.
Lion's Mane 
Lion's Mane is named for the flowing tendrils that give the mushroom its distinctive appearance. First recognized by ancient Greek physician Hippocrates as a potent anti-inflammatory agent, current research also shows an impressive number of possible benefits for cognitive function, focus, productivity, creative processes, and calming several symptoms linked to stress and anxiety.7
Cordyceps 
Many herbalists credit this functional mushroom for enhancing athletic performance, increasing energy levels, boosting libido, and slowing the effects of aging on the body. Many experts in the field credit that impressive list of possible benefits to the way the bioactive polysaccharides in Cordyceps helps boost the production of certain master antioxidants in the body. 8
CBDistillery® Functional Synergy Blend to Unwind
CBDistillery® Functional Synergy Unwind Blend also gives you the health and wellness potential of our pure, potent hemp extracts, but the cannabinoid profile features a 3:1 cannabidiol (CBD) to cannabinol (CBN) ratio. We added just enough CBN isolate to achieve this ratio because of the cannabinoid's reputation for promoting relaxation and restful sleep. Then we added just the right amount of two functional mushrooms with a similar range of synergistic benefits.
Reishi 
Throughout history, Taoist monks and sages used Reishi mushrooms to transform negative energy in the body. Today, researchers credit the mushrooms reported benefits for peaceful tranquility to a complex combination of organic compounds, including itssterols, triterpenes, alkaloids, and various polysaccharides. Like many other adaptogens, Reishi is also a potent antioxidant.9  
Chaga
During WWI and WWII, Chaga mushrooms were used as a coffee substitute. They've also been relied on throughout history for health and healing. Based on what the research shows so far, Chaga has significant anti-viral and antibacterial properties. Researchers credit the mushroom's reported abilities for stress-relief and relaxation on the balance-restoring effects of its adaptogenic properties. 10,11
Why Pair Hemp-Derived Cannabinoids with Functional Supplements?
The cannabinoids in high-quality hemp extracts interact with the receptors of the largest regulatory system in your body, your endocannabinoid system (ECS). While most people using our full-spectrum, broad-spectrum, and pure isolate products report favorable resultsfor pain, stiffness, and inflammation after physical activity, better sleep, and relaxation, every person looking for natural health and wellness products has different needs.
Pairing hemp-derived cannabinoids with functional mushroom supplements produces a synergistic effect, an impact that maximizes the health and wellness potential of each component. Whether you're looking for a natural way to boost energy and improve focus during the day or relax and unwind before turning in for the night, we think you'll appreciate the combined effects of the potent hemp extracts, pure cannabinoid isolates, and adaptogen supplements in our Functional Synergy Mushroom Capsules.
If you'd like to learn more about some of the many possible benefits of ECS support, visit CBDistillery® to download The Ultimate CBD User Guide. Then consider browsing our new Synergy Collection. All CBDistillery® products are sourced from naturally cultivated crops, third-party tested, Leaping Bunny certified, and backed by our 60-day satisfaction guarantee.
Sources:
1. Canna Insider. (2021) CBD Industry Stats – 2021's Top Statistics of The CBD Industry.
2. Organixx. (2021) The Power of Functional Mushrooms in Our Daily Lives
3. GroCycle. (2021) A Guide to All the Parts of a Mushroom.
4. Owlcation. L Crampton. (2021 April 08) Penicillin, Lovastatin, and Cylclosporine: Medicines from Fungi.
5. Clinical Neuroscience. S Smith, W Vale. (2006 December 08) The Role of the Hypothalamic-Pituitary-Adrenal Axis in Neuroendocrine Responses to Stress.
6. Research Gate. G Lane. (2015 September) Go for the GOLD The Athletic Advantages of Adaptogens.
7. OM. E Garza. (2021 April 01) How Does Lion's Mane Help the Brain?
8. Herb Affair. C Iles. (2018 July 16) Top 11 Benefits of Cordyceps Mushroom.
9. Teelixir. D Whitechurch. (2018 November 05) How to Reduce Your Stress and Anxiety with Reishi Mushrooms.
10. Dr Axe. A Price. (2019 August 29) Chaga Mushrooms: 5 Benefits and How to Make Chaga Tea.
11. Mushroom Zoom. (2021) Can Chaga Mushroom Help with Anxiety?