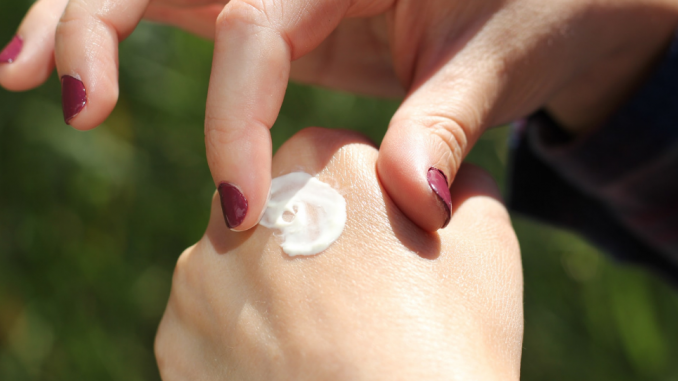 Eczema. It goes beyond dry skin. Your skin literally BURNS because it gets so irritated and inflamed. Red spots and rough patches come with this skin condition. 
I suffer from eczema. Actually, I'm one of over 31 million Americans who suffer from this skin condition. 
It gets worse in the winter and anywhere with dry heat. Sure enough, I'm writing this during the winter. As I apply vitamin E cream to my hands daily and use a medicated lip balm – or else my skin gets so dry to the point where it hurts. 
I have scars on my hands and feet from the redness and rough patches. Visiting my dermatologist is a regular, yearly thing for me. Even some prescriptions don't help my skin.
I'm an avid CBD user. I've been using CBD for over a year to combat stress, which helps a lot. However, I have struggled to find a CBD product for my eczema. 
I use CBD tinctures regularly, which don't do anything for my eczema. I did try a topical, which showed no results. I later discovered that topical was for pain, which probably made my skin red and burning. 
Here's a guide to all things CBD and eczema, plus some product recommendations. I will still mention some tinctures and edibles and topicals (the products I mainly recommend for eczema).
TL;DR: Based on research, CBD shows some positive effects on eczema. And if you use topicals, you decrease your risk of developing side effects. 
That's why I suggest the CBDfx Calming Balm Stick. In addition to CBD, this balm contains other ingredients to relieve dry skin. It's also more potent and more affordable than other products on this list. I'm actually about to order this product for myself!
What Does the Science Say About CBD and Eczema
As with everything, please take this advice with a grain of salt. I'm no medical professional, so please ask your dermatologist about whether or not you should be using CBD for your eczema. Everything I'm stating here I found online.
With that being said, the research done on CBD and eczema seems optimistic. CBD ointment made without THC is safe and helps with some of the side effects of eczema. 
In a different study, participants said that CBD ointment relieved eczema itching. Other studies show that CBD cream reduces eczema dryness. Another study confirms that CBD ointment improved scarring associated with various inflammatory skin conditions.
CBD Safety
While there is a limited understanding of CBD safety, it does seem like topical CBD is safer than consuming it. 
Those who take CBD topicals need to worry more about the other ingredients in the product aside from CBD. Those ingredients tend to trigger allergies and irritation more than the cannabinoids. Because of this, always do a patch test before using CBD topicals.
Even if you decide to take CBD edibles or tinctures, most people understand that CBD is usually well-tolerated. It does come with some mild side effects, such as:
Diarrhea
Dry mouth
Drowsiness
Reduced appetite
The biggest concern is possible interactions between CBD and other medications you're taking. 
This is why you should always discuss CBD with your doctor or dermatologist before taking CBD. 
You should also do your due diligence and ensure that the CBD product you're using contains no toxic substances (look at lab testing for all CBD products) and is made with natural ingredients (ideally, organic).
How to Take CBD for Eczema
When taking CBD for eczema, you should know which product you should take in addition to the proper dosage.

Topical vs. Tincture vs. Edible
Let's go into the differences between these products:
Topical. CBD topicals are precisely what it sounds like, a product you apply directly to the skin. These products can include lotions, creams, salves, and balms. These products are infused with CBD plus additional ingredients to provide further healing. CBD topicals aren't only famous for skincare – they're also great for pain relief!
Edibles. CBD edibles are food-grade products infused with CBD. Your body absorbs the CBD through the digestive system; the effects are longer lasting though it takes longer to experience the effects. Gummies and other treats are the most popular examples of CBD edibles, though capsules are also in this category.
Tinctures. My personal favorite option! Tinctures are products that you administer using the sublingual method; you hold the product under the tongue, so it absorbs faster. Keep in mind, the terms CBD oil and CBD tincture are used interchangeably. CBD tinctures have a carrier oil instead of alcohol, such as MCT oil. Some CBD tinctures are made with additional ingredients, such as flavoring, so be sure you read the ingredients list of the product you're using.
Dosage 
When taking a CBD product, always read the manufacturer's instructions, especially if you're a new user. There is no recommended CBD dosage for eczema, so make sure you follow these instructions if the brand you're using doesn't provide a recommended dosage.
First, consider the type of product you're using. You'll have to be more cautious when dosing an edible or tincture than a topical. If you're using a tincture, I would use less than 0.5 ml/day. 
300mg and less CBD is a good strength. If you can only find stronger, make sure you dose even less than this.
Next, consider the severity of your eczema. If you're like me and get eczema breakouts during the winter, expect to take more CBD during this time.
How We Chose These Products
Some of the factors I considered when choosing these products include:
Moisturizing and anti-inflammatory ingredients (for skincare products)
Third-party testing
Potency
Type
Company reputation
Hemp sourcing
Price
Best CBD Products for Eczema
CBDfx Calming Balm Stick
I've heard fantastic things about CBDfx, especially their topicals. I actually got the muscle and joint version of this product for my stepdad; I'm excited for him to try it! 
This balm doesn't contain any water; rather, it contains chamomile oil and shea butter for the ultimate dry skin relief. I also love how it's in an easy-to-apply and mess-free stick formula! These products contain no THC. You can choose between 750mg or 3,000mg CBD. 
CBDfx also offers a range of high-quality products for all CBD users, from vapes to tinctures. The products are all reasonably priced. They're based in California, and all products are made in the USA. CBDfx offers lab testing for all of its products.
Pros
Affordable
Moisturizing ingredients
Third-party testing
Made in the USA
No THC
Broad-spectrum CBD
Cons
Has a scent, don't use it if you're sensitive to fragrance
Endoca Raw CBD Oil
Endoca is a company that puts quality at the forefront. They prove this with their Raw CBD Oil. This CBD oil is all-natural, and even the CBD was extracted using no chemicals. 
The ingredients include hemp seed oil and fatty acids and vitamins and the broad-spectrum hemp extracts. This is also one of the strongest CBD oils I've ever seen – the strongest is 4,500mg!
While many brands say their products are natural, Endoca is one of the few companies to back up their claims. 
That's because they control every process, from when their hemp is grown to when they produce the final product. They work with local farmers, and the hemp is grown organically within Demark's standards. 
In case you didn't know, Denmark has strict regulations on how hemp is grown and cultivated. So you're truly getting a quality and natural product. On top of that, Endoca provides testing for all of its products.
While this company is based in Denmark, they deliver to the USA. Even though their prices are in euros, Endoca has affordable products and hosts sales. 
Right now, this product is on sale and the 4,500mg costs €225,69 ($257.52 in USD) and the 1,500mg is €84,40 ($96.30 in USD). I usually pay over $100 for 1,500mg CBD (I estimate about $120), so these are definitely great prices!
Pros
Added vitamins and fatty acids for better absorption
Broad-spectrum CBD contains no THC
Third-party testing
Hemp sourced by local farmers using Denmark's regulations
Affordable
Cons
Kiara CBD Blue Magic Cream
Kiara offers one of the few CBD creams formulated for those with severely irritated and inflamed skin. It contains 1,000mg of full-spectrum CBD and other ingredients that soothe skin, such as aloe vera and vitamin E.
Keep in mind, this cream is a little on the pricey side. At $90, I wouldn't use this cream unless you seriously need the healing. 
Kiara Naturals is also a Swiss-based company; it doesn't seem like Switzerland has the strict hemp regulation as Denmark. So feel free to skip over this product if you want to buy from a USA-based company.
Pros
Potent
Formulated for irritated skin
Third-party testing
Made with organic hemp
Cons
Expensive
Some customers may want a product made in the USA
PlusCBD CBD Oil Drops
I've recommended this product time and time again, but I honestly really love it. The best aspect of this oil is its versatility. You can find the oil in various potencies, between 250mg – 750mg. That's why I recommend this product the most for beginners. 
This oil is also available in different flavors. Still, even the unflavored taste of monk fruit (which is delicious).
The only downside is the price. PlusCBD is a little expensive, but I don't think they're outrageously priced. Another fact to note is that you're genuinely buying quality when you're buying from PlusCBD. 
They use hemp grown in small Kentucky farms that meet USA and EU standards (PlusCBD/CV Sciences are American companies based in California). 
They're also the first CBD brand to invest in clinical studies. They're one of the oldest CBD brands and are most popular. They offer third-party testing for all of their products.
Pros
Monk fruit is delicious
Full-spectrum CBD
Comprehensive third-party testing
Hemp sourced with the high standards of two different countries
The company has lots of experience and an excellent reputation
Cons
MedTerra Manuka Honey Healing Cream
This cream contains nourishing ingredients such as manuka honey to soften the skin, in addition to CBD and 20 other botanicals. 
The cream also contains no GMOs and only natural fragrances, so it should be okay for sensitive skin. The versatility of the product makes it ideal for several skin conditions and everyday skin health.
MedTerra, as a company, receives raving reviews. Their products are affordable, and they offer discounts, specifically for the disabled and veterans. If you're not satisfied, MedTerra provides a 30-day money-back guarantee.
Pros
Relieves a variety of skin conditions
Cons
Not very strong – the most potent product is 250mg
Customers complained about the greasy texture of the product
Even though it's a natural smell, some customers said they didn't like it
FAQs
Question: How Do I Use CBD Products?
Answer: If you're using a topical, apply it directly to the area you need healing. Every brand has its own instructions, but most allow you to apply as often as you need. 
I also recommended a couple of CBD oils. The best way to take them is via the sublingual method. Drop the correct dosage under your tongue and hold for about 60 seconds. Swallow.
Question: Should I Use a Cream or a Balm for Eczema?
Answer: I recommended both creams and balms here. But is one formula better than the other? Both products can treat dry skin and relieve other symptoms such as itching. I don't recommend one more than the other; it depends on personal preference.
Question: CBD Isn't Working for My Eczema! What Do I Do?
Answer: Everyone is different, so I recommend talking to a dermatologist. 
This is also recommended because your condition may not be eczema at all! I always hear of people misdiagnosing themselves, only for them to find out they have allergies or some other problem not related to eczema at all. 
Visiting a dermatologist ensures you receive a proper diagnosis and prescription/product recommendation.
Can't afford the doctor's visit? There are a variety of non-CBD creams on the market that also help eczema, such as CeraVe (one brand my dermatologist recommends). If other creams don't help, you should definitely visit a dermatologist.
Bottomline
Eczema is terrible, and I'm suffering from it pretty badly now. If you have tried everything from prescriptions to OTC creams and nothing works, I suggest picking up some CBD. I may even try one of these products and give CBD for eczema another shot!
Read more related guides:
How to Find the Best CBD for Cramps
How to Find the Best CBD for Energy
How to Find the Best CBD for Hangovers