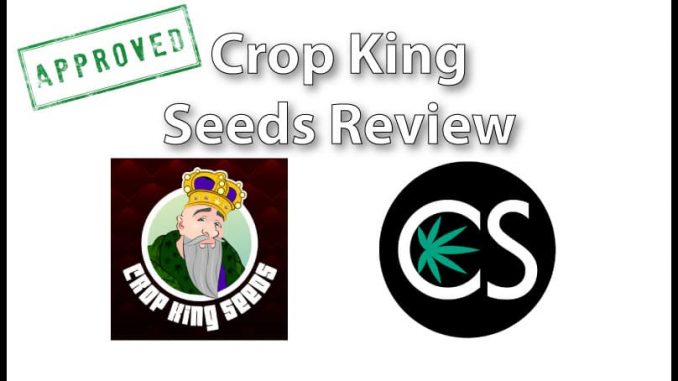 When it comes to growing cannabis seeds, companies like Crop King Seeds make it easy for beginner growers and well-seasoned enthusiasts. Purchasing from online seeds banks is easy.
Many companies offer several varieties to choose from, provide stealth shipping, and have a fantastic customer service team. Growing the seeds is even easy since most companies offer growing guidelines and detailed instructions.
Crop King's reputation is dependent on delivering on all of these fronts. Still, they also have to offer the highest quality seeds around to maintain their position as a top seed bank in the cannabis industry. But is buying seeds online from this company all that is cracked up to be?
In this honest review of Crop King Seeds, we'll examine why this company has become one of the most popular online seed banks. We'll dive deeper into such questions as: Is their seed quality worth the price? Are there any added benefits that Crop King seeds offer? Let's explore this Canadian seed bank company.
A Bit About Crop King Seeds
As a person begins to buy seeds online, they are inundated with many options. All promising great seed genetics guaranteed germination rates, the highest quality cannabis seed or marijuana seed, the lowest prices, or the best shipping.
One name seems to keep coming up as a reputable cannabis seed bank.
Formed in 2005, their wide variety of cannabis seeds has made them one of the more popular seed banks online. Customers that comment on Crop King Seeds in online forums or company reviews point to them offering high-quality seeds with superior genetics.
Crop King Seeds were one of the first seed banks to introduce marijuana commercially. They were also instrumental in promoting the testing of CBN and CBD strains of marijuana. Over the years, Crop King Seeds continues to maintain its place as a company with a good reputation, quality products, stealth shipping (even toll-free shipping).
But should we consider them to be the ultimate brand?
Crop King Seeds Quality
One of the things that we'll examine in this Crop King Seeds review is quality. Ask any grower; quality is a significant part of the success of your crop. This is possibly the thing that Crop King understands the most. Their site is filled with high-quality marijuana seeds, cannabis seeds, and some exciting new-age hybrid strains.
Quality may be the reason for their continued success. Crop King Seeds' primary focus is on offering a quality product, whether a particular strain such as auto-flowering cannabis seeds or feminized cannabis seeds. Their germination rates for the auto-flowering strains are some of the best you can get.
This is an appealing aspect for a beginner grower who wants to experiment with rowing top-tier marijuana seeds.
Crop King Seeds team of experts handpick all of the marijuana seeds, test them, and give a final seal of approval on quality before they are shipped to customers. By investing time and resources into ensuring quality marijuana seed orders, cannabis growers are left satisfied. You'll never get varying qualities from Crop King Seeds.
Crop King Seeds Strain Selection
Crop King's grow experts constantly develop and introduce new strains to their customers. They conduct thorough tests and research of each strain before they are shipped. So if you want to plant cannabis strains that are brand new, this company is a great starting point.
The development of these new strains means that the Crop King Seeds website's listing isn't padded to make it seem more extensive than what it truly is. Aside from having a large selection of trusted favorites and new strains, the quality remains one of the highest.
Because Crop King Seeds offers a wide range of seed strains, their seed selection has a little bit of something for everyone. They sell new strains that other seed banks don't. Still, they do stick to the traditional categories. It includes feminized, auto-flower feminized, dwarf auto-flower feminized, regular, and medical cannabis strains.
A Crop King Seeds review wouldn't be complete until we take a look at some of the more popular strains from their seed selection and find out a bit more about what these strains have to offer:
Auto-flowering Seeds
The idea behind auto-flowering seeds is relatively simple and perfect for first-time growers. As these seeds grow, they'll automatically flower. This negates the need to wait for a precisely timed light cycle for the plant to begin flowering all on its own. However, it also means that the plant will have a short vegetation period lasting 2 to 4 weeks.
Amnesia Haze
Originating from Holland, the auto-flowering strain is meant to help ease anxiety migraines and spark creativity. In roughly nine weeks, you'll have a robust, medized plant producing dense, resinous buds.
Early Miss
A strong, dense, and fast-flowering Indicia-dominant strain produces a high yield. It can be grown at any time of the year indoors in temps above 10C. Its strong THC content provides relaxation and helps with managing pain.
Lambs Breath
An easy-to-grow auto-flowering strain, Lambs Breath can be grown indoors and outdoors. Bob Marley favored Lambs Breath, and the strain is known to provide creativity, focus, and energy. The strain also helps reduce stress and anxiety giving the person a positive start to the day.
Feminized
To ensure you don't end up with male plants in your garden, growing feminized seeds will eliminate that concern. Feminized seeds are specially designed to give you a crop of all female plants. These plants will only produce buds and not the seeds that male plants produce.
Black Indica
One of their purest Indica marijuana strains boasts a short and stalky plant with broad leaves. This easy-to-grow plant is perfect for relaxing a person before social activities, but it can also help with insomnia and pain relief.
Cali OG Kush Haze
Originating from Northern California, Cali OG combines a dominant OG Kush crossed with their Amnesia Haze. The result is an uplifting Sativa plant with all of the notable characteristics you'll find in an OG Kush Indica. This is an exclusive product from Crop King Seeds.
Moby Dick
This Sativa strain contains a moderate THC amount but is a very energetic strain that will give you a nice pick me up when you need it. It is an ideal strain to help with depression, pain, and fatigue. It is also one of the simplest ways to grow strains, producing dominant yields and growing best in a warm and sunny environment.
High-Quality CBD Medical Grade
CBD's popularity has grown in recent years, and many companies are selling CBD-based products. It makes sense that CBD marijuana strains have also taken off. These products are specially grown to contain lower levels of THC, allowing the health benefits of the CBD to be dominant
CBD is now an ideal choice for many growers, used for pain, stress, anxiety, and many more health conditions.
CBD Diesel
This cannabis strain is used to help combat depression, fatigue, and stress by offering an uplifting sensation. This less potent strain provides the user with a grapefruit-like flavor and hints of the popular diesel undertones. You'll enjoy growing this strain indoors.
CBD Kali Kush
Rugged, reliable, and easy to grow CBD Kali Kush offers an extremely high CBD content of 20% and a low THC content of 1%. This potent strain is one of the more therapeutic strains available and is a perfect way to relax in the evening. This strain produces a high yield if grown outdoors.
Auto CBD Critical Mass
This strain of Moby Dick is a CBD medicinal version based on the traditional Sativa-dominant Moby Dick. It is used for pain and muscle spasm relief, depression, and creative focus. The sensations it provides are happy and relaxed.
Crop King Seeds Reputation
Crop King Seeds has secured and maintained some of the highest seed bank ratings from customer reviews. They also excel by offering their customers the highest standards of seeds. They offer a germination guarantee of 80% from your cannabis seed or plant.
Crop King Seeds has never been known to offer subpar seeds, but if for some reason you do end up with some bad seeds, they will replace those seeds at their own cost. That's a commitment to quality!
However, positive reviews were not always the case. In the early days, customer complaints were about receiving the wrong variety of seeds. Crop King Seeds worked on this issue by developing an excellent customer service team that could address those concerns so that they happen very frequently.
Along with Crop King Customer Service and quality seeds, this company is dedicated to helping customers enjoy their growing experience. Their team of experts works to perfect the growing process by developing the genetics of the cannabis plants that are bred exclusively for Crop King Customers.
Where is Crop King Located?
They are situated in Vancouver, Canada, and offer Canadian customers and international customers fast and reliable shipping.
Is Crop King Seeds Safe?
Crop King Seeds has developed a good reputation as a reliable seed bank company. Their massive inventory of seeds is of the highest quality, and various strains will produce strong psychoactive properties—their seed ships with stealth shipping services, which are discreet and safe.
Crop King Seeds offer the same quality seeds whether you buy online from their seed bank or at one of their outlets. It is always recommended that you speak to your doctor before adding any new supplement to your daily routines like CBD or marijuana.
Do your research to see if CBD will have any adverse side effects or reactions.
Is Crop King Seeds Illegal?
It is illegal to purchase cannabis seeds or grow cannabis seeds on a federal level. Always check your local state and federal laws before purchasing cannabis products or seeds for growing your own cannabis plants. Each state law is different for possession and purchasing.
Cannabis is legal in Canada, and in some US states, cannabis is not banned but considered illegal federally. Always do your research before purchasing cannabis seeds.
Do All of Their Cannabis Seeds Germinate?
Crop King Seeds offers a germination guarantee. They offer an 80% termination on their seeds. This means this if less than 80% of your cannabis seeds do not germinate, all you have to do is contact a customer service representative. They will go through the entire germinating procedure with you to make sure you didn't miss a step or follow the instruction improperly.
Once they determine that the seeds are faulty, they will process a full refund or send you a packet of new seeds. They offer a free step-by-step guideline for germinating the seeds, or you can contact someone at the company to help you through it.
Payment Methods
Crops King Seeds is located out of Vancouver, Canada but has many outlets across the country. If you visit one of their outlets, they accept Canadian currency if you pay in cash.
Payment by e-transfer or money order is for Canadian residents only. However, all non-Canadian residents can pay by Moneygram, Bitcoin, Paypal, Mastercard, and Visa.
Shipping
Crop King Seeds ships worldwide and offers different shipping charges based on the amount you purchase, but they also offer free shipping based on orders of $200 or more. They offer stealth shipping and toll-free shipping for their high-quality seeds.
Your orders have guaranteed delivery. Even if there is a government seizure on your order, it will be reshipped until you receive it. The package is delivered in the original Crop King packaging for national deliveries in Canada.
For international deliveries outside of Canada, the shipment is stealth packaging with the seeds sealed in random objects such as pens or birthday cards. Here are some of the guidelines for shipping:
Free shipping offers to orders over $200.For express, insured, and guaranteed delivery, the company charges $20-$40.Delivery can take two to seven days for express shipped seeds.
Does Crop King Seeds Ship to The USA?
Yes! Crop King Seeds ships internationally from Canada. This includes the US. For areas of the US where cannabis is not legally accepted, they use stealth shipping services.
Does Crop King Seeds Offer Free Seeds?
Yes! Crop King Seeds will throw in a free pack of cannabis seeds if you order your seeds using their special stealth box and packaging.
Pros and Cons of Crop King Seeds
Pros
Crop King Seed seed bank offers a germination rate that is guaranteed up to 80%.They offer their customers a wide variety of selections, from self-cultivated strains to feminized strains and auto-flowering strains.They offer some of the highest CBD medicinal cannabis seeds.With multiple payment options, you'll have options to pay for your order.The Crop King team is made up of industry experts with many years of experience in the production business of cannabis.They have an online presence and outlets that you can visit in Canada.They are dedicated to improving their seed quality with careful genetic selection.Their customer service department is one of the best in the business.
Cons
Their products are slightly more expensive when compared to other seed banks.Initially, they had problems with shipping out the wrong seeds to customers.
Final Thought On Our Crop King Seeds Review
Crop King Seeds has spent over a decade building up a reputation and trust with its customers. They offer high-quality seeds and guarantee their termination rate.
They ship worldwide and accept multiple payment methods. If you are still unsure, you can talk to their excellent customer service to put your mind at ease about ordering from this company.
With many positive reviews about the seed quality and customer service, Crop King Seeds has proven itself as a reliable seed bank that stands behind each seed they sell. Always do your own research with a company before you buy, but give the people at Crop King Seeds seed bank a call today!