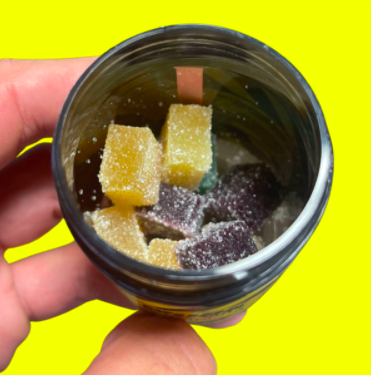 If you like to work hard but play even harder, then you're going to love the Work Heavy Duty Delta 8-THC and Delta-10 THC  Gummies! These square-shaped edibles feature the popular Delta-8 THC, but they also come infused with the newest cannabinoid on the market: Delta-10 THC. These gummies will be the first Delta-10 THC product that we've tried, and we're so excited to share that with you today. This article will cover the effects, tastes, and overall appearance of the Delta duo, and touch on many other aspects of both of the unique cannabinoids. We'll start off with a brief overview of what Delta-10 THC is, as well as how it differs from Delta-8 THC, and then dive right into the review. Let's begin!
Both Delta-8 THC and Delta-8 THC come from the hemp plant, as well as some other familiar cannabinoids. CBD, CBG, and Delta-9 (marijuana) are all derived from the hemp plant, albeit in different ways. The way these cannabinoids interact with our endocannabinoid system creates a unique effect on the mind, the body, or both! Delta-9 THC is undoubtedly the most infamous of all cannabinoids, dating back centuries when doctors prescribed the psychoactive drug for some of their more unruly patients. Delta-9 THC has gotten a bad rap for years, but that's been steadily changing in recent years. Many states have legalized the infamous cannabinoid for both medicinal and recreational use, but many remain skeptical about using the drug consistently. CBD emerged as a way to harvest the benefits of the hemp plant without getting high and brought comfort and relaxation to the user, sans the high.
However, many previous marijuana users missed the powerful high and weren't satisfied with their CBD experience. Thus the Delta-8 THC cannabinoid made its grand entrance. This unique cannabinoid was affectionately referred to as the "lite" version of weed, as it allowed users to indeed experience a heady high, but eliminated the overwhelming sense of anxiety and paranoia that marijuana was known to cause in some users. Delta-8 THC spread quickly in popularity throughout the industry and offered a legal alternative to weed that allowed the user to sink deeply into a euphoric high while remaining in control. Note the use of that phrase "sink into a euphoric high." Delta-8 THC has a very calming effect on the user, similar to indica strains (although there are a variety of Delta-8 THC strains including sativa and hybrid). Delta-10 THC shares similarities with a sativa blend, making this the preferred cannabinoid for daytime users who crave a high that won't make them sleepy and allows them to have more focus throughout the day. Since Delta-10 THC is so new, there's much to learn about this unique cannabinoid and how it affects the user. We'll be doing more informative articles on Delta-10 THC in the future, but we wanted to touch on the more familiar cannabinoids to give you an idea of what to expect as well as how to compare and contrast the two Delta THC cannabinoids. Now that we've gone over the basics, it's time to jump into the review of the Work Delta 8 THC D10 Heavy Duty Gummies. Let's begin with the actual company, and work our way to the product review.
We spent quite a bit of time trying to find the company website for the Work Delta 8 THC D10 Heavy Duty Gummies, but every search typed into Google always routed us back to the DD8 Shop. Because of this, there will be limited information on the actual Work Heavy Duty company. The DD8 Shop carried eleven different Work Heavy Duty products, including gummies, flowers, and disposable vapes. We were able to find other websites that carried Work Heavy Duty products, but at much higher prices. On the DD8 Shop website, the gummies are listed at $29.99, on sale for $24.99. The site also offers a 15% discount when you sign up for their Autoship subscription service, which is a great option if you're looking to save money while enjoying a chewy treat. The page description briefly lists the features, warnings, and recommended dosages of the gummies, and confirms that the product contains less than 0.3% THC as required by the 2018 Farm Bill. If you're curious to see what the actual product looks like before you buy it, simply click on the uploaded picture of an opened container right below the product's featured image. Now that we've gone over as much of the company information as we could find, let's check out the product and ultimately, the effects!
Delta-8 THC & Delta-10 THC Gummies Product Review
Gummies are one of the easiest ways to consume Delta-8 THC because it doesn't require any previous experience with smoking, vaping, or any external hardware. Gummies are also one of the most diverse ways to enjoy Delta-8 THC, ranging in shapes, color, and flavors. These particular gummies come in the form of sugared cubes, as big as a fingernail. There was an assortment of colors, mostly yellow, which we assumed was lemon. Upon touching the gummies, they felt soft and squishy, but were firm and tough to chew. The taste was not lemon, as we had originally thought, but more of an artificial pineapple flavor. The hemp flavor was light, but intensified more in the aftertaste. We ended up swallowing chunks of the gummy because they were just too tough to thoroughly grind down. As with many Delta-8 THC gummies, there was a slimy film that coated my teeth, and there was a lingering hemp aftertaste. There were small pieces of gummy stuck in my teeth, but a swig of water helped dislodge the little pieces. We really weren't fond of the initial experience of these gummies, but that all changed once the effects began to kick in a mere half an hour after consuming them. After about an hour or so, we felt a strong heady high, but noted that it was a MUCH more clear-headed high than with a traditional Delta-8 THC high. That's when we realized that this was the effects of the Delta-10 THC. We mentioned earlier in this review that Delta-8 THC is more of an indica blend, while Delta-10 THC is more of a sativa high. Now we understood what that meant! Our eyes weren't droopy, we didn't feel an overwhelming urge to go lie down, and we actually had energy to complete tasks that ordinarily we would have left until the sleepy high wore off. We were definitely aware that we were experiencing a heady high, but we had motivation, focus, and heighted clarity that we normally do not feel while in a Delta-8 THC high. If you're looking for a way to enjoy a deliciously heady high during the day without sinking into a sleepy euphoria, we definitely recommend trying this delightful Delta-10 THC and Delta-8 THC mixed gummy.
Lab Testing
Work Heavy Duty gummies doesn't seem to have an official company website, but they are listed on several sites, some with different information than others. On the DD8 Shop site, there are lab results listed halfway through the page, in a tab adjacent to the product description called Lab Results & Analysis. You can click on the uploaded PDF within that tab to view the results conducted on 4/1/21. Surprisingly, this information isn't listed anywhere on the product packaging or on a company site. While we did appreciate the decision to use an independent third-party lab to test their products, it was a bit odd to not see this information listed on the packaging as a QR code or website link.
Hemp Information
While the DD8 Shop states that the hemp used in the Work Heavy Duty Gummies is 100% legal and grown in the US, there is no information given about where the hemp is grown, how the Delta THC cannabinoids are extracted, or whether or not they are organic. However, the site does state that there is less than 0.3% Delta-9 THC in the product, making it legal for sale throughout the US as per the 2018 Farm Bill allows. If we come across any more information on the production of the hemp used in the Work Heavy Duty Gummies, we will update this review to reflect that information.
Product Packaging – Gummies
A few weeks ago, we did a review on Koi Delta-8 THC gummies. The packaging for the Koi gummies was nearly identical to the Work Heavy Duty Gummies, using a black plastic container with a childproof press-and-twist cap. The package label mimicked a work zone banner, using a bright yellow color with thick black stripes. The black lettering was easy to read, and the word GUMMIES was done in a rainbow font as an obvious nod to the mixed fruit flavors. The bottom of the label listed the mg content for both the Delta-8 THC and the Delta-10 THC, stating 50mg of both cannabinoids per gummy. The back of the label listed the required government warnings, the ingredients list and other supplemental facts, the recommended use, and the required age to use the product. The packaging was clean and well-done, with an ingenious blend of professionalism and playfulness. Overall, the design was subtle enough to dissuade underage users from sampling the gummies, but modern enough to pique the curiosity of age-appropriate consumers.
CONCLUSION
Work Heavy Duty Gummies was a unique experience that evoked mixed feelings amongst those of us who tried it. The packaging was professional and attractive, but the tough texture and artificial flavor could use some improvement. For our first Delta-10 THC experience, the effects were excellent and knocked our expectations out of the park. The enhanced clarity and focus paired with the euphoric relaxation came as a surprise, and will be an excellent addition to users who need a pick-me-up throughout the day.
Keep in mind that the experiences of Delta-8 THC and Delta-10 THC vary per person. The user's previous exposure to Delta-8 THC and Delta-10 THC, metabolism, weight, and other factors all play an important role in how you experience your high. We have tried to create an impartial and unbiased review, so feel free to agree or disagree with anything we've said! If you have an alternate opinion or want to share your experience, feel free to drop a comment below! If you're embarking on your very first Delta-8 THC or Delta-10 THC experience, always consult your primary physician before consumption. You shouldn't operate machinery or a motor vehicle while under the influence of a Delta-THC product, and you should always confirm that the sale and consumption of Delta THC products are legally allowed in your state. Check back with us soon for our next review, this time on a brand we've reviewed in the past: CBD Pure. We reviewed their 250mg CBD-infused cream, and now we'll be reviewing their doubly enhanced 500mg CBD, so be sure to come back in the next few days to see what we think. Hope to see you there!